A Country Ravaged: Mass Shootings Plague the U.S.
Someone locks the door, another turns off the lights and closes the shades. Meanwhile, the rest of the class finds somewhere in the room hidden from any entrance. With variations, 95% of students in the U.S. have conducted an active shooter drill according to Everytown For Gun Safety. With every passing day, more and more students not only practice for, but live through an active shooter situation.
As of Nov.19, 2022, the U.S. has seen at least 601 mass shootings. 2021 saw 698 mass shootings with 705 deaths, 2020 saw 615 shootings with 521 deaths. At Ingram High school in Seattle, one student was killed Nov. 8 by a 14-year-old who possessed a semi-automatic pistol. The University of Virginia lost three football players Nov. 13, and on the same day four University of Idaho students were found dead by gunshot. 
The shooting at Ingram was followed by a Seattle Student Union led walkout Monday, Nov. 14. Seattle students walked to City Hall to speak out against gun violence. The walkout was attended by multitudes of students and supporters. Emma Rosenberg, a junior at The Center School highschool in downtown Seattle, participated in the walkout. 
"There were many more people than we expected," Rosenberg said. "We noticed a lot of middle schoolers as well as highschoolers… I didn't understand how many people were there until we started walking. It was thousands of kids."
Students started walking out at 9:50 a.m. and arrived at Seattle City Hall by 11:30 a.m. during a City Council meeting. The meeting halted and City Council left the building to talk to students about concerns with the Ingram shooting and gun safety measures. 
"It felt desperate," Rosenberg said. "It hit us all close to home. I know a kid who went to middle school with the kid who died [at Ingram]. You don't think it will happen, and then it happens."
With the shooting at Ingram High School not far away from Seattle U's campus, Campus Public Safety clarified the university's safety measures. Seattle University has many precautions in place and more on the horizon, according to Interim Director of Public Safety Dominique Maryanski. One such resource are instructors trained in Alert, Lockdown, Inform, Counter and Evacuate (ALICE) on staff who have guided other departments in survival procedures. 
"It is important to understand that these events can impact and traumatize individuals and communities," Maryanski said. "We must understand that exposure to violent criminal acts can have long-term impacts on one's health and well-being. Supporting each other and ourselves through these events is important."
Attorney General Bob Ferguson, who has held the position since 2012, began pushing for the ban on high capacity magazines in September 2016. When Senate Bill 5078 passed in March, Washington became the ninth state in the country to ban high capacity rounds or weapons that hold more than ten bullets.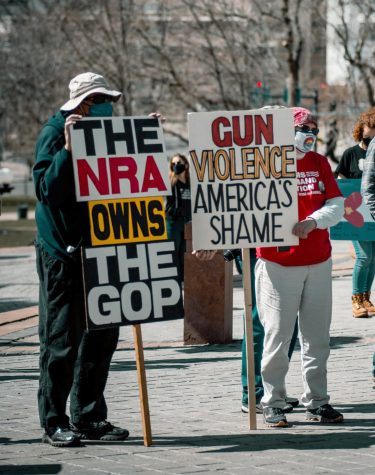 According to the office of the Attorney General, 75% of mass shooters possessed weapons lawfully. The ban of assault style weapons is currently being discussed on a federal level. The current proposals, SB 5217 and HB 1229, would prohibit the sale, purchase, transfer, import and manufacturing of assault style weapons. Some weapons already in circulation would be grandfathered into the old laws but need new requirements for their storage. The National Rifle Association (NRA) Institute for Legislative Action released a statement saying the banning of assault weapons is "an assault upon the freedoms and civil liberties of law-abiding Americans." 
With the potential for future legislation on the horizon and many different organizations like CeaseFire Washington or the Washington Alliance for Gun Responsibility combined with groups who think less legislation in regards to gun control.
The Washington State Department of Commerce: Office of Firearms Safety and Violence Prevention's (OFSVP) goal is to minimize firearm incidents. Their plan is to collect data, provide grant money, help different organizations communicate with each other and improve overall data collection in the realm of firearm violence. 
"We are the attempt to get a statewide centralized hub for data, for funding, for information on firearm violence," Kelly Kate, executive director of OFSVP said. "More and more states are setting up offices like ours and finding there's a benefit to having coordination for this work."
State run organizations are a valuable asset because there is no federal research into gun violence due to the Dickey Amendment, which bars the Center for Disease Control and Prevention from conducting research on firearm violence. The amendment was the NRA's response to an article published by Arthur Kellermann of the CDC, which revealed that having a firearm in the home increased risk of homicide.
Even with these changes happening, individuals can mitigate risk by understanding resources available to them, being aware of their surroundings and having a plan. Given the trends of the past two decades, it is unlikely that mass shootings will cease to be a part of American life in the near future.
Leave a Comment