Knitters of Doom Spread Warmth in Cal Anderson Park
With a passion for knitting and crocheting, a local group of fabric artists, calling themselves the Knitters of Doom, left out an abundance of scarves, beanies, socks and mittens at Cal Anderson Park 11/18. The clothing was free for anybody to take, intended to help those needing a bit of extra warmth as we progress into colder weather. This is the second year the event has been held. 
The group was put together several years ago through a social network called Ravelry that is specific to people interested in yarn arts. The group meets weekly on Friday afternoons to give back to their community. Amy Robinson, a member of the Knitters of Doom, talked about what inspired her to pitch this event to the rest of her group. 
"A few years ago I was walking to work over in Denny Triangle on Christmas Day and someone had taken one of the smaller trees on the corner and had bought gloves, hats, and scarves from the dollar store and decorated a Christmas tree. I was like, 'I can do that, but I can [make] much better products than [the] dollar store,'" Robinson said. 
Robinson expressed that Seattle knitters can produce a significant volume of gloves and other warming fabric products, and that the knowledge that Seattleites die every year from weather exposure made her all the more eager to give away her projects to guarantee someone else's warmth.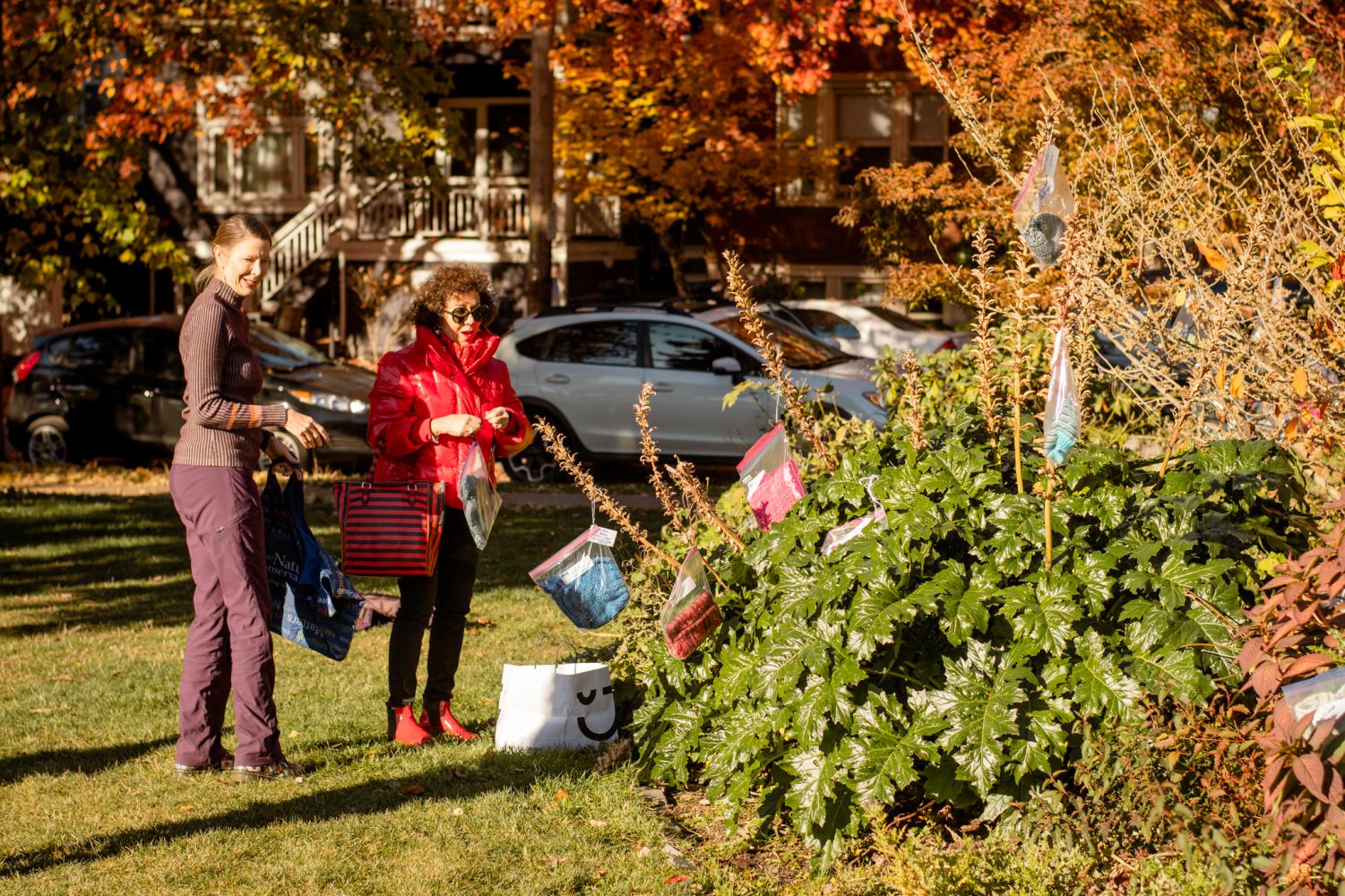 The group gathered all of their projects and distributed them earlier this year due to the concern of the weather growing colder sooner than it typically does. The event being held close to Thanksgiving was intentional as the donation serves as a way to give thanks to the community. 
Kristin Toole, Seattleite and member of Knitters of Doom, showed great concern for the houselessness in Seattle and the heavy impact the cold season has on them.
"[Houselessness] is at crisis level and I think here in Capitol Hill it is worse than some of the other parts in the city so it was just a natural fit for our organization to target that," Toole said. "It's such a big problem, and it makes your heart go out to people. Living here we see it everyday so it really helps you feel a little less helpless about it."
Cal Anderson was the park of choice for distribution because there are a significant amount of unhoused people in the surrounding area. Making sure that their knitwear was accessible to those who need it the most was important to the Knitters of Doom. 
Abby Fitzwater, a first-year international studies major, expressed how Cal Anderson is a spot in Capitol Hill that serves as a place for community members to connect with one another.
"There's always wholesome activities going on there," Fitzwater said. "I remember my first time going there to have a picnic with my friends and [everyone's] dogs running around. It was just really sweet. There have also been clothing swaps and the farmers market is there on Sundays so overall I think it's a good place to connect." 
The cozy knitwear accessories are for anyone who is in need of staying warm. This event encourages community members of Capitol Hill to think of ways they can help others in need and to keep generosity in mind this holiday season. 
"I think knitting and crochet attracts people who are naturally generous. We produce way more than we can use," Robinson said. 
For those who are looking to contribute, this event is something that can be easily replicated by other avid fabric artists, or by those wanting to keep someone a little warmer this year. An extra beanie, scarf or pair of mittens can easily make someone feel as snug as a bug in a rug.
Leave a Comment