Injuries, Triumph and Heartbreak: Recapping Men's and Women's Soccer Seasons
The 2022 season was a rollercoaster for Seattle University's Men's and Women's Soccer programs. Both teams had losing records in their non-conference schedules and even with the high pre-season expectations for each program, it would have been easy to write them off as they began their Western Athletic Conference (WAC) seasons.
That would have been a mistake.
With the realignment and new schools joining the mix, the WAC soccer season appeared to be more competitive than in past years. The Redhawks found renewed life in that fact, posting a combined 13-5-2 [win-loss-draw] conference record (5-4-0 for men's, 8-1-2 for women's) and earning a third seed (men's) and second seed (women's) in their respective tournaments.
Women's Soccer Head Coach Julie Woodward said the non-conference struggles were just a part of the process for a relatively young team.
"Figuring each other out as teammates and players takes a while," Woodward said. "We like playing the ranked teams because it exposes your weaknesses." 
Men's Soccer Head Coach Pete Fewing also had high expectations for his squad going into the 2022 season. 
"I thought we could make it back to the NCAA tournament, I thought we could beat everybody we stepped on the field with… with the team we had on paper," Fewing said.
And for the men's team, that expectation seemed to be realized early. The Redhawks defeated No. 4 Notre Dame in South Bend in late August to begin their year—a slate Fewing described as "the toughest non-conference schedule in the country."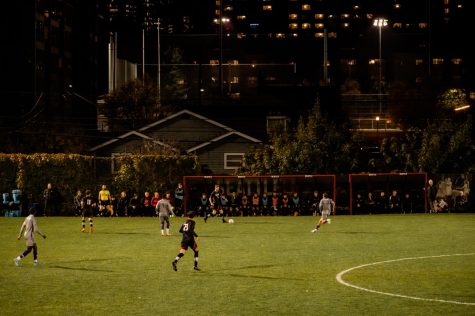 He has a strong case to support this claim, as his squad would face five teams that made the NCAA tournament in 2021 before they began their WAC season. Unfortunately for the Redhawks, this was not the same team that won the WAC postseason in 2021.
In all, out of the 33 members of the men's squad, only five members would play at least 15 games, setting up Fewing and his coaching staff for a season of constant lineup changes and adjustments.
"We didn't start the same 11 very many times, I think we were changing it all the time due to injury and to find the answers," Fewing said. "But your opponents don't care that you're struggling, all they want to do is beat anyone who has a Seattle U jersey on."
Seattle U men's soccer, a former five-time WAC postseason-winning program since their return to Division I status, would indeed stumble through the unforgiving non-conference schedule. Fewing's squad finished the stretch at 2-6-1 with a goal differential of minus-six.
While they didn't experience the same roster uncertainty as their counterpart due to injury, women's soccer struggled to iron out a cohesive starting lineup in non-conference play.
Graduate All-WAC Goalkeeper Jessica Berlin suggested their 3-5-1 non-conference record may have been necessary for the younger Redhawks to mesh as a team. 
"Preseason is only so long. You only have a few weeks to train, and you go from club soccer to this high Division I level… We also had a pretty tough [non-conference] schedule," Berlin said. "But [the freshmen] held their own and by the time we got to conference, they were ready."
The growth cultivated from those losses led to a major turnaround for the Redhawks as young players like Freshman midfielder Caroline Penner and 2022 WAC Freshman of the Year U'i Kaaihue stepped into prominent roles as the year progressed, rounding out the roster.
Once conference play rolled around, both teams got back on track in a major fashion.
Even though men's soccer experienced their first negative goal differential season in a decade, they were positive in their conference slate. Following what Fewing described as their worst loss of the year to Houston Christian University, Seattle U would go on a three-game winning streak in conference play that put them in a position to compete for a first-round bye in the final game of the regular season. 
Although they did not secure the bye, the bruised Redhawks made the WAC Tournament with the third seed. Fewing attributed the "next man up" mentality of the program as well as the chance to start fresh in conference play as major reasons why his squad flipped the script in October.
Similarly, women's soccer won seven of their last eight in conference play, but a tie to Utah Tech in the second-to-last game of the year denied the Redhawks a WAC regular season title. They had found some consistency in scoring from sources like Kaaihue and their defense emerged as one of most talented defenses in the conference, allowing just seven goals in WAC play. Going into a semifinal bout with New Mexico State University, the Redhawks were peaking at the perfect time.
But in a single elimination game against a tough defensive side from the Aggies, Seattle U's aggressive offense just could not find the back of the net. The Redhawks lost 1-0 in a crushing defeat after an 84th-minute penalty kick.
"We had been playing so well, I really believed we would be the team representing the WAC in the NCAA [Tournament]," Woodward said. "I'm more sad than disappointed just because we had such a great group."
Men's soccer would also go down in the WAC semifinal, suffering a 4-0 loss to the San Jose State University after beating Grand Canyon University in a close first-round matchup.
But even through the defeat, Fewing was proud of his squad.
"I had high expectations, and the players gave everything they could. You can't ever fault them for effort, but it was just a really hard year," Fewing said.
Although both of the teams will be losing players going into next season, the fight these teams exhibited in 2022 bodes well for what they will accomplish going forward.
Leave a Comment