Campus Safety Inventory: An Overview of the Annual Safety Walk
With the beginning of November each year comes the tradition of a group of bright red coats touring campus with students. The annual Campus Safety Walk occurred yet again this year on Nov. 15. 
Despite being open to the student body and involving direct interaction with staff working behind the scenes at Seattle University, few students attended. Specialists from Facilities, Grounds and Landscaping, Housing and Residence Life and Public Safety convened after dark to explore campus with new eyes.
The tour of the campus at night was led by Chris Wilcoxen, assistant director of emergency operations for Public Safety. Those who did not come to the walk with their own materials were offered pens and maps with extra space in the margins for notes and suggestions to increase campus safety.
"We'd like the whole community to come," Wilcoxen said. "Security is part of what we do, but our full mission is to make this place a safe place to study and live."
The walk Nov. 15 focused on southeast campus, beginning just outside the campus entrance on Cherry St.. Attendees used high-powered flashlights to illuminate dark areas around campus and discussed the possibility of drawing power from nearby buildings to make areas with low visibility safer.
Seattle U's Grounds experts utilize Crime Prevention Through Environmental Design (CPTED) in order to create a combination of aesthetically-pleasing and safe greenery for campus. Shannon Britton, assistant director of Grounds and Waste Management, and other groundskeepers pointed out areas of weakness according to CPTED with their flashlights, such as overgrown bushes that should be trimmed back and thinned to create clear viewing lines in between and over plants.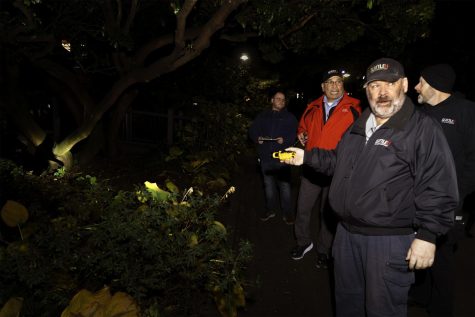 Britton also noted that weak lighting around campus could be improved with CPTED. Lightbulbs that emit an orange or yellow glow appear to cast more shadows than the bright white of LED bulbs, and are less efficient at illuminating large areas.
"I think it's important to raise awareness for students to be aware of their surroundings," Britton said. "Small changes to campus groundskeeping and lighting allow for improved passive mindfulness of one's surroundings.
The walk through Southeast campus continued onto Jefferson St., where participants reentered campus to look at secluded corners around Campion and Chardin Residence Halls.
Continuous maintenance and proactive changes across campus is a goal for both Grounds and Facilities that requires constant vigilance. Making these improvements has been more difficult in recent years due to chronic shortages in staff that reduce the capacity to be proactive.
Lighting is an enormous amount of upkeep for the electricians at Facilities. Robert Schwartz, associate vice president for Facilities, has attended the Campus Safety Walk for eleven years on behalf of Facilities. Schwartz estimates that around $60,000 is allocated for materials and labor to keep lighting in working order at Seattle U, and more may be needed in order to make changes in exterior lighting. These changes would include transitioning to brighter LED bulbs in dimly-lit areas, laying additional electrical lines to power lights and new fixtures.
Placement of new light fixtures and other safety measures requires community input, the most direct line of which being the Campus Safety Walk. Alvin Sturdivant, vice provost for student development, also attended the walk and hopes to see more of the student body providing their insights next year.
"Each year we make massive improvements, and it's these intensive walks that make those improvements," Sturdivant says. "We have a collective responsibility as a community to take ownership in the same way we would take care of our own person."
Sturdivant views the Seattle U campus as an intersection of people and place—the changes made to the campus are formed entirely by the people inhabiting it. He argued that Seattle U existing in a busy urban environment necessitates community participation to identify spots on campus where pedestrians may not feel safe. The Campus Safety Walk concluded with a look around the Broadway Parking Garage and the Broadway entrance to campus, one of Seattle U's busier thoroughfares that mediates the campus' relationship to the city just outside its walls.
Campus safety improvement continues to be a focus for Facilities and Public Safety following the Campus Safety Walk, but additional input from the community is welcome as they make improvements to the experience of all who traverse the Seattle U campus.
Leave a Comment