Redhawks Reflect on Unexpectedly Small Red Wave
As midterm election results began to trickle in, Eddie Voloshin, a fourth-year philosophy major at Seattle University and vice-president of the political science club, found himself displeased. For Voloshin, who is Ukrainian American with left-leaning politics, the Democratic platform lacked a strong campaign message and reasoned commitments. 
"I'm disappointed the Democrats didn't campaign on economic issues and I'm disappointed in their lack of commitment to diplomacy in Ukraine," Voloshin said.
As election night progressed, it became clear Democrats outperformed expectations despite ubiquitous voter disappointment.
Democrats had the strongest showing by a president's party since 2002 but were unable to hold control of the House and barely eked out a majority in the Senate. Republicans expecting the "Red Wave" prophesied by the media over recent months were left scrambling as voters stymied their zealous program put forth in late September.
Republicans won a House majority while Democrats maintained a senate majority. The new composition of Congress is likely to signal intensified polarization and legislative challenges. Ambitious legislation has almost no chance of getting through both chambers. After elected officials take their seats, President Joe Biden's program will likely be relegated to executive orders, bipartisan entreaties and his veto pen.
Though a nuanced understanding of new Congressional dynamics will take months to surface—partially due to the Georgia runoff election—no party seems completely victorious, but individual politicians had significant wins. 
Florida's incumbent governor Ron DeSantis solidified his place in national politics after he bested his Democratic opponent, Charlie Crist, by a margin of nearly 20 points. Once a contested swing state, Florida seemed to veer from the realm of competition after midterm results were tallied. Republican Sen. Marco Rubio comfortably won re-election, Florida's state legislature picked up a supermajority in both Houses and DeSantis snagged large GOP margins in formerly blue districts. DeSantis was also able to snag up to 65% of the vote in Hispanic districts, a voter base Republicans have repeatedly tried—and largely failed—to win over.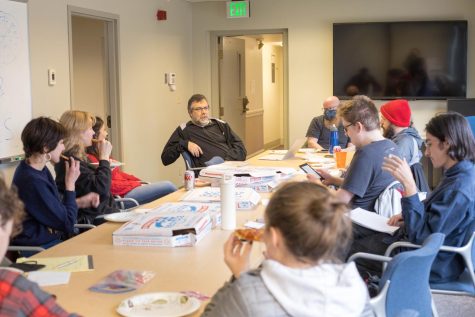 DeSantis's marked success in Florida stood in clear contrast to the floundering performance of former President Donald Trump's endorsed candidates. Two days after the midterm elections, former president Trump took to his social media platform Truth Social to deride "Ron DeSanctimonious" as an "average REPUBLICAN governor." This comes amid rising speculation that DeSantis and Trump will face off for the Republican Presidential nomination in 2024. Many pundits agree that, as The Atlantic summarized, if DeSantis "intends to wrest control of the GOP from Trump, now is his moment."
Seattle U's Federalist Society declined to comment on the DeSantis victory or "any political candidates or specific policy questions." They noted over email that "it is always good to see so many people engaged in voting."
Overall, voter turnout was lower in 2022 than peak turnout in 2018, but Wash., Ore., Mich., Pa. among other states exceeded 2018 records. Voters under 30 turned out at the second highest rate in three decades, after 2018, according to a study by Tufts University.
Patrick Schoettmer, associate professor of political science at Seattle U, said the predicted "Red Wave" was consigned to Florida, instead of the entire nation, partially because of high rates of youth turnout. 
"One of the reasons Democrats did much better than expected was because Gen Z turned out at higher rates than expected. We have reason to believe that the Supreme Court overturning Roe V. Wade was a motivating factor for a lot of Gen Z voters to show up." 
According to a CBS/YouGov poll conducted last June, 78% of Americans under 30 think abortion should be legal in all or most cases while 41% said the Roe V. Wade decision compounded the likelihood they would vote.
Correspondingly, last week's reproductive rights victories in Kentucky, Michigan, Vermont, California and Montana passed as youth turnout surged nationwide. But, while abortion was a potent issue, the New York Times reported that in most cases elected state officials are likely to preserve the Post-Roe stasis.
In a widely followed win for Democrats and progressives, Lt. Gov. John Fetterman flipped a US Senate seat after he bested his Republican opponent Mehmet Oz. Fetterman's strong performance in purple districts like Erie County led progressive journalists and commentators to argue for the viability of left-populism in deindustrialized states. Fetterman's campaign maxim, "Every County, Every State" embodied his programmatic commitments to racial, reproductive and economic justice paired with substantive campaigns in small towns which are not traditionally 'blue counties.' 
Regardless of Democratic gains in the Senate, the forthcoming Congress will likely produce much of the same: sharpened polarization and slowed legislative processes. The Supreme Court supermajority, however, is unencumbered by mass ballot casting.
 "There's still going to be a lot of policy being passed, it's just that the Supreme Court will be setting policy and not Congress or the President," Schoettmer said, referring to the next two years in Washington. 
Leave a Comment