Creating a Greater Future: President Peñalver's Town Hall
President Eduardo Peñalver hosted faculty, staff and students for a discussion on the importance of growing Seattle University's endowment. The President's Town Hall, held Nov. 8, centered on the financial resources available to the university, undergraduate retention, and student and faculty concerns. 
"While we have many of the things that we need to succeed, we need more resources," Peñalver said at the event.
Caitlin Carter, adjunct professor of Spanish, would like to see improvements regarding the quality, affordability and ease of mental health access.
"When thinking about both the student and faculty population, I would say [we need more] mental health resources. I don't think students or faculty have adequate access," Carter said. "A lot of things are referred off campus and I think that leaves a lot of students and faculty feeling like they don't know where to go."
Peñalver hopes that additional resources will retain current students and attract future ones. COVID-19 and the lingering effects of the pandemic have accelerated the shrinking undergraduate market, contributing to the university's declining undergraduate retention rate. 
While undergraduate enrollment has dropped, the number of graduate credit hours has done the opposite. To accommodate these rising numbers, Peñalver specifically wants to add graduate resources such as allowing for more flexible schedules to help meet the needs of the students. Moving forward, Peñalver wants the university to distinguish between comfort with the status quo and comfort with the risk of failure. 
"In order to do more, we need to do less. We need to look at what we're doing, find out the things that are not effective, and stop doing them," Peñalver said. "Then we'll have time to reflect on things that we need to do." 
Most of Peñalver's goals are endowment related. As a starting point and long-term project, he wants to double the $300 million endowment that Seattle U currently has. Administrators project that growing the endowment is essential for better support of the faculty, financial aid and the student experience.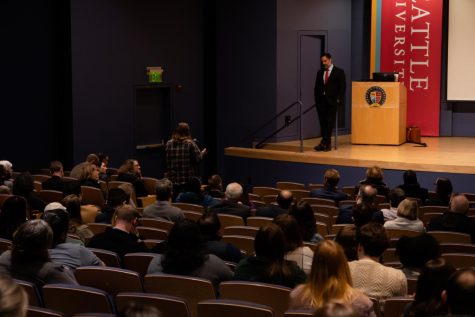 Peggy Fine, director of development for the Colleges of Education and Nursing, offered her perspective on how financial resources for the university should be accrued.
"I think we need additional resources and need to build our endowment in order to sustain the strength, growth, and future of the university," Fine said. "For me, that really means more support from donors and alumni." 
Following Peñalver's remarks, the event provided space for community members to ask the president about the strategic directions. One attendee asked how the university was taking steps to support Laudato Si, Pope Francis' encyclical on the environment that encourages everyone to take better care of the planet.
Seattle U is fully divesting its endowment from fossil fuels by June 30, 2023. Wilson Garone, chief financial officer, explained that the endowment is a fund that is invested for the long term and its performance is directly related to what is happening in the stock market. Thus, this divestiture has resulted in poor endowment performance this year. 
"What happened this year was that the oil prices went up, so the institutions that had endowments exposed to fossil fuels had better performance than we did. We don't have that opportunity," Garone said.
While doing so has resulted in a hit to the school's endowment, Peñalver noted it has also ensured that the university's investments align with its values.
Similarly, At Provost Shane Martin's Provost Convocation, he identified student retention as a community responsibility. Similarly, one attendee asked about Peñalver who the responsibility of decreasing undergraduate enrollment fell under, to which he noted the necessity of all university members remaining attentive to the impact they have on prospective students' decisions. 
Third-year Law student Jay Conrad spoke about concerns regarding the non-binary and transgender student experience. They asked for more administrative support for bathroom access, community building and diversity, equity and inclusion (DEI) efforts. 
"It's important for students to have a voice and contribute to the process of change," Peñalver said. "It's on the administration to hear them and do the work that they need to do." 
To ensure that everyone's voice is heard, Peñalver has a suggestion box that can be viewed online by visiting the Office of the President webpage. He also invites all Seattle U community members to talk with him over coffee every Friday, from noon to 1 p.m., at the Bangasser Reading Room in the Lemieux Library.
Leave a Comment