Redhawks Cross-Country Season Comes to a Close
The Seattle University cross country season may be over soon, but their work is far from done with the indoor and outdoor track season approaching. After competing at the Western Athletic Conference (WAC) Championships, Oct. 29, the team will conclude their season at the NCAA West Regional Championship Nov. 11.
This year's athletes have seen improvement over last season, and speak positively about the program's commitment to recovery from workouts and injuries. Redshirt Freshman and nursing major Azalea Groleau, and Freshman Computer Science and Engineering major Khalid Hirsi, expressed that their ability to succeed hinged on injury recovery.
After a few weeks of pre-season training, Hirsi sustained a hip injury and sprained wrist. In his first season as a Redhawk, Hirsi had to sit out immediately in order to return at full capacity. Sitting out on meets was disappointing for Hirsi but worth the wait in order to run at full capacity. Cross country Head Coach Kelly Sullivan checks in regularly with injured athletes and assigns separate workouts in order to keep athletes at a performance baseline condition. Hirsi and fellow teammate Sophomore Matthew Holme trained together while they recovered.
"[Holme] had an injury too, so he and I worked together to stay in shape," Hirsi said."He really pushed me to grind when I was feeling down." 
While Groleau joined the team last season injured, her season resulted in a redshirt year. Even though she wasn't racing, Sullivan frequently checked up on Groleau and supported her recovery until she could start running again at the start of the 2022 season. 
Closely monitoring injuries is key for the women's cross country team this year as only nine Redhawks are listed for the 2022 season roster. Every runner counts, and Groleau says the smaller roster means the team is closer than ever.
"Honestly, you never know who could be first on our team. We are all equally talented, and I think it just depends on the day," Groleau said. "We all group up when we race and push each other. If one of us hasn't been having a great day, then the other person can lead and pull the other people along."
The closeness of the women's team is also reflected in their team at the WAC Championships. The first five Redhawks finished within a 40-second spread. Groleau, who finished first for the Redhawks, sees the tight finish as an indicator of the Redhawks' success.
Senior Environmental Studies major Emily Harris says that focusing on grouping runners is a change in approach for the team. Pack running is a way for runners to boost morale and support each other mid-race.
This conscious approach to competition is not the only thing that has changed about the cross country team this year. According to Harris, the approach to rest and recovery has shifted as well.
"There's a really common notion to think that you have to go as fast as you can for every single run, but one of the most important parts about running is the recovery," Harris said. "Taking recovery days easy and making sure that we're eating enough and getting enough sleep has helped a lot with progressing this team forward. We can conserve energy for our meet days, and that's really helped with injury prevention."
Harris pointed to the Willamette Invitational as a good representation of their successes this year. The women finished first at the meet this year, an improvement from their third place finish last season. 
Freshman Kinesiology major Parker Wagnild set a personal record in the 8 kilometers event at Willamette. He believes the team is more than ready for Regionals.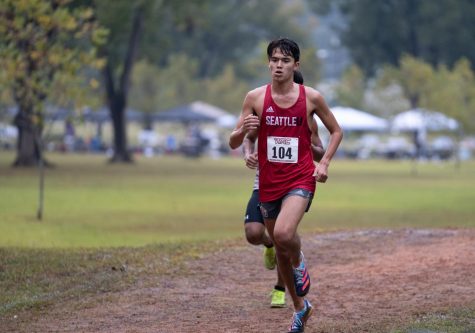 "We're looking forward to this meet against some of the best [teams] in the country," Wagnild says. "We're going to go out there and have fun doing it, and we all have something to prove, so I'm excited."
The Seattle U cross country team will compete at the NCAA Regional Championship at Chambers Bay Golf Course in University Place, Wash., Nov. 11. The women will race at 10 a.m. and the men will race at 11 a.m.
Leave a Comment