The Bellarmine Blackout: 40 Hours with No Power
Flashlights in hand, students navigated Bellarmine Hall's staircases by dim illumination of the overcast Seattle sky Monday morning—the power had been out for over 40 hours. Due to a neighborhood power surge that damaged the hall's breaker, the residence hall was left without internet, heating or hot water as noted by Seattle University Public Safety in an email Sunday night. 
"It started around 5:20 on Saturday evening, I remember because I was working on an essay and I noticed that all my documents went offline," a desk assistant and Bellarmine resident, who wished to remain anonymous, said.
From behind the desk, they directed foot traffic away from now unpowered elevators. Though students were able to reach their rooms through the staircases on either end of the building, some report this option not being entirely accessible.
"I'm not a fully able-bodied student and I live on the top floor of Bellarmine, so it's very difficult to go up and down the stairs. Yesterday and today I packed up all my stuff in a bag because I know I'm not going back to my room," the desk assistant said.
Students also reported the difficulties they faced within their dorms. Though emergency lighting remained, the residence hall temporarily lost its heating and hot water systems.
"I developed a cold this past weekend because my room is so cold, there's just no way to maintain the heat. I think all the food in my fridge has probably gone bad as well now," they said. "A lot of us live here and a lot of us work here. We're guaranteed our room here our first two years, and it honestly doesn't feel like that at all, that we're guaranteed this space." 
Jacob Caddali, a first-year political science major and SGSU first year senator who lives in Bellarmine, described the impact of the power outage on the ability of students to fulfill their academic responsibilities. 
"There wasn't any light to do homework and there wasn't good internet," Caddali said.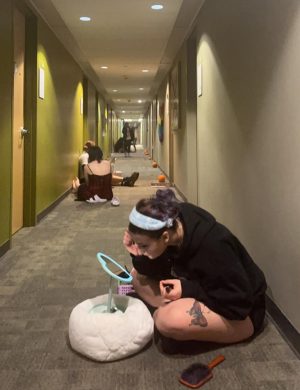 Nights and early mornings lacked daylight, which students found posed a unique challenge. Niko van Stipdonk, a second-year business analytics major, had difficulties with his morning commute to work. 
"I had to wake up at 5:50 for work today, and there was zero light in the hallway or bathrooms. No shower, no bathroom. I had to use my phone for a flashlight, which means losing battery, and if I run out of battery on the way to work I can't get to work," he said.
A flurry of emails were sent to students during the crisis. Abby Petrilla, a first year humanities for teaching major and Bellarmine resident, felt like updates from the university were still insufficient. 
"Not a word [about when it will be fixed]," Petrilla said. "All we've gotten is that they say they're working on it and that our safety is being ensured. Even though the doors aren't working now–and that's definitely not safe."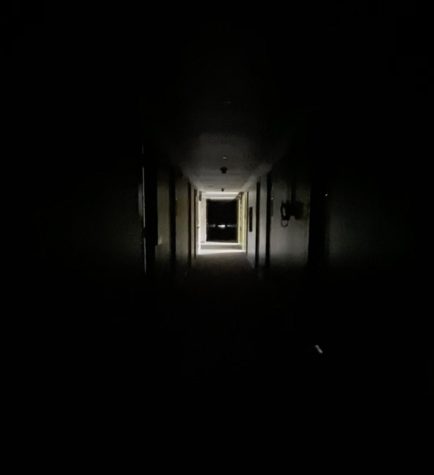 In addition to the city failing to fix the issue within the standard timeframe, Caddali was concerned by the lack of accurate information made available by the City of Seattle as the blackout continued. 
"Initially, the power outage tracker on the city website did not actually reflect the situation, as during the outage the city government website said that there was no power outage in this area," Caddali said.
Through the challenges posed by the blackout, some students were able to find humor in the chaos. With rooms left dark, many took to the dimly lit hallways to get into costume for Halloween.
"Because it was the only place with light, the hallway was the hot spot for getting ready," Petrilla said, laughing. "All of the girls brought their little vanity mirrors out into the halls and were doing their makeup together in the emergency lighting."
As of Monday, the university has offered interim power sources. While a backup generator is now providing electricity to the residents of Bellarmine Hall, the university forecasts temporary outages due to the continued work of the city to repair the problem. In an email to the campus community, Vice Provost Alvin Sturdivant offered an assessment of the current situation. 
"The generator is a temporary solution while we work with the manufacturer to replace the damaged breaker. There will be additional, temporary outages when the part arrives so that we can install it," Studrivant wrote. 
While Bell residents now have some restored normalcy, heating is still being supplemented by space heaters in hallways due to the lack of full power. 
Whether the blackout will impact the academic success and mental health of students in the long run remains to be seen. 
News Editor Sam Bunn contributed to this article.
View Comments(1)