Student Finances and Food Justice: Redhawks Navigate a Patchwork of Resources
Food insecurity is often a stigmatized conversation, as shame often surrounds people lacking access to essential resources to meet their basic needs. However, it is an essential topic from an economic and ecological perspective. Food justice advocates to ensure that all people can access affordable and nutritious meals on their table. The Office of Multicultural Affairs (OMA) held their third annual Food Justice Week, Oct. 24 through Oct. 28, for students to engage in conversations about food security and concerns surrounding the issue.
Karina Saunders, the assistant director at OMA and the rest of the OMA staff put together events to educate the Redhawk community on the prevalence of food security.
"The hope is that this wouldn't just be [one] week where we talk about food justice. The conversation should continue in classes and clubs. That people would continue to look at all the systems that affect food justice while sharing the resources and having the conversations so that people don't feel 'shame' about needing support," Saunders said.
Food insecurity is an economic issue, as 13.5 million American households were food insecure at some point during 2021, or were forced to sacrifice basic necessities in order to pay bills. University of Washington and Washington State University found that 27% of Washington residents experienced food insecurity in July of 2021 which is a dramatic increase from 10% before the COVID-19 pandemic. During the timeframe of the study, they found that Washington residents seeking food assistance increased from 29% to 42%. As a private university, there is not a robust amount of information about the population of food insecure students at Seattle U, but researchers for the Hope Center for College, Community and Justice speculate a roughly equivalent level of food insecurity on non-public campuses. 
The 'broke college student' narrative is often joked about, but it's a reality that affects students' mental and physical wellbeing. In a survey of 262 cities, Seattle ranked ninth for the highest overall cost of living, which has the potential to leave many facing hunger. The Food and Agriculture Organization of the United Nations reported that between 702 and 828 million people faced hunger globally, as a result of food insecurity in 2021. In the emotional health realm, a study by BMC Public Health about the relationship between food insecurity and the COVID-19 pandemic found that food insecure people have a higher risk of developing anxiety and depression. Along with the emotional toll, the United Nations report also detailed that moderate food insecurity can increase the risk of malnutrition in people of all ages. 
The Food Insecurity Initiative at OMA includes educational programming regarding the causes of hunger, how food insecurity affects our lives and destigmatizing the conversation surrounding food related issues. Gabby Rios, a second-year graduate student pursuing student development and the graduate program coordinator in OMA, highlights the importance of breaking this misconception.
"For college students, food insecurity is tied to wellbeing and when we aren't being well nourished then that is going to affect our ability to thrive at the institution we came to succeed at. We think that it can't happen to us, but talking about it and helping students realize 'Hey, maybe I am experiencing food insecurity and this is something I need to address,' is important," Rios said.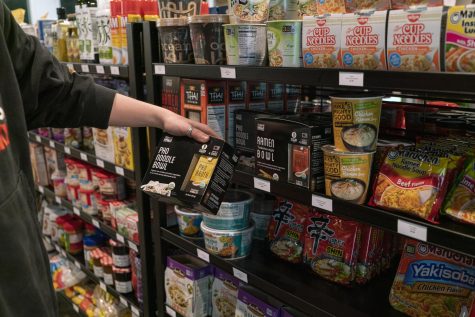 The Food Insecurity Initiative attempts to provide solutions for those experiencing financial problems. OMA offers various programs including the food pantry to help aid the Redhawk community with food insecurity, The Food Pantry is open to everyone on campus with a Seattle U ID card and they provide Emergency Redhawk Dining Cards to enrolled students as a short-term aid for students lacking access to food. The cards are loaded with up to $500 per academic year, and are intended for unexpected financial emergencies. Extra dining plan money can be donated to support the pantry at the end of each quarter. Also, residential students can donate extra food at the end of the academic year.
BIPOC communities are more heavily impacted by food insecurity and Black individuals are almost three times as likely to face hunger in comparison to white individuals. OMA presented about the Black Panther Movement during Food Justice Week, explaining that in the 1960s, the movement started a program that they called the Free Breakfast for School Children Program. The goal of the program was to provide the most important meal of the day to children struggling to focus in school due to hunger. The organization received so much support that they essentially forced the government to implement the Free and Reduced Lunch program nationwide in 1975. 
Aakanksha Sinha, Co-Founder & Chief Impact Officer at Spice Waala, spoke at a Lunch and Learns event last week. With locations in Capitol Hill and Ballard, Spice Waala focuses on providing marginalized communities access to culinarily rich foods. Sinha argues that there should be a community focus towards refugee and immigrant owned businesses to make sure they have the necessary tools to meet the needs of marginalized communities. They felt that Indian cuisine was very westernized in Seattle and began to present authentic flavors for those desiring a taste of home or for those wishing to expand their taste buds at the South Lake Union farmers market in 2018. 
"I think for Spice Waala, it's very fulfilling to see someone's reaction after they take the first bite of the food. It's really satisfying you're creating something with your hands that someone can enjoy. We make sure that everyone can enjoy food because it's food. You need to enjoy it," Sinha said. 
Seattle U is also involved in efforts to improve the neighborhood through gardening. Grounds and Landscaping implemented the Edible Campus Initiative in 2010. As part of the initiative, Grounds and Landscaping hires student interns that maintain campus green spaces. The organization works to connect students to where their food is coming from and introducing skills that go into growing food. There are several gardens throughout campus and when the produce is ready to be harvested anyone who needs or wants it is welcome to it. Grounds and Landscaping will typically take harvested food to a food bank or a community kitchen that provides meals for people in need.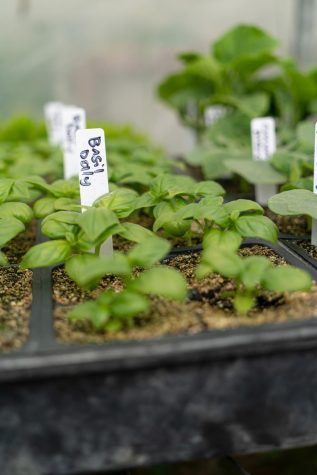 Shannon Britton, the assistant director of Grounds and Landscaping, expressed the excitement expanding the Grounds and Landscaping initiative to off-campus partners. Britton shared that the team is working with the Tilth Alliance Rainier Beach Urban Farm and Wetlands, an organization that works closely with local farmers and gardeners to build a sustainable, equitable food system, this year. 
"We are partnering with them this year and will be producing primarily for the African Elders program. Our students get to learn how to grow produce that they usually wouldn't learn how to grow like okra and other special herbs. It's sort of like doing this swap where we get to learn from their educated growers [and in turn support their program]. There's a real integration of social justice, food justice and food security," Britton said. 
Each year, 108 billion pounds of food is wasted in the U.S. alone. To practice sustainability, the Seattle U community is focusing on the waste they are producing, considering ways to eliminate this waste. Redhawk Dining holds a goal of reducing food waste by 10% this year and have hired new staff that spend their time tracking what is being thrown out. Every day they weigh their food and record how much is being discarded so that they can come up with adequate solutions to decrease those numbers in the future.
Yolanda Cieters, the Sustainability Manager at the Center for Environmental Justice and Sustainability, encouraged students to think about where their food comes from and where it ends up. 
"A big piece of food justice is making sure that the food you are consuming is just. Then there is consumption and thinking about the pricing of food, how the food is subsidized and most importantly access to food. How are people getting food and what do we do about the places where access is limited? If we are wasting food that only means that others were unable to consume it," Cieters said. 
Food insecurity is not limited to a few communities. Despite many clubs and organizations on campus offering temporary remedies to student food insecurity, the systemic reality of Redhawks going hungry continues. Whether this patchwork of resources is enough to uphold the dignity of all students is up for debate. 
Leave a Comment