Kedai Makan Co-Owner Reflects on Closing After 10 Years
Kedai Makan, a Malaysian inspired restaurant and bar on Capitol Hill, closed this past weekend after hosting one last dinner service Saturday, Oct. 29. 
"We started Kedai because we discovered a whole new world after traveling to Southeast Asia. We were intrigued by the mix of cultures and food we found. We decided Seattle needed some of that. We wanted to make simple honest food and have a dining room filled with folks with different backgrounds. We have achieved this, and we are very proud," read a message posted on Kedai Makan's website by the restaurant's owners, Kevin Burzer and Alyson Wilson. 
Burzer and Wilson met in Germany at a hotel they were both working in at the time. After saving some money, they decided to travel through Asia, which is where they fell in love with Malaysian food, sparking the flame that would later become Kedai Makan.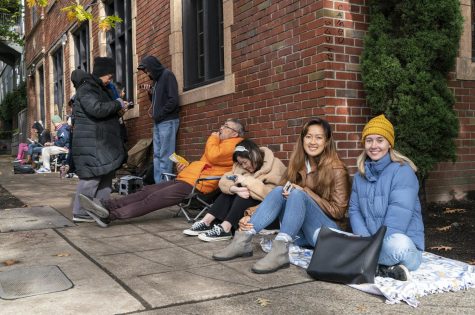 Burzer and Wilson started as a booth at local farmer's markets around Seattle a decade ago. After gaining a bit of a following, they moved into a take out window on East Olive Way, where they resided for two years before finding their final location a few blocks away—the spot they've run their bar and restaurant out of for the last seven years. 
Wilson said the support as they approached Kedai Makan's closing was overwhelming. From people that they haven't seen since being at the farmer's markets, to those who have seen the evolutions of the restaurant, Seattle was showing up to dine there one last time. 
"Each day there has been a line that starts a little bit earlier. We are just open for dinner service from five to 10 p.m., but I get to work at noon and there's already a line of fifteen people out the door. It's kind of like, 'What? What is happening?' Just unreal, surreal to me right now," Wilson said. 
Patrons have sent a slew of emails recollecting upon how the restaurant has affected them, encouraged them to expand their palette or sparked their interest in traveling.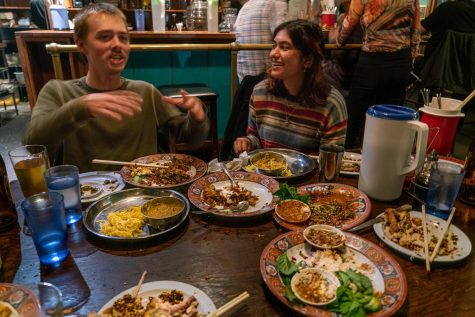 "That's why we started this in the first place, because we were lucky enough when we were a bit younger to be able to travel and see things that we had no idea were out there in the world," Wilson said. "So for us to be able to help other people with that process, I just think that's so cool."
The discussion about closing the restaurant began in 2019, when Wilson and Burzer began to feel the strain of owning and running the restaurant. When the pandemic hit the next year they, like many small businesses, were just trying to survive. 
The Washington Hospitality Association (WHA) released a report Dec. 2020 which found that 624 Seattle restaurants and bars closed during the COVID-19 pandemic. The National Restaurant Association conducted a survey in that same month that reported that more than 110,000 restaurants had permanently closed in the same period.
"Due to the pandemic, due to just how hard it is to find staffing, all the [small businesses] are going away slowly. It's really sad," Wilson said. 
Burzer and Wilson are one of the small businesses that managed to make it through the height of the pandemic, but it does not make the decision to close now any easier. The level of involvement the pair have in the business, such as Burzer being the head chef, was something they knew would not be sustainable in the long run. 
"It's just been busier than ever coming out of the pandemic, which has been fabulous, but again it's just the constant grind of everyday," Wilson said. "A lot of more, more, more which I get, but at some point you just go 'I cannot do anymore.' We were all in, but now we're ready to slow it down a little bit." 
While the couple's future plans are still up in the air, the first task they are focused on is selling the space that Kedai Makan has been occupying for the past seven years. After that, Wilson and Burzer want to take some time to decompress and ask themselves what they want to do next. 
While closing Kedai Makan has certainly been bittersweet for Wilson, she has hope that Seattle and the small businesses within it will continue to bounce back, bringing with them a life that is what makes the city what it is. 
"I really hope that we get some new, fresh people that are willing to put the work in and make the city unique again because I feel like all those small little mom and pop places are going away for various reasons," Wilson said. 
Whether it be the looming recession or a struggle coming out of the thick of the pandemic, small businesses are still striving for success and survival. While there are many organizations and projects to help these businesses, like Seattle's Small Business Stabilization Fund, these modest municipal resources can only do so much to slow the process of small businesses closing throughout the Emerald City.
Leave a Comment