Dodgeball Has A Place for Everyone on the Court
Seattle's Cal Anderson park is home to many niche sports communities. One such group that frequents the park is Dodgeball Seattle, and it's growing. Dodgeball Seattle is a non-profit organization that professes the values of respect, safety, integrity, personal development and un-compromised spirit. With multiple pick-up games and leagues, the organization meets weekly as it works to make Dodgeball accessible to all in the community.
Games are played at the park 8:30-11 p.m. on Fridays and Sundays year-round, rain or shine. Cal Anderson park was one of the first public dodgeball venues in the northwest which started in 2007.
"I'm not the best at dodgeball," Alex Taylor, a behavioral technician and Seattle U alumnus said. "But everyone there was really supportive, helped me out and taught me things like certain ways to throw the ball and even some fun strategies."
Giving back to the communities is at the forefront of Dodgeball Seattle's stated mission. Prior to the pandemic, they hosted an after-school program and have consistently held charity events.
"We also partner with other community non-profits," Lucas Boyle, lecturer at Seattle U in the design department and lead organizer for Dodgeball Seattle said. "All of our t-shirts are made by Sanctuary Art Center, a non-profit that works with houseless youth and does job training programs. We try to find ways to connect with other Seattle organizations that are making a positive impact."
The organization hosts pick-up games in Capitol Hill, Green Lake, SoDo and Ballard on a weekly basis. Seattle Dodgeball hosts multiple leagues that vary in competitiveness. There are options for those wanting a more intense experience as well as recreational leagues where players can engage more casually. The recreational leagues offer flexibility in the rules through different-sized teams and non-standard game styles and also have post-game socializing events. The competitive foam league is Seattle's top-level dodgeball league where participants can play against the best players in the region and requires prior competitive experience. 
"A big issue in the dodgeball world, not just locally, is a lack of women and non-cisgender males," Boyle said. "So a big focus of ours has been increasing the opportunities for all women dodgeball events and reaching out to more non male participants."
Two of the leagues that are hosted are the rainbow leagues, one competitive and one recreational. The rainbow leagues are LGBTQ+ community safe spaces and have been around since 2019. The recreational league accepts all players and the competitive league pulls members from the recreational rainbow league to play in a more competitive environment.
Every person involved in Dodgeball Seattle has a different story for how they got started. Some people find it by accident or see it happening when out for a walk. Several Seattle U students have participated in the games from time to time when they were looking for something new to do.
"For me it started in the spring quarter (2022) I started to look for things to do around the community and I saw they had pick-up games every Friday and Sunday," Calvin Little, a second-year mechanical engineering major said. "So I just stepped on the court and everyone has been really friendly."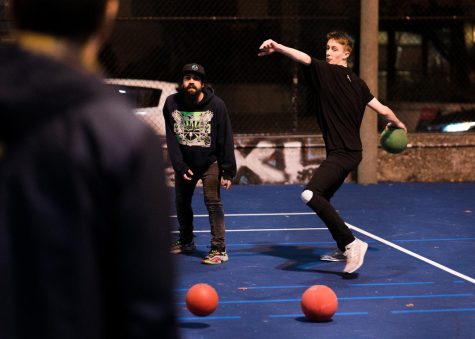 Dodgeball Seattle encourages people with diverse backgrounds to participate and come out to the games and leagues. The organization states that everyone involved in the programs works towards the common goals of inclusion, equity, safety and welcoming all who show up regardless of where they come from. One motto for the organization is "You can't spell dodgeball without ALL." It has between 300 and 400 participants in a given week. 
"Dodgeball is a sport of integrity," Boyle said. "You have to referee yourself, and call yourself out when you get out. There is a kind of intersection between goofy goofy weirdos with really high integrity people, and you get this really nice, fun group of folks."
Anyone is welcome to show up and join in a pick-up game. A schedule of all games can be found on their website. 
Leave a Comment