Local Artist Livens Up an Alleyway
"This one's called 'Global Warming Isn't Real'" Ricardo Ramirez, a 56-year-old Capitol-Hill-based artist explained, gesturing towards a hazy image of an unassuming figure encircled by a forest fire. "It's called that because she's sitting there, fire burning all around, and she doesn't seem to notice."
Every weekend, weather permitting, Ramirez opens his alleyway garage and displays his paintings, antiques and assemblages. On Denny Way, between 12th Ave. and 13thAve., Ramirez hangs his work on the ultramarine wall of the adjacent post office, lays a carpet before his studio and settles into one of his antique chairs.
"I tell people when they're walking by, 'Welcome to my art show! This is my studio. Doesn't this place look classy with rugs on the pavement in the alleyway?'" Ramirez said, punctuating his sentences with laughter.
Ramirez's work, which he described as "subtly political" and cheekily critiqued as "too colorful," spans a range of artistic idioms. Since many of the paintings are years old, Ramirez tracks his artistic evolution through the pictures he has yet to sell, preferring those done in the impasto technique. 
Occasionally, a passerby stops in the alley. With "Abby Road" humming on the radio, Ramirez wastes no time in making a friendly entreaty.
"That radio is from 1942, it's still going! Just listen to that sound," Ramirez told an intrigued pedestrian, pointing towards his vestige from the Golden Age.
"They don't make them like they used to," the man responded. Ramirez winked; he had a speaker behind the long-malfunctioning radio.
Ramirez, born in Southern California and raised in Lake Stevens, Wash., has collected antiques and painted since age 12, first expressing his artistic intrigue on rocks, then moving to canvas. After attending three separate art schools in the Pacific Northwest, Ramirez settled in Capitol Hill, where he has etched out an array of friendships.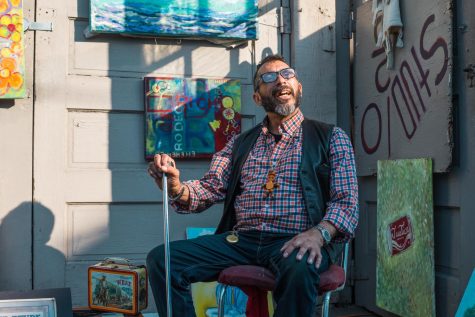 "Everybody knows me in the streets," Ramirez said of his status as a local artist.
For much of his time on Capitol Hill, Ramirez has worked in the service industry, done odd jobs and sold art and antiques to get by. He most recently worked as a parking attendant for the corporation Ace Parking. During his four-year tenure with Ace, Ramirez's hours had been reduced from full-time to part-time, making it nearly impossible to survive. When the pandemic hit, Ramirez was serving nurses at the Kaiser Permanente Capitol Hill office. After long periods of under-scheduling, management eventually fired Ramirez while the pandemic continued to rage. One of the main reasons for his termination, Ramirez suspects, was his leniency with the clientele.
"I got laid off for not charging the nurses," Ramirez said. "The doctors get a free, hidden parking lot and the nurses have to pay $18 after working all day—10 or 12 hours—saving people's lives. Look, I'm raised by hippies, and we have the value that just 'cause it's a manager, just 'cause it's the president, or whoever's telling you what to do, doesn't mean it's right." 
Ramirez's studio, by technical standards, is a garage; in a long line of garages meant to provide parking for nearby tenets. According to Ramirez, his good friend, Ed Hills, used to live in The Randolph, the apartment complex overlooking the garages. When Hills lived in The Randolph, about 20 years ago, rent, including access to the garage, cost him $450 a month. As the process of gentrification drew unusually well-to-do tenets to the building, Ramirez warned of the outcome.
"This is not good Ed," Ramirez remembered saying at the time. "[The landlord] brought all these [upper-class] people in here to throw all you people out who have been here for a long time and raise all the rents."
In this context, Ramirez's claim to be "psychic sometimes" was confirmed. Between 2010 and 2020 the cost of living in Seattle rose 23.2%, rents increased by nearly 92% during the same time. Capitol Hill, once a working-class neighborhood with a concentrated presence of gay artists like Ramirez, began to pander to the lucrative needs of tech workers and the youthful impulse to go out. Those who made the neighborhood desirable in the first place were mostly pushed aside.
Luckily, Ramirez managed to hold onto his studio through continued spikes in the cost of living and the ballooning of Seattle's median income. If the kindness issued from the open doors of his studio is any indication, Ramirez clearly cherishes the garage he's been "grandfathered" into.
"This is the spot," Ramirez said. "There are people roaming up and down, I'll have crowds, and husbands and wives and their kids coming in. Their moms are like 'oh this is so cool, you gotta see this.'"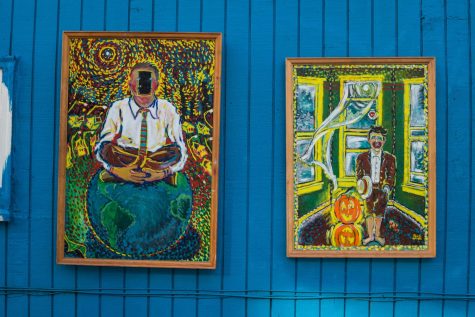 As cars awkwardly maneuvered around Ramirez, his chairs, carpet, radio and work; the artist told stories, retreated into the studio for refreshment and made bounteous invitations to the nearest pedestrian. Though the alleyway was chiefly an individualized parking lot, two other artists made use of their units: a drum teacher and a potter.
"I dream about only artists in here instead of cars," Ramirez said, facing the long line of locked units.
Leave a Comment