COVID-19 Cases Are on the Rise: Implications for the Seattle U Community
King County has moved from a "low" to "medium" level of COVID-19 cases as of Monday, April 25. With the Center for Disease Control and Prevention's (CDC) most recent mask and indoor vaccination status guidelines, COVID-19 cases have begun to rise around the King County area. 
Jeff Duchin, health officer at Public Health Seattle-King County, said to The Seattle Times, "The threat from COVID-19 has decreased … but it has not disappeared." 
King County has seen a 19% increase in cases since statewide mask mandates were revoked; within the past two weeks, there have been an average of 214 new infections per 100,000 people. 
A federal judge in Florida recently deemed masking requirements on airplanes, trains, buses and other forms of public transportation unconstitutional. Since the ruling, five of the nation's largest airlines dropped their mask requirements. The Amtrak rail system announced that masking would no longer be required for passengers and employees. Following suit, Seattle-area public transit agencies, including King County Metro and Sound Transit, no longer require masks. 
At Seattle University, 66% of students commute to class. The mix of students commuting, higher COVID-19 case numbers county-wide and removal of mask mandates increases the potential of transmitting and spreading the virus.
Between April 13 and April 26, 94 new reported positive cases were reported in the Seattle U community. There were also 10 new confirmed cases April 24. The increase in cases represents a new COVID-19 spike. Cases of the virus have reached roughly the same levels as the beginning of the early January spike, before the university reallocated in-person classes to online courses. 
Brenda Bourns, a senior instructor in Seattle U's Biology Department, wears a mask in some on-campus locations but not in others. 
"When I'm walking outside, I take it off because I really miss seeing people's faces and recognizing people and just smiles. For me, it's masks in class or any enclosed spaces, like elevators and public transportation coming to campus," Bourns said. 
She feels the university is smart in following CDC and government recommendations, as it's the best Seattle U can do at the moment. 
Following the mask mandate removal in late March, a petition advocating for student signatures began circulating with the hopes of demanding the mask mandate be reinforced. The Seattle U Gender Justice Center, a popular resource and safe space for women, transgender and gender non-conforming people, took to Instragam to gather attention to the petition with the page's infographics. 
Keira Cruichshank, a senior member of the Gender Justice Center's leadership team, finds signing the petition and advocating for a mask mandate reinstatement important. 
"[Not wearing masks] affects everyone in our community, particularly immunocompromised, disabled and elderly working people on our campus," Cruichshank said. "Our goal is to both show the university the widespread support and amount of people who care about this issue, and to demand that the mask mandate be reinstated." 
As of May 4, the petition has over 435 signatures and continues to gradually grow. 
"[After] signing the petition, there is a form where you can provide testimony for why you think the mask mandate is important. Outside of the Gender Justice Center [located in Chardin 141] we have masks that we've been writing messages on and having students bring them to administration, just to remind them that people care about this," Cruichshank said.
Seattle U Provost Shane Martin shared strategies the university has taken to provide students and faculty with more COVID-19 protection. 
"We've purchased 5,000, high quality K95 masks, and we've made them available to students, faculty and staff. If those run out, we are prepared to buy more," Martin said. "We increased the ventilation systems throughout the university. There are three tiers with just a handful of exceptions. We have all of our public spaces and classrooms at tier one, meaning that there's three complete changes of air cycle through every hour." 
Seattle U's Confirmed Cases Dashboard states that as of Thursday, April 28, 14 students were quarantining in on-campus facilities and 22 students were quarantining off campus. The on-campus isolation facilities can handle between 50 and 70 students. 
"If that number moved closer to 50, that would be a concern and would cause us to reevaluate our current policies," Martin said. 
When examining the COVID-19 Dashboard, the omicron variant surged from late December to early January; over 1,000 students had confirmed cases of COVID-19. Within the past two weeks, just under 100 students have tested positive for the virus.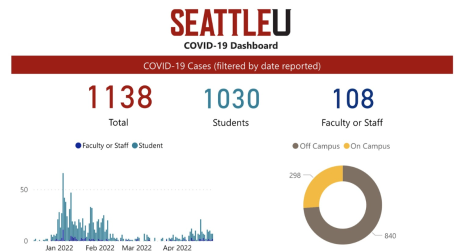 "The health and wellbeing of our students, faculty and staff, is very important to us. We monitor and talk about [the COVID-19 cases and dashboard] regularly. If the situation changes to indicate the need for us to pivot in our policies and practices, we're prepared to do that. We've done it before, over the course of COVID-19, and we'll do it again," Martin said. 
As Seattle U continues to keep a close tab on the fluctuation of COVID-19 cases, the university is prepared to review current policies and act in accordance with the city, state and federal masking regulations when needed.
Leave a Comment