Project Positive Preaches Self-Appreciation
Project Positive was a weeklong campaign designed to bring Seattle University students together in holistic self-appreciation. The week featured events under the theme "Soothe Your Soul." From Yoga for EveryBODY in University Recreation (UREC) to an Open Mic Night around a bonfire, Project Positive offered events for everyone, all with the intention of soothing the soul. 
UREC's Assistant Director of Marketing and Events, Sara Janosik, explained this year's theme and how it differs from each of the past seven week-long Project Positive campaigns. 
"Soothe Your Soul came about as a way to take a step back and breathe after the last couple of years. We realize it may not be possible for people to reflect. It's just a suggestion to do something for yourself. It's saying, '[do] whatever soothes your soul,'" Janosik said.
The week of Feb. 28 to March 6 marked the eighth annual Project Positive campaign. However, the event has changed since its conception. 
Originally, Project Positive intentionally coincided with National Eating Disorder Awareness Week and was used as an opportunity to preach body positivity. However, students raised concerns that body positivity wasn't attainable for everyone, so the focus shifted to self-appreciation.
"UREC listened to the feedback about the timing and how it seemed insensitive," Fourth-year Political Science student and UREC's Social Media Marketing Manager Angelena Sichelski said. "We're trying to transition away from what that used to be, and become more of a self-affirmation campaign. Whatever you need, let's work on that."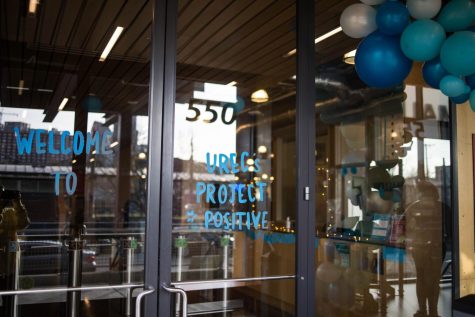 While the events are run and planned by UREC, they are about more than exercise. Project Positive puts an emphasis on doing something for your soul—whether it be dodgeball, painting, singing or hiking. Some students may not have the ability to rest or relax so the emphasis is on doing something for yourself. 
"Our events have been scattered amongst interests. We have our traditional body movement event, but then we also have an open mic night, which is totally out of UREC's realm," Janosik said. "We're trying to collab with other groups to get people to find something that soothes their soul."
Janosik along with four student staff members on the UREC marketing team brainstormed events, taking suggestions from Seattle U students. 
Most of the classes were run and planned by students. For example, Sichelski, one of the group fitness class teachers, taught the blacklight cardio dance class Feb. 28.
"Having that moment to reconnect with yourself, especially with it being the end of the quarter [was valuable]. It's really easy to let the stress of school and work overwhelm us," Sichelski said. "It's nice to have a week that is dedicated to prioritizing your mental and emotional well-being."
Christina Beavers, a second-year psychology major, attended the blacklight cardio dance class. 
"My favorite part about the dance class was the positive affirmations written on the mirrors," Beavers said. "Each time I would feel tired, I would look at the affirmations on the wall, and it would keep me going."
Beavers considered the event a way to relax and take a break from life as a full-time student with finals coming up. As a Psychology major, Beavers recognized the practical applications of Project Positive. 
​"Project Positive was a wonderful experience for me because I was able to learn more about how to take care of my mental health, which will be important for me to teach my patients about in the future," Beavers said.
As the week came to a close, Janosik was happy with the way that some events, like the self-care bags, became a hit with students. However, part of Project Positive involves getting people into UREC, which Janosik recognizes can pose a challenge at times. 
"Cardio dance wasn't as big as we had anticipated, which could just be the nature of being in our facility," Janosik said. "We've seen that a lot. People aren't super comfortable at certain times to move their bodies with other people."
While the week is no longer centered around body positivity, there is still a focus on body acceptance and neutrality. Throughout the week, UREC provided resources from Seattle U's Counseling and Psychological Services as well as a local company called Opal Food and Body that focuses primarily on eating disorders. While the verbiage changed, Project Positive still aims to help students positively connect with their bodies.
In light of the COVID-19 pandemic, UREC recognized the challenges students have been facing, especially in relaxing. With finals week approaching, the eighth annual Project Positive gave students a chance to take a break and try out a number of different activities, all with the goal that they will find something that soothes their soul.
Leave a Comment