Seattle U Alumni & Students Find Small Businesses Success Amidst Pandemic
For recent graduates, finding employment straight out of college has proved to be a daunting task. Since the COVID-19 pandemic spread throughout the U.S. in March of 2020, millions lost their jobs, leading to record-breaking unemployment rates and forcing thousands of small businesses to shut down for good. 
Class of 2020 Seattle University graduates, Hallie MacPherson and Miranda Harris Hamlin were no strangers to these struggles. 
MacPherson, a photography and Spanish double major, struggled to find employment after graduating in June of 2020. She decided to take her photography business, Hallie Kathryn Photography, full-time. Although MacPherson did not pursue her business fully until after graduating, she had been photographing clients since high school. 
"It's truly amazing to be able to capture a slice of life. It's especially exciting when clients see the photos because so many of them have never seen themselves in that way before. I love empowering women and being able to show them just how beautiful and worthy they are," MacPherson said. 
In January 2021, MacPherson took advantage of the extra downtime that she had due to the pandemic and decided to launch a second small business, Soule Candles. 
"I really wanted to create something with my hands. I didn't even know how to make candles before launching Soule Candles. It was just something that I decided to do, and I went for it," MacPherson said. 
MacPherson viewed the pandemic as an opportunity rather than an obstacle. The pandemic has pushed people to shop online more than ever before. In addition, people are investing in transforming their homes into a place of solace since they cannot go anywhere else. 
In May, MacPherson plans to release candles in blush-pink in the spirit of the spring season. MacPherson shared her story and inspiration behind starting her second business.
"I struggled a lot with my body image and an eating disorder throughout high school and college. Now I'm recovering and have finally found myself in a place where I'm very comfortable with who I am and what I am doing. I created Soule to be a celebration of the feminine form. It's about accepting who we are at whatever stage we are in," MacPherson said. 
Hamlin, who studied economics at Seattle U, also took the plunge into the small business world mid-pandemic. She began making jewelry when she was in high school but recently found success after one of her TikTok videos went viral and decided to quit her job to take her business, And Arlen, full time.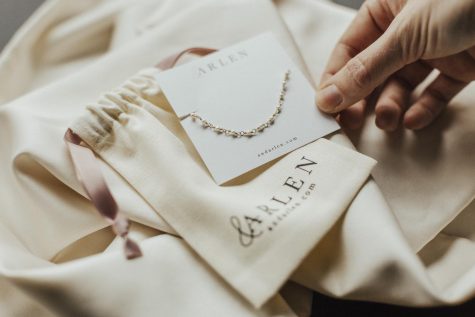 "I got a lot more serious about my business in my junior and senior year of college. Then when the pandemic started, I had even more free time. I thought it was just going to be a side hustle, but then everything changed when I went viral last year. I went from making a total of three orders in January to 400 orders overnight in September," Hamlin said. 
Although Hamlin's business found success overnight, she continued to work at her economic analyst job and struggled to commit to And Arlen full-time up until March 2021.
"I knew back in November that I wanted to quit to commit to taking my business full-time, but I kept on second-guessing myself. I had a stable job and a steady income that I could rely on. I don't have any savings, and I'm coming straight out of college, so it wasn't easy to just give that up," Hamlin said.
Since going viral last year, Hamlin's TikTok videos have continued to rack up thousands of likes and became the backbone of her business. 
"Going viral on TikTok is something that I honestly never would have even imagined for myself. I feel so fortunate that I am now able to make a living and support myself with my small business. It's a lot of grueling work, but I love what I do so much that it's worth it. Right now, people want to support small businesses more than ever, and I think that's why I was able to find the success that I did," Hamlin said.
The pandemic afforded more people the time to monetize their passions. Rita Manalastas, a fourth-year social work major, started their own jewelry business in the middle of the COVID-19 pandemic. Manalastas launched Mahalin Studio back in August 2020 and specializes in hand-made clay earrings. 
"I was originally inspired to make the earrings for my partner, but then one day I posted some pictures of them on Instagram and a lot of people were asking me if they could buy them. I've always thought about having a business, but I never thought I could actually do it," Manalastas said. 
Despite receiving positive feedback on their work, Manalastas struggled at first to transition from making earrings as a hobby to making them in a business setting. Manalastas also reflected on the positive impact that the COVID-19 pandemic has had on their business. 
"If it weren't for the pandemic, I'm not sure that I would have started Mahalin Studio. Being able to do school online has given me a lot of time and opportunity to make earrings, which I don't think I would have had if everything was in-person," Manalastas said. 
In addition to making a creative outlet for themself, Manalastas has committed to using their business to give back to the community both on and off-campus. Manalastas previously donated to the Seattle U BSU scholarship and also likes to give to crowdfunding and mutual funding. Approximately 15-25% of profits are donated to these causes. 
Since starting Mahalin Studio half a year ago, Manalastas is satisfied with where they are as both a small-business owner and a creator and intends to keep their business the way it is.
"I would prefer to keep my business as a side hustle because it allows me to focus more on the creative aspect of it, which is the whole reason I started it. The main goal of my business is to network and collaborate with other creatives," Manalastas said. 
The COVID-19 pandemic has devastated many, but it has also brought opportunities that would not have been able to imagine otherwise, especially for creators looking to grow their small businesses or side-hustle. 
Leave a Comment