Seattle Neighborhood Farmers Markets Find Hope in Coming Months
For Seattle area farmers and vendors, March and April of 2020 were nothing short of terrifying. Moving into the spring and summer farmers market season, the national economy was suddenly forced to shut down due to the COVID-19 pandemic. In the year since, local Seattle businesses have struggled to make a profit and pay employees as lockdown and quarantine measures halted the traditional local farming business model, but look forward to higher demand in the coming months. 
As vaccine efforts in the U. S. begin to establish a new normal and more Seattleites can safely congregate, King County is beginning to ease restrictions on outdoor markets. This is good news for farmers and vendors, many of whom have had to relocate or have been left out of markets due to stringent capacity regulations. 
Sarah Schu, Marketing and Development Manager at Seattle Neighborhood Farmers Markets, explained how the rules impacted sellers. 
"The thing that really hindered us the most was our vendor count. Our vendors had to all be spaced ten feet apart, and obviously in a typical year they would be right next to each other," Schu said. 
These regulations caused the need for sellers to find other places to meet consumers. An additional challenge was the impact of the pandemic on consumer spending habits. Seattleites frequented farmers markets and local farms far less than average last year. 
"2019 was our record breaking year, we had the highest sales at all seven of the markets, compared to 2020 which was dismal at best…then we made the hard decision to not open three of our seasonal markets; Magnolia, Phinney and Lake City last year," Schu said. 
The lack of opportunities for vendors to connect with buyers posed a challenge for business owners, who had to quickly pivot to other methods for selling their goods. 
Dakota Begg, an employee of La Pasta, a farmers market staple specializing in ravioli, described the swift change in strategy made necessary by the pandemic. 
"We supplied using home delivery, and that was very busy at the beginning of the pandemic. It was crazy at first and was a big change, but now it's slowed down now that people are getting back into doing their own shopping," Begg said. 
Many farmers and vendors have pivoted to using services like Whats Good and Full Circle to provide clients with contactless delivery as a supplement to traditional farmers markets. Due to the closure of several markets during the height of the pandemic and less demand for in-person shopping, the services became popular beginning in March of 2020. 
While many farmers used online services as a temporary supplement to their traditional income, significant costs were imposed by the pandemic. Don Wardlow, a beekeeper and business owner of Golden Girls Honey, described the problems encountered by beekeepers due to the pandemic. Because beekeepers cannot halt the production of honey when demand drops, he is now left with several thousands of pounds of honey.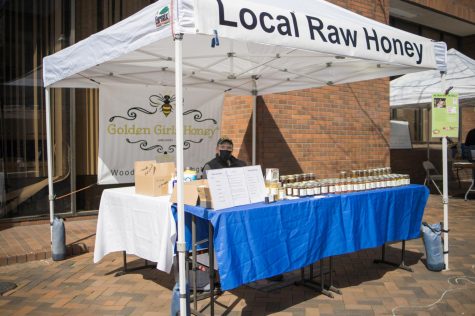 "It was a great production year with poor sales," Wardlow said. 
Golden Girls Honey produced 3,000 pounds of honey in 2017, and continues to produce several thousand pounds per year. Wardlow hopes that this season he will be able to sell more honey due to the surplus accrued by the company during the pandemic. 
"The lockdown disrupted the balance, now that more people are vaccinated I hope they come back to the markets," Wardlow said. 
Dale Nelson of Woodring Northwest, which makes savory food products, described the impact of the pandemic on his operations. 
"The difficulty was scaling down–– had four employees and I had to relieve them all around March of last year. The writing was on the wall when no one was showing up at Pike's Place Market," Nelson said. 
The difficulty of letting go of employees due to poor market conditions was compounded by the necessity of cutting down on fixed costs like rent and consulting fees from other businesses. Nelson was paying $3,000 dollars to rent a warehouse which his business had been using to produce products for several years. Shutting down the warehouse was a difficult but necessary cashflow decision. 
"It took about six months for my brain to wrap around that––after 30 years of doing something there was a sudden change. Knowing I had to do it, I just got into the work and did it, but I had to throw away or give away $80,000 of equipment," Nelson said. 
Nelson is not the only small business owner who was forced to make painful decisions during the pandemic. A 2020 small business report found that by April 6, "mass layoffs and closures had already occurred just a few weeks into the crisis." 
This disruption of the balance between supply and demand was particularly pronounced for Seattle farmers markets. Schu described the constrained opportunities local sellers faced last year. 
"We had 43% less market opportunities in general, and 38% less market weeks than in 2019. In 2019 there were 236 times that you could have gone to a farmers market, and 2020 there were only 146 days that you could have visited a market," Schu said. 
As Seattle Farmers Markets prepares to keep more locations open for longer this year, the Capitol Hill Market is moving to a new location this week, giving vendors and community members more space to sell and shop. While the return to farmers markets excites vendors, they recognize that some changes––such as wearing masks and not offering samples––may remain commonplace even as markets prepare for a recovery period. 
King County's farmers market regulations for COVID-19 include prohibitions on public samples, in addition to more detailed sanitary measures than before the pandemic. 
Bridget, an employee at dairy company Glendale Shepherd, described her experience working during the pandemic. 
"The most important skill was being adaptable. We made it through, and a lot of it was just keeping up with the different regulations," Bridget said.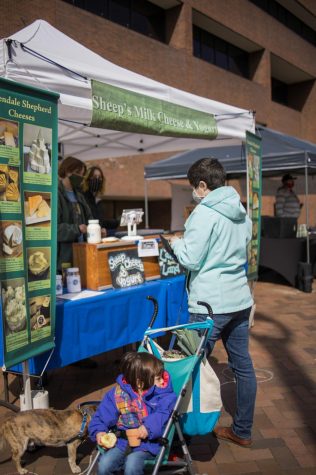 As the pandemic struck Washington so quickly, regulations shifted as policymakers learned more about COVID-19. Many farmers did not have time to wait for stay-at-home orders and market closures to lift before food went bad, and were concerned that it would go to waste. 
The Washington State Department of Agriculture Farm to Food Pantry initiative assisted Seattle area farmers to ensure that food did not go to waste. 
"We had a lot of funding come in that was specifically for the Farm to Food Pantry program, so we were able to create contracts with farmers in our systems," Schu said. 
This ensured that farmers were able to supply to people who needed food most, rather than food going to waste, while growers were still able to make a profit during a dire time for Seattle's local farmers. 
"That's something that we hadn't done in previous years, so exciting things happened, even though it was a really tough year for us," Schu said. 
The U.S. Department of Agriculture also created a food box program in 2020, as food supply-chain experts describe 2020 as the year of "pandemic pivots" which can cut down on food waste. However, the national food box program ran into complaints of administrative inefficiency. In an effort to quickly respond to additional food waste during the pandemic, the former Trump Administration delegated the food box program to the U.S. Dept. of Agriculture rather than the U.S. Food and Drug Administration (FDA), which typically handles federal hunger relief programs. 
Washington State and King County's systems, which deal with smaller populations and were more prepared, were an effective source of revenue for farmers and ensured less food waste occurred during the pandemic. As 30% of King County residents are now vaccinated, farmers will also have more opportunities to connect with buyers in the coming months. 
Since Seattle farmers surround a metropolitan area, a hub for major technology companies, which did well during the pandemic, Nelson anticipates a faster recovery for local farmers than the national recovery. 
"Most of the people who didn't suffer were the tech people, and that's where we live––Amazon, Google, Microsoft––they all produce expendable income, so I think that the Seattle area will respond fairly quickly," Nelson said. 
In addition to a gradually improving local economy, the stimulus package recently signed by President Biden will supply an additional $10.4 billion for agriculture, including $5 billion specifically allocated to Black farmers, who have historically faced loan discrimination and land seizure. Combined with state and local assistance, farmers can look forward to a less arduous year than 2020 due to the more favorable policy and market climates of 2021. 
The COVID-19 pandemic posed a number of challenges to farmers in 2020, and exposed the vulnerability of small businesses to dramatic changes in market conditions. In the coming summer months local professionals and policymakers will navigate a complex road to economic stability.
View Comments (1)