The Ultimate Mountaineer: Commemorating Seattle U Alumni's Historic Everest Summit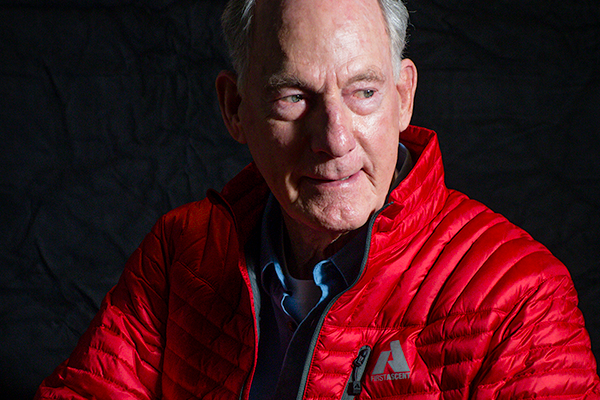 This month marks the 57th anniversary of Seattle University alumni Jim Whittaker's groundbreaking ascent to the summit of Mt. Everest. Still active and vibrant at the age of 91, he continues to share his stories and insight from his vast successes in outdoor exploration and business as a speaker.
Whittaker and his twin brother Lou graduated from Seattle U in 1952. While there, according to one source, Jim was awarded the university's first athletic letter for mountaineering.
On May 1, 1963, Whittaker became the first American to reach the top of the highest mountain in the world with the help of Sherpa Nawang Gombu. Initially, there was not much hope that they could complete this dangerous mission.
"No one gave us much of a chance to reach the summit," Whittaker said in a 2005 interview with Seattle Post-Intelligencer.
Amid questionable conditions and despite running out of oxygen near the summit, the team persevered on their quest to make history.
"I didn't know what was happening below. Do you go up or down? All I knew was what I had to do. You were so committed, working for years on this, being halfway around the world. We wanted to summit so bad. You can see how people die," Whittaker told the Post-Intelligencer.
Their climb to the summit 29,000 feet above sea level took seven hours. Once Whittaker reached the top of Everest, he symbolically planted an American flag. As a result of his achievement, he was given the prestigious medal of honor by then-president John F. Kennedy.
In the years following the history-making quest, Whittaker led numerous high-profile outdoor adventures. In 1965, he and the late Senator Robert Kennedy made the first ascent of Mt. Kennedy in  the Canadian Yukon, and then in 1990, he led the very successful Mt. Everest International Peace Climb. The International Peace Climb was an Earth Day expedition that represented the first time that mountaineers from the U.S., Soviet Union and China had climbed a mountain together. He has also taken a sailing trip across the Pacific Ocean with his family and seen one of his sons, Leif, carry on his legacy by also summiting Mt. Everest.
In addition to historic achievements in outdoor exploration, Whittaker has had immense success in the business world. He was the first full-time employee of REI Recreational Equipment Inc. (REI), which boomed as a business after his Everest climb.
He eventually retired from the multi-million dollar company in 1979, after having risen to the position of president and CEO. As a result of his work with REI, he is seen by many as one of the primary creators of the outdoor recreation industry.
Whittaker's success can be credited to his approach to life, which emphasizes both opportunity and challenge.
"If you're not living on the edge, you're taking up too much space," Whittaker told the Post-Intelligencer. In his case, the quote resonates both figuratively and literally.
"It's about making the most of every moment, about stretching your own boundaries, about being willing to learn constantly and putting yourself in situations where learning…Being out on the edge, with everything at risk, is where you learn – and grow – the most," he continued.
Whittaker remains today one of the greatest figures in American mountaineering and Seattle history as his legacy and the impact that he has had on the American outdoors will forever live on.
To learn more about Jim Whittaker, go to jimwhittaker.com or read his award-winning autobiography, "A Life on the Edge."
Leave a Comment