Time Out Session: Kendall Ingersoll Adapts to Isolated Spring Soccer Season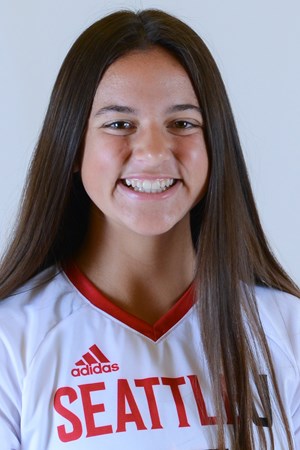 The NCAA spring sports season was canceled due to the COVID-19 pandemic. For seniors, their final season of collegiate athletics was sadly shorter than expected, but for first-year athletes, who were just beginning to settle in as members of their teams. Not only did competitions and practices get cancelled, but team building, bonding and goal-setting must now take on a more remote approach.
Kendall Ingersoll, a first-year anthropology major on the Seattle University Women's Soccer team, has returned home to Portland, Oregon where she is continuing school virtually, and staying in touch with her team from afar. Ingersoll is a center midfielder, and is continuing to build her skills while socially distancing at home. Women's soccer plays in both the fall and the spring, so the second half of their season was cut short, but training has not stopped for athletes at home.
EJ: How are you training without your team?
KI: The coaching staff and the trainers have given us different apps that have at home workouts that we can do throughout the day, kind of at our own pace, and we have scheduled meetings with the team to check, watch film, stuff like that. There's a lot of quick online training.
EJ: How is training by yourself?
KI: It's definitely harder to get touches on the ball, but you can use the wall sometimes. It's fine and it's something that we're all trying to adapt to right now.
EJ: How are you and your team keeping in touch?
KI: The coaches have been doing well with making sure we're all trying to have little meetings with each other. We get on Zoom in small groups and we just ask each other questions just to check in and set goals for our team for the upcoming season.
EJ: What do you miss most about being on campus?
KI: Definitely just the city atmosphere and getting to see people, whether it's just walking to class or getting out and practicing with the team.
EJ: How much of your season did you miss out on due to spring quarter going remote?
KI: Right before we left, we were scheduled to have our first spring game, and we ended up getting to play an intersquad scrimmage, but the rest of our spring season got canceled. We're hoping that we can go back in the fall, but for our spring season, all the games were canceled.
EJ: What is the first thing you want to do post-quarantine?
KI: I just want to see my friends, and go on a hike, go for a picnic. I had a six feet away get-together, but it was so weird.
EJ: What do you miss most about Seattle?
KI: The people, all my classmates that I've met this year. There's always stuff going, there's never a dull moment, really, and it's fun to be right in the middle of it on campus.
EJ: What are you hoping for next season assuming we go back to campus?
KI: I'm hoping we can kind of pick up right where we left off, keep getting stronger as a team, getting to know each other more, catching up on all the time that we lost.
This past season, the women's team won the Western Athletic Conference (WAC) Championship title and are hoping for another successful season upon their return to campus. Through online training, at home workouts and zoom calls among teammates, women's soccer is taking steps to ensure a successful season in the fall—even if the world of college athletics looks different going forward. While the collegiate athletic landscape might change, Ingersoll is maintaining a positive outlook and is looking to the future for goal setting through a remote spring season.
Leave a Comment