UREC's "What Makes You Unique?" Project Positive Raises Questions on Accessibility and Communication
Along a staircase in the Fitness Center of University Recreation (UREC), UREC staff have taped up many pieces of paper. At the top of each piece, a question asks, "What makes you unique?" Students, faculty, staff, and alumni have scribbled their answers in marker or pencil on each piece. Some are focused on experiences, challenges, and identities; one reads "I'm a survivor!" Others draw attention to personality traits, habits, and physical traits.
UREC gathered these written answers from their tables promoting Project Positive. Six years ago, Kristen Everson, current assistant director for marketing and events at UREC, began the Project Positive campaign with a focus on promoting healthy body image and body inclusivity.
This project however, has raised concerns over how accessible other services in the Fitness Center are for people with disabilities, as many campus services lack accommodations or true accessibility.
"Knowing what our community needs and responding to what we see in the community, some people just need a general sense of positivity in their life, they want to focus more on what makes them feel good, and it doesn't have to be body specific," Everson said. "We have now transformed this campaign into a positive body image and a general self-love, self-appreciation campaign where we can spread good vibes, positivity and make sure people are reflecting on the goodness that's inside of them."
Everson was the assistant director for fitness and marketing at the time she conceived the idea for Project Positive.
The UREC marketing team began planning this year's Project Positive campaign in October. The events in the campaign, which lasted from Feb. 24–29, included a blacklight cycling class and "Yoga for EveryBODY" class.
"We do our very best to make sure that anyone who has different abilities and different needs is accounted for," Everson said.
She gave the example of UREC's cycling class, stating that all the bikes are currently used by those who have the use of both legs, but the equipment available can be modified so that others who can use only their arms can join.
"If we had a participant who did not have the use of their legs that would like to take the class, we have a hand ergometer that we could move into the space," Everson said.
A hand ergometer is similar to a traditional exercise bike, except that the user uses a hand crank instead of pedals.
She also noted that students who work at UREC have undergone training for inclusive language and learn how to provide options for "unique needs."
Everson said that the "You Belong" campaign began in the fall, and aims to expand on UREC's body inclusivity efforts.
"What are the needs of our participants, so they feel like this is a safe space for them to truly exist the way they need to exist?" Everson said. "That's what we're providing. We're receiving feedback on how we can be doing a better job."
In addition to a suggestion box for feedback in the Fitness Center, the "You Belong" website includes a list of details on accessibility and inclusivity at the Fitness Center. However, some students feel there is no clear label for finding information on accessibility on the UREC website.
"I know that you can find the info," Juniper Bee, one of the co-directors of Seattle U's Students for Disability Justice Club (DJC), said. "But when [UREC has] events or they're holding a special class, they don't make it clear how accessible they're going to be, or who to even reach out to a lot of the time."
In addition to co-leading the DJC, Bee identifies as a disabled person. They said that there are different preferences within the disabled community for members of the community when it comes to using identity-first language versus person-first—disabled person versus person with a disability. Bee prefers the former, as they said that their disability is a part of their identities.
They said that it is difficult for them to find out what activities will be held during a class, and what accomodations can be made so that they are not hindered from participating.
"When we had a conversation about their Project Positive, [UREC] had reached out to us about having us attend an event that they were putting on," Bee said. "But we had a really hard time finding out accessibility info about it, to figure out if we even could attend it or if we could even participate."
Bee said that for students with disabilities like them, it can be a struggle just to get to UREC.
"It's already hard to get there. It's up a hill," Bee said. "You can't take a Nighthawk across campus; you have to take it off campus to campus or the other way around. They don't even have a wheelchair accessible Nighthawk this year, so it's already hard to get to the gym."
Two different parts compose the UREC center: an older Redhawk Center and a newer Eisiminger Fitness Center. According to Everson, the Fitness Center was designed and built with accessibility in mind.
According to the Americans with Disabilities Act (ADA), there are certain regulations that buildings constructed after 1990 must follow—this includes ramps, elevators, wide hallways, and push plates for doors.
As required by law, all the main entrances to the UREC building are ADA accessible with ramps—apart from the first-floor entrance of the Redhawk Center, which is level with the sidewalk—and push plates for automatic door opening. The men's and women's wet lockers on the first floor of the Fitness Center are also ADA accessible and the labels for each room each include a braille placard.
However, the older Redhawk Center falls short when it comes to accessibility. The hallway with the racquetball courts and a fitness studio is not ADA accessible, as members must enter via a stairway. The doorways to the racquetball courts are additionally not ADA accessible, as there is no automatic door switch. Additionally, the pool and sauna are also inaccessible. The pool does not currently have an ADA accessible lift, though this summer UREC will complete renovations to include one.
According to Wally Kasprzycki, assistant director for facility operations and aquatics at UREC, the renovations come from a grant that specifically stipulates the need for a lift in the remodel.
UREC and Seattle U's Office of Disability Services are currently collaborating for the Disability Awareness for Adaptive Leadership program, a two-hour educational workshop that will take place on April 2.
Mileva Huljev, assistant director of UREC's Outdoor program, organizes and runs the Adaptive Leadership program. Like Project Positive, the program will be in its sixth year.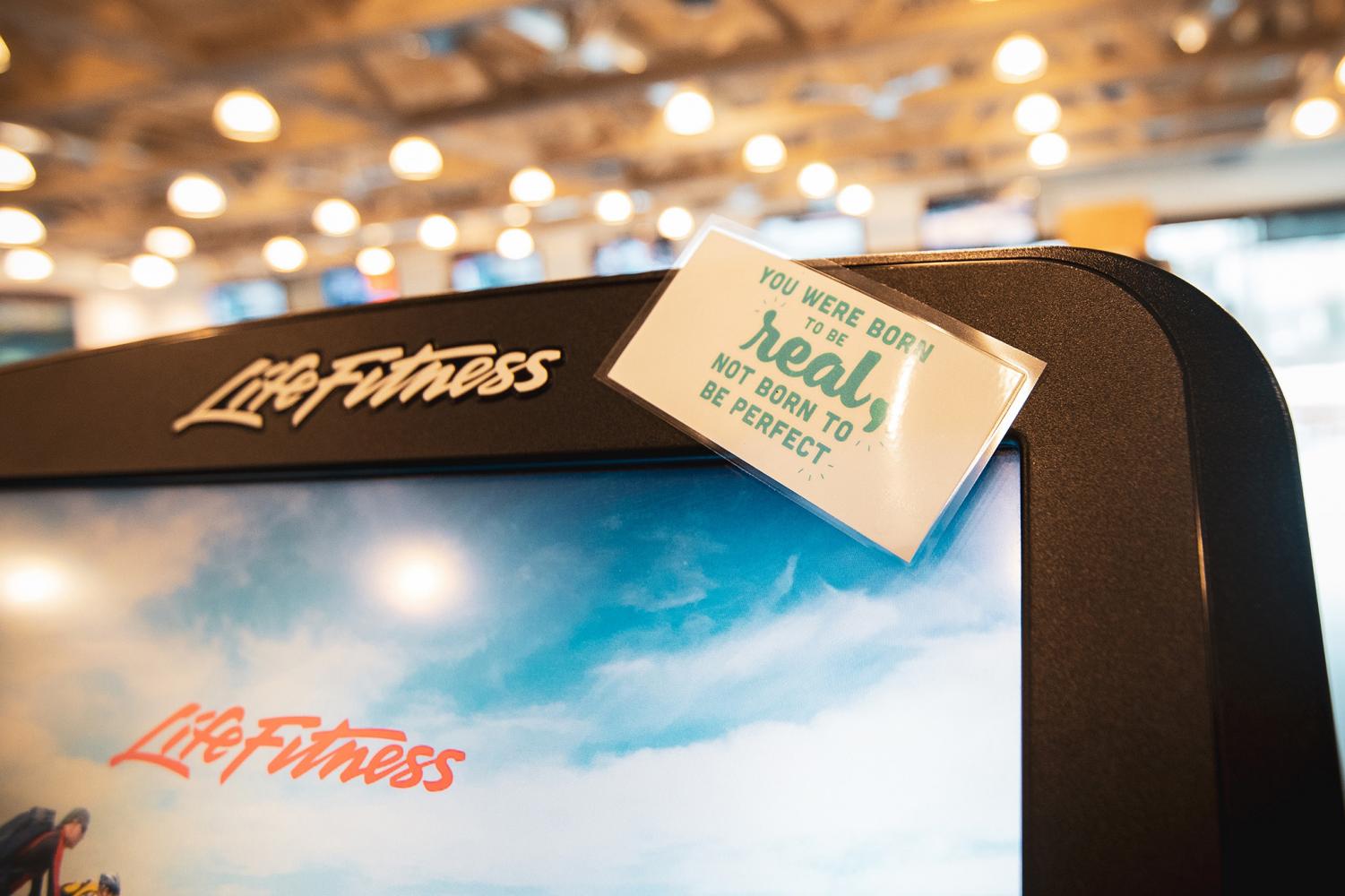 "We offer this course annually to get our student leaders to a place where they feel a lot more competent and able to accommodate everybody," Huljev said.
According to the program details on the UREC website, the workshop will "include information and best practices for providing access to events for individuals with disabilities and chronic health issues." UREC's Outdoor program and trips are required to disclose information on how accessible they are and their level of intensity, according to Huljev.
As of March 2, the Office for Disability Services has been in the process of searching for students to participate in a panel for the Adaptive Leadership program.
"We always like to put together a student panel when we can," Kim Thompson, senior director of the Office of Disability Services, said. "Students' lived experiences are the best way for folks to really understand the student experience. It's easy for folks to talk about what students need, but the best way is to really ask students what they need."
Accessibility throughout the campus varies. The Murphy residential buildings were grandfathered into ADA regulations, and therefore do not have elevators in them. Instead, students with disabilities have to stay in an accessible room on the first floor of each building, and use outside elevators to access
Today, the entire Dorothy Day building of the Murphy Apartments is still inaccessible, lacking an elevator. The co-directors of Students for Disability Justice additionally highlighted how the hills on campus restrict accessibility.
There is an accessibility map on the Office of Disability Services website, which details which parts of the campus are ADA accessible, and highlights the most accessible routes through campus.
Thompson said she would like for students to contact her directly if they find an area that is inaccessible or where accessibility is lacking. In terms of living a functional, everyday existence on campus, accessibility as an afterthought may hinder the experience of students with disabilities in real time.
"It's always helpful," Thompson said. "They should email me directly."
While raising needs to the university may be helpful, decisions are often made without the input of disabled students. This year, Public Safety decided to allow a lease for an ADA accessible van to expire after three years. Craig Birklid, director of Public Safety, made the decision to not renew this lease, citing a lack of demand and budget cuts.
"We really weren't seeing those requests coming in for Nighthawk usage. So, we chose not to invest in another three-year lease," Birklid said.
Refer to the story on pg. 7 to learn about this change to the Nighthawk services.
A student who would need an ADA accessible vehicle would need to pay for a rideshare or taxi service. The Office of Disability Services is currently looking into this removal of an ADA accessible vehicle from Nighthawk services, according to Thompson.
Hailey Dice, co-director of Students for Disability Justice, identifies as a person with a disability and said that a major barrier to people receiving the necessary resources is that representation of people with disabilities is severely lacking.
"I think that [the van removal] really comes from the fact that people are not necessarily reaching out to use those kinds of resources," Dice said. "People who need them don't necessarily know they're available."
In the continuing fight for accessibility justice, on a campus that, in some avenues, celebrates the uniqueness of their student body, visibility and resource transparency is important to equip all students with the power to succeed.
"We don't have as much visibility as we would like to have for stuff like [campus offerings], and then the programs and different things that we do have access to tend to go away because people aren't using them."
Leave a Comment