Time Out Session: Tessa Oliver Makes Waves in Her First Season
The Seattle University Women's Swim team competed against the University of Idaho to conclude their regular season this past weekend, garnering a number of notable performances. Although the Redhawks lost to Idaho, First-year Tessa Oliver had a momentous win. With a time of 2:09.85, Oliver came first in the 200-yd individual medley. 
LM: How's your first year swimming at Seattle University? 
TO: It's gone really well. The team is really exciting, and the switch from club to college is a lot different because each win isn't just for yourself. It's for the entire team, and it's nice going up and getting a win because you have 40 other people behind you cheering for you and supporting you. So it's not just you and your close friends—it's an entire team backing you up. And then, by extension, it's the entire Redhawk Community backing you up when you win. So last weekend when I won, it was pretty fun seeing the entire team really happy.
LM: So would you say that you prefer the team environment to an individual environment? 
TO:  I think so, just because in terms of training and racing your energy is a lot higher. You get more excited and the competitive aspect of it drives you. At least it drives me more to get going and motivated to do my best when I have responsibilities to other people as well as myself. It makes me feel more invigorated when I do reach my goals, and so it makes me set goals higher than I normally would. 
LM: And what does it mean to you, having a win in your first season swimming here? 
TO: It's a starting block and next year I'm going to keep going off of that. Hopefully I'll get closer and closer to coming in first at conferences. That's my ultimate goal. 
LM: What are your goals with swimming while you're here at Seattle U?
TO: My goals would be to try to get my name up on that record board, leave a legacy of my name, have fun, get to know the team, build the community of swimming and just enjoy what I came here to do.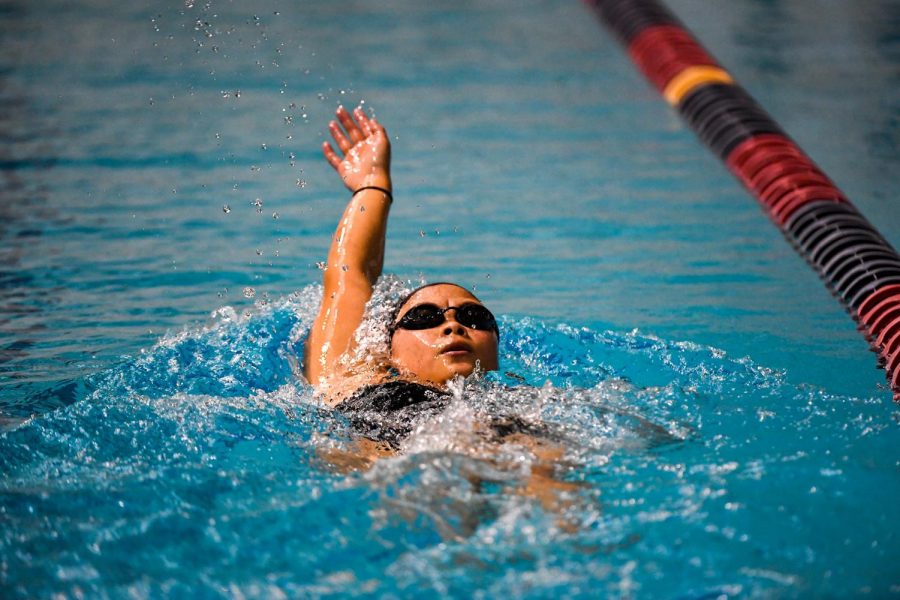 LM: Can you speak a little bit about the team culture here?
TO: We are a very loud team. So if you see us at events, we're very very active and we like to cheer for our fellow athletes. Even if we're really tired, the energy is super high. Our coach really motivates us to keep each other going and have fun. So coming to the team, it was definitely different and it was awesome to have that energy just constantly there. 
LM: How do you feel about the fan culture at Seattle U? 
TO: We aren't a paid sports team and we don't have to sell tickets, so we don't have as many people coming to our meets. But people who do come are really supportive of our athletes, which is nice. 
LM: What is it like being a student and an athlete at both an athletically and academically competitive school? 
TO: It definitely takes dedication, time management and balance. 
LM: What are your goals with swimming after Seattle U? 
TO: I will probably never stop swimming. I've always been swimming, so I'll probably join a masters team or swim by myself. I will definitely be coming back to the alumni meets when I graduate. Swimming is something that keeps me grounded throughout my day, having something to come back to and having something outside of personal and academic life to set goals and achieve those and kind of have a space where I can reflect on other things. Or just be in the moment in the water. 
Oliver's regular season is over, but she's looking forward to next season already and bringing home more first place wins.
Leave a Comment