Developing Healthy Habits at Winter Wellness Week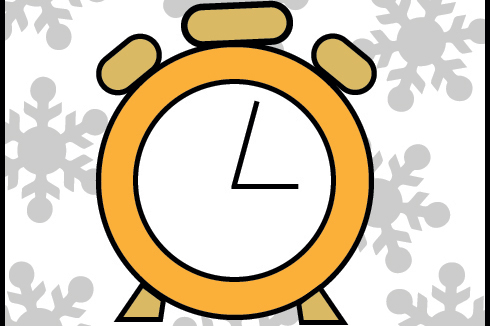 Winter, especially in Seattle, can be a drag. It can be difficult during the long, grey winter months to stay engaged with the community. Luckily, the Center for Community Engagement (CCE) wants to counter this by providing students with an opportunity to combat Seattle's winter gloom.
The CCE hosted a Winter Wellness Week full of activities for students to take time and connect with each other.
Amy Sytsma, the student engagement manager of CCE, said that the events of the week were a success.
"I think our serve local ambassadors really did a great job of planning these programs, thinking of the content and delivering on those things," Systsma said. "It was a success all around."
The week kicked off with "Can't Stop Me Now: Calendars and Totes," which was an event that focused on organization. Next, there was a "Resilience, Strengths and Food Lab" on Tuesday, hosted by Senior Kinesiology major Jamie Hegg. It featured a talk from an assistant professor in the College of Nursing, Heather DePuydt.
At this event, Hegg demonstrated how the process of making a meal can help someone destress and that you can help fight stress by eating food that contains antioxidants and vitamins.
Hegg has a lot on her plate—she is an intern, a student-athlete and a Serve Local ambassador at CCE. Some days, she may fall behind on making sure that she is taking care of everything, but she tries her best to ensure that she, as a person, is in tune with everything going on around her. She says her secret is intentionally looking out for her own wellbeing.
"I try my best to balance everything, but I'm not always successful. I try to go to bed early, and I always set aside each day for every meal," Hegg said. "What I eat is important for me and I like to make sure I have time to enjoy it. I also try to be realistic and honest with those that I work with—if I'm feeling way too overwhelmed I will try to let them know that I need to cut back a bit."
To make it through the rest of those long four weeks of winter quarter, Hegg suggests students utilize time management skills but do whatever works best for them and not forget to make time to rest, relax and have fun.
On Wednesday, the CCE and Office of Multicultural Affairs teamed up to host a Black Lives Matter (BLM) discussion to correlate with Black Lives Matter in Schools Week. This conversation focused on the principles of BLM and thinking of how to implement those into life, according to Sytsma.
Thursday highlighted how to set boundaries as a working student. This day was very focused on what student employees can and can not do.
"This was a conversation to be like: How can you advocate for yourself and not take on too much as a student either? Sometimes it can be hard to know what to say no to as a student if you say yes to everyone."
Bouquets & Gratitude took place on Friday and was one of the most popular events of the week. It featured making a bouquet of fresh flowers and painting watercolor cards. International Business and Business Analytics major Xiaolin Huang and Interdisciplinary Liberal Studies major Fiona Martin collaborated on this event. Huang bought flowers for herself every two weeks as an act of self-love because of the notion that it is so common to buy flowers for others and for special events—but never just for your own enjoyment.
"I think that buying flowers for myself is self-love. It just makes me happy," Huang said. "I think that especially for Winter Wellness Week, people go through the winter and get sad from the rain, so getting some fresh flowers with fragrance and color helps destress. It's so relaxing."
Martin is interested in watercolor, and he thought cards would be a great way to demonstrate gratitude as well.
"Showing gratitude to yourself even is something that everyone forgets to do, especially when it's really stressful," Martin said. "Being able to create an event that merges our ideas together was really great and people were really receptive to it. We are so happy that so many people had so much fun."
The highlight for Sytsma, Huang and Martin was the fact that community members and faculty—not just students—partook.
Sytsma acknowledged that these events can be difficult to attend alone, but she encourages people to try nonetheless.
"The Center for Community Engagement focuses on fostering a community that is welcoming and accepting to new people or anybody who may feel alone," Sytsma said. "It definitely takes courage to get out of your room, or your shell, and taking that risk of going to a new place with new people, so if you go alone, it just takes courage."
Leave a Comment