Indigenous Storyteller Embraces History of Seattle
The "Roger Fernandes Storytelling" event was an opportunity for students from theology, anthropology and geology classes to understand more about the history of Seattle and the Pacific Northwest Region, highlighting the Indigenous people who have long called this region home..
This event was a part of a storytelling series that would be held regularly by the Anthropology Club and professors from the Anthropology department. The motivation behind these events was connecting students to anthropology and also the historic background of Indigenous land.
Roger Fernandes (Kawasa) is a member of Lower Elwha Band of the S'Klallam Indians located in Port Angeles, Washington. He told three different stories about Indigenous people, Snoqualmie land and his tribal group S'Klallam. Each story carried a different message, but overall, they focused on themes of humanity.
As a storyteller, Fernandes admitted that his ultimate goal was to educate people and give them an opportunity to realize their true selves. His stories may be considered outdated, but they carry the legacy of Indigenous storytelling and the history of where Fernandes grew up.
Even though his storytelling job is entertaining, Fernandes said that he did not want to label himself as an entertainer. What he wanted to do was carry on the stories of his tribe and to continue storytelling, not just to entertain the audience who listened to his performance. Additionally, Fernandes said that he hoped his job could help people dealing with addiction escape from their addiction and re-enter their community.
Veronica Espitia, a senior cultural and anthropology student and a member of Anthropology Club, said that the motivation behind this event was to bring in a prominent member of the Indigenous community and give them a chance to express the legacy of Indigenous tribal groups. Espitia said that they did not really know what to expect, but Fernandes was an excellent storyteller who brought up some inspiring stories that any students can feel relevant to.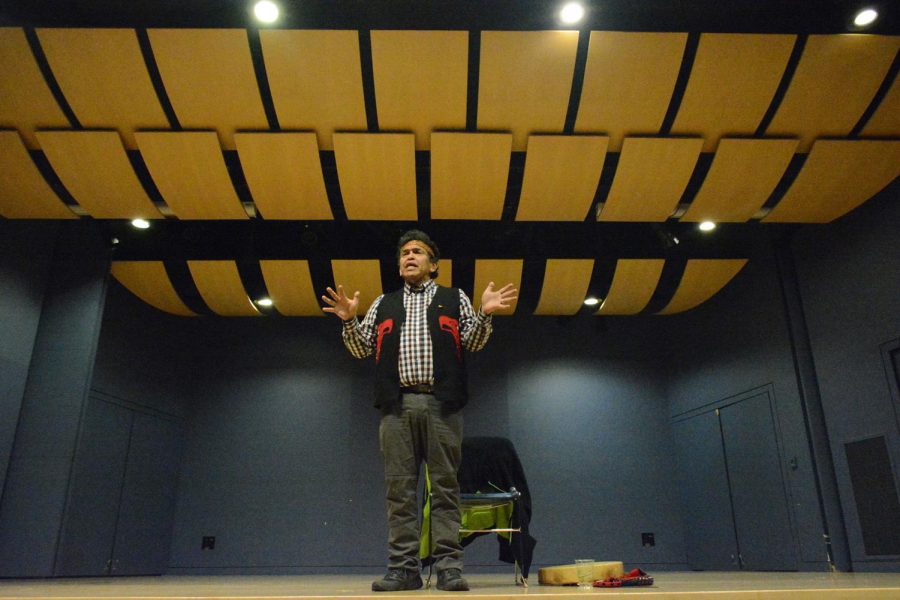 Espitia spoke to feeling personally connected to the story about Kaioti the most.
"It is a little bit upsetting how [Kaioti] took himself apart and he put himself through the little hole on the tree. I just loved the imagery of that," Espitia said. "But I also thought once Fernandes started explaining how that really applied to the experience of people who were on recovery from addiction, I really understood facing and dealing with the consequences of your own actions…and trying to change yourself, even if that means completely taking yourself apart to be a different person. That one was powerful."
Ted Fortier, a professor in the anthropology department and the host of the event, also agreed that the Kaioti story was quite relevant to him. Fortier also proposed that during the last Thursday of each month, the Indigenous Peoples Institute would host a the speech about Northwest coast Indians people.
"Next time is Jay Miller, who works at Vi Hilbert and translates the [Indigenous] language, so he will be talking at the end of February," Fortier said. "There will be a number of speakers coming this year."
Storytelling is an important tradition of Indigenous people, and the events like "Roger Fernandes Storytelling" continues that legacy. Throughout his stories, Fernandes sends out messages about being a better version of oneself and enjoying life without caring what people think about you. Like Kaioti, if becoming better means tearing yourself apart, you need to seriously consider it.
On the other hand, Fernandes emphasized that each person may have different interpretations of the stories. This is why stories of Indigenous communities can benefit everybody, no matter what your discipline is.
Teddy may be reached at [email protected]
Leave a Comment