OMA Event Highlights Gentrification and Redlining in Seattle
Seattle University is promoted in many ways, being in the middle of multiple well-known Seattle neighborhoods. Whether it be Capitol Hill, First Hill or Central District, the university is planted in several different areas that are highly sought after by Seattleites. With trendy eateries, an abundance of night clubs, $8 lattes and luxury apartments, community members often lose sight of the history in favor of the trendiness.
Seattle is a historically segregated city especially between the 1910 and 1960s, when clauses could be put into house deeds allowing only Caucasians to have the ability to buy or rent a home. In the 1960s, Black, Asian and Native American families were legally discriminated against and forced into neighborhoods such as Chinatown, the Central District and Sodo.
In 1968, a bill was passed banning racial segregation in Seattle, but that did not stop the predominately White and wealthier neighborhoods from staying segregated. Flash forward to modern day and bigger areas such as North Seattle, West Seattle and smaller neighborhoods in between still have mostly white families.
Although open redlining and segregation are illegal now, that does not mean it does not still happen right in the community you live in. Seattle U's Office of Multicultural Affairs (OMA) hosted an event on Jan. 16 as part of their OMA Speaks, a monthly community dialogue series where students and faculty came together to chat about gentrification and displacement.
Issac Pearson, a fourth-year criminal justice major, shared his personal experience being born and raised in the Central District area, just blocks away from Seattle U.
"What I've noticed most about gentrification is its shocking imagery," Pearson said. Communities that were once outcasted have been torn down and in place something new, shiny and transparent took its place.
Subcultures created while familiar culture is relocated. You just wonder where Seattleites fit in the picture."
Pearson believes the restaurant industry in the Central District and other Seattle areas contribute to this erasure of long-standing cultures in the neighborhoods. He says he has seen new restaurants take over the place of a once local, family-owned restaurant that could not keep up with the growth and price increases in Seattle.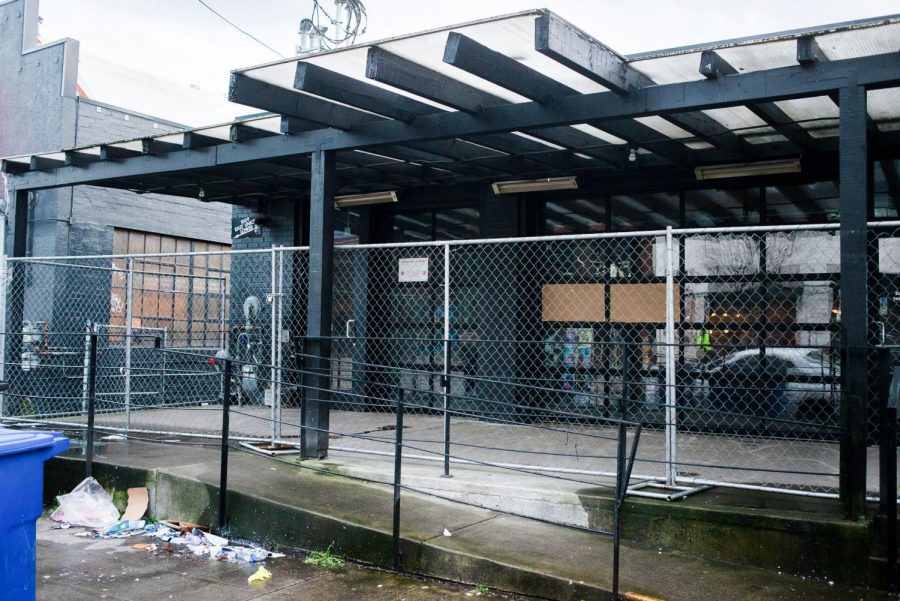 "A lot of the new restaurants tailor to a certain clientele that isn't representative of the greater community," Pearson said. "When too many of these places rise at the expense of the places we knew fall, it's not home anymore."
Many restaurants surrounding Seattle U and the greater Capitol/ First Hill area have closed down in the last year. The iconic pizza parlor, Sizzle Pie, close its Seattle doors last fall due to the cost of keeping the restaurant there too high. This further shows how Capitol Hill is slowly phasing out communities that are not able to keep up with the prices and trendiness. With Sizzle Pie closed, another restaurant can take the space, furthering the problem at hand.
The most recent restaurant closure, right next to the Seattle U soccer fields, was an upscale-looking, French- inspired barbecue joint called Central Smoke. Central Smoke opened in the spring of 2018 and was owned by the well-known chefs of Ba Bar and several other popular restaurants around Seattle.
Kotaro Takaoka, a fourth-year marketing major from Seattle U, visited Central Smoke several times while it was open for less than a year.
"I think the location and expensive price point was the restaurant's downfall. If they were located in Capitol Hill more where the trendy restaurants are, it would be more accessible for customers to checkout. I think people come to this area to live and don't really come this way for trendy barbecue," Takaoka said.
The closure of the restaurant may give the opportunity for preservation of the community's culture, giving way for a less trendy restaurant experience in the Central District area.
Seattle U is right on the edge of several historically significant neighborhoods where gentrification and redlining continue to take place and under the communities' noses. According to Pearson, there are several ways the Seattle U community can contribute to preserving the culture of these neighborhoods. One way is to use their location as a forum to talk about the ways culture in Seattle is being displaced. Seattle U can be used as a place for conversation to advocate for others.
The editor may be reached at [email protected]
Leave a Comment