Week in Review
Women's Week in Review: Volleyball Vies for WAC Wins
Volleyball
The Seattle University's Women's Volleyball team kicked off their week with a close 3-2 win against Chicago State University. The five-set clash ended with scores of 19-25, 25-22, 19-25, 25-14 and 16-14.
The game marked the second straight victory for the Redhawks, with Sophomore Eve Kerschenbaum leading in attacks at .300 with 18 kills and four aces. Following Kerschenbaum, Sophomore Julia Queiroz also had a memorable performance, with 11 kills and eight blocks overall.
Junior Libero Tijana Milojevic anchored the Redhawks with solid defense and 21 digs. Alongside her, Redshirt Junior Rachel Stark and First-year Ezgi Ozkan added 15 digs for the team.
Volleyball continued their week with a game against Kansas City University (KCU). Despite having three double digits kills, Seattle U fell short to KCU in a close game with set scores of 21-25, 22-25, 25-21 and 21- 25. Nonetheless, Kerschenbaum got a double-double of 16 kills and 11 digs and Stark added 15 points to the team.
The Redhawks will be back in action on Nov 14 against Utah Valley University at the Redhawk Center.
Basketball
The Seattle U Women's Basketball team began their official season at the Redhawk Center versus Saint Martins (SMU) on Nov. 6. At home, the Redhawks prevailed from the get go versus their opponent and led Saint Martins by 10 points, 91-81. Despite falling behind during the first quarter 16-6, the Redhawks made a recovery and claimed the late victory.
Senior Kamira Sanders led the team, scoring 28 points, while Redshirt Sophomore McKenzie Williams and Sophomore Courtney Murphy added another 28 points to bring the Redhawks back into the game.
Seattle U continued their week with a game at Dee Glen Smith Spectrum against Utah Valley University (UVU), but fell short with a final score of 70-63.
Despite the end result, Sanders set a career record—1000 points in a conference contest. The senior shot 30 points and had 11 rebounds, marking her career third double.
Next, the Redhawks fared against Idaho State University (ISU) at Reed Gym. The Redhawks ended the game against ISU in an unfortunate defeat of 73-48. Despite the disappointing result, Seattle U left the game with notable performances. Sanders showed her impeccable form, scoring her 1010th point in that match.
Women's basketball will be back to action on Nov. 16 at Northern Arizona University.
Men's Week in Review: Soccer Soars to Another WAC Trophy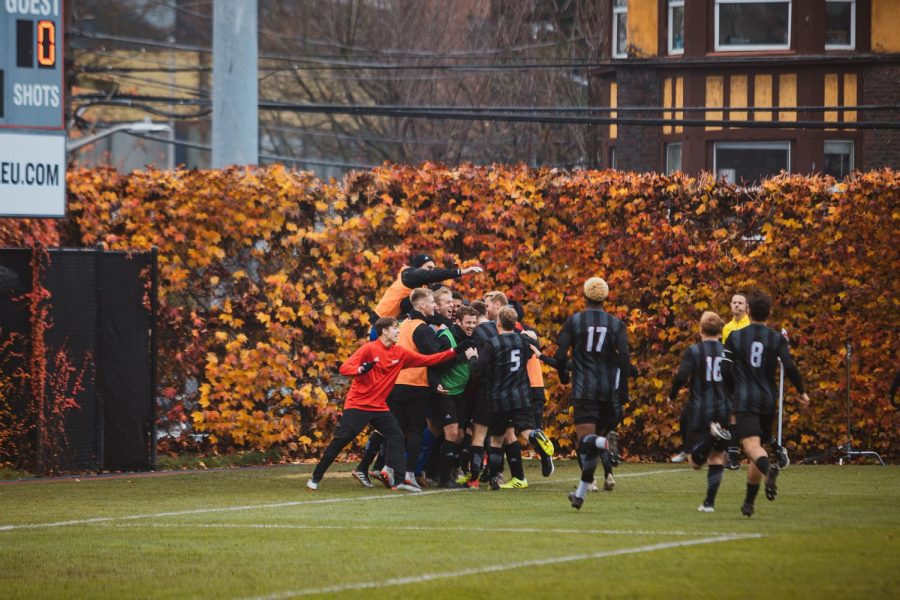 Basketball
The Seattle U Men's Basketball team kicked their official season off with a game against Pacific Lutheran University at The Redhawk Center on Nov 5. Thanks to Graduate Student Jordan Dalla, Sophomore Trey Hopkins, Redshirt Junior Terrell Brown and Redshirt Senior Delante Jones—who both scored points in the double digits—the Redhawks won against The Lutes with a score of 98-64.
The team then travelled to Pullman to face off against Washington State University (WSU). Brown scored 24 of the team's 54 points against WSU. The Redhawks lost the game 85-54.
The main event of the week was the Homecoming game at the Redhawk Center against Eastern Washington University. Brown set a new career best of 31 points. Despite the home advantage and a close battle, the Redhawks came up short by seven points, losing 74-66. Basketball will play against Pacific Oregon University on Nov. 12 at the Redhawk Center.
The Seattle U Men's Tennis team hit the road to play at the Gonzaga Invite in Spokane for their last tournament before the spring season and conference play.
Juniors Colton Weeldreyer and Emilio Monroy played in singles matches but fell to Gonzaga. Senior Adrian Alvarez-Sanabria won a singles match with a score of 6-4 and a doubles match with his partner First-year Lars Schmassmann, winning 8-5. Scmassmann played in a singles match as well, but fell short.
Soccer
Men's soccer ended the regular Western Athletic Conference (WAC) season on Nov. 9 at Championship Field, faring against San Jose State University (SJSU). They finished the season undefeated after beating the Spartans 3-1.
Sophomore Declan McGlynn added on two more goals to put him second in the WAC with 10 goals. The other goal was courtesy of First-year James Morris, who leads the WAC in average points per game with 1.8 goals.
It was also Senior Day, where Seniors Cody Buchanan, Harrison Kurtz, Hamish Ritchie, Julian Avila- Good, Thomas Mickoski, Kees Westra and Connor Noblat were celebrated for their time as Redhawks.
The team will be heading to Colorado Springs to play in the WAC Championship Tournament held at The Air Force Academy. The Redhawks earned a bye after winning the regular season WAC title and will begin playing in the semi-final match.
Cross Country
After finishing seventh place with 176 points at the Western Athletic Conference (WAC) Championship, the Seattle U Men's Cross Country team will race again with hopes of advancing to the NCAA Championships.
The Redhawks will run in the NCAA West Regional meet in Colfax, Washington, on Friday Nov. 15. The meet is slated to begin at 11:30 a.m. and will feature eight Redhawks.
Teddy may be reached at [email protected] and Michaela may be reached at [email protected]
Leave a Comment