Happiness and Pride Expresses Uncommon Good of SU Homecoming
The events of Homecoming 2019 provided a space for Seattle University alumni to return to campus and reunite with their former colleagues, while current students were given the opportunity to express their school spirit.
Director of Alumni Engagement Katelyn Mendoza commented on how this year's Homecoming had different events than previous homecomings.
"It's really about celebrating Seattle University pride, getting people really excited about all of our different offerings," Mendoza said. "Particularly for this year, Homecoming 2019 is serving as a platform for the public launch of the campaign for the Uncommon Good."
The Campaign for the Uncommon Good is a large campaign launched by faculty to raise money for access to education, the new science and innovation building and upcoming missions and programs. The university is seeking to raise $275 million, some of which would go towards student scholarships.
Homecoming Week officially started on Nov. 6, but the Alumni Engagement team shared that they started planning the annual event nine months prior—as the importance of this week is meant to bring the Seattle U community together.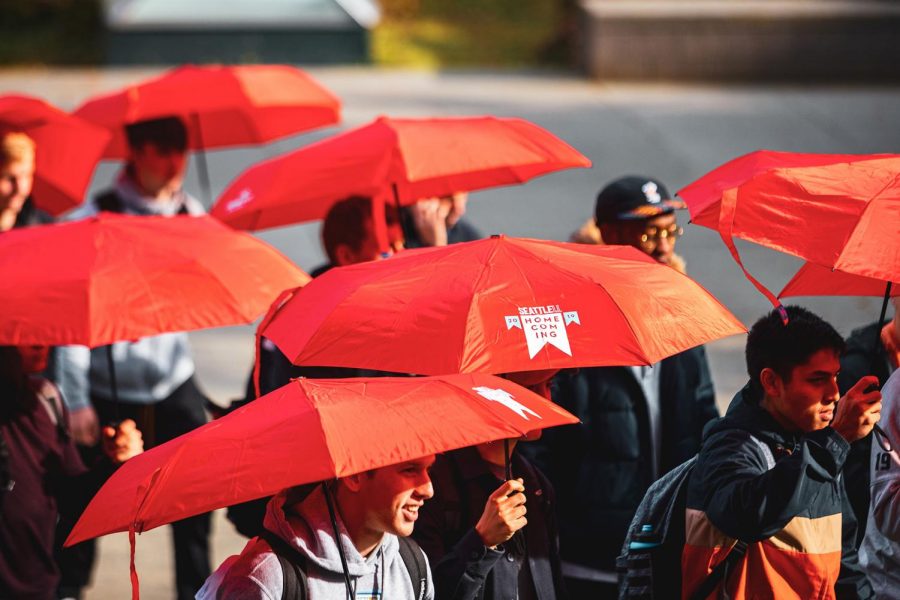 Homecoming kicked off with the Red Umbrella Parade, where the community participated in a 30-minute walk around campus. During the parade, students and alumni had the chance to show their Seattle U pride with banners, umbrellas and university gear. Inside the Student Center, hosts awaited the arrival of parade members so they could serve cookies and nachos.
Following the Red Umbrella Parade, other events took place, including the Veteran's Lunch, Fall Ball, the Day of Service: Breakfast and Service Project, the Redhawk Rally and the men's basketball game.
During the Day of Service: Breakfast and Service Project, host of Homecoming offered workshops which mostly contributed to community engagement and created a space for connection.
Stephanie Jamieson, the assistant director of Mission, Spirituality and Vocation, said that she could not pick a favorite homecoming event from the annual gatherings because she enjoys seeing people happy.
"I can't pick a favorite. We have so many great organizations that we are partnering with, and that are doing really important work in our community," Jamieson said. "I don't think I have a favorite. And I walked around earlier today. There are four sites on campus, and seeing how happy other people are, especially likes student and alumni working together until serve the community, it has been really touching."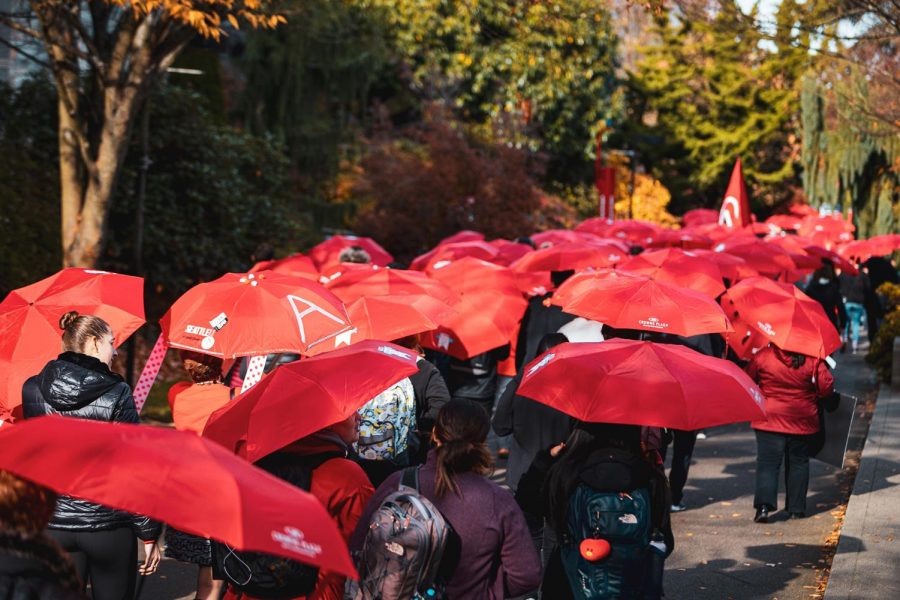 After the Day Of Service: Breakfast and Service Project, the Redhawk Rally Fest took place and the men's basketball Homecoming game against Eastern Washington University was later that day.
At the Redhawk Rally Fest, Seattle U students and alumni enjoyed music and food before the basketball game at the Redhawk Center.
The basketball game wrapped up the traditions of Homecoming Week and was another opportunity to connect alumni with current students. Even though the game ended with a disappointing 66-74 loss, there were still some notable performances. Redshirt Junior Terrell Brown scored 31 points for Seattle U.
Assistant Vice President of Alumni Engagement Jonathan Brown explained how he views Homecoming Week as a unique tradition at Seattle U.
"I think Homecoming provides a unique unifying experience for the Seattle U community.There are very few events that really bring a large number of students together with alumni, staff, faculty and the rest of the community. Homecoming is one of those things."
Ted may be reached at [email protected]
Leave a Comment