Week in Review
Men's
---
Tennis
The Seattle University Men's Tennis team attended the Intercollegiate Tennis Association's Northwest Regional Championship last week, where after five days of singles and doubles competition, the team came away with various wins.
In their doubles match, Seniors Alex Chan and Adrian Alvarez-Sanabria won against University of California Davis 8-3. In his consolation singles match against Eastern Washington University, Junior Colton Weeldreyer won in a score of 6-0. The Redhawks will finish up the season next week at the Gonzaga Invitational.
Cross Country
At the Western Athletic Conference (WAC) Championship, held in Kansas City, the men's cross country team competed in the 8k run. Junior Nathan Pixler got 22nd place in the race with a time of 26:03.14. Just behind him was Junior Hamza Ali, who finished in 26:42.95. The team finished seventh place overall with 176 points.
The Redhawks have a short break before heading to the NCAA West Regionals meet held in Colfax, Washington.
Soccer
On Nov. 1, the Seattle U Soccer team faced off against Incarnate World (UIW) at home, where they won 1-0. With the win, the team obtained the WAC regular season title, which marks their third team title since 2013.
The team also played against WAC rival University of Texas Rio Grande Valley (UTRGV) and won 1-0. UTRGV played defensively, leading to a slow game that the Redhawks were ultimately able to win.
Seattle U will play next week at the Air Force Academy for the WAC championship.
Swimming
The Seattle U Men's Swimming team faced off against Simon Fraser University this week as their first match up after coming off of a two- week hiatus.
At the meet, Seattle U won 139-122 against their rivals, winning multiple individual events as well as the 400m relay.
Senior Greg Raper, Junior Isaac Parker and Sophomore Tyler Goodspeed helped Seattle U secure top finishes in the 50m freestyle, with Raper finishing in first with a time of 24.04 and Parker right behind with a time of 24.26. Goodspeed rounded out the field in third place with a time of 24.42.
Seattle U Men's Swimming will continue their season at Puget Sound University on Nov. 23.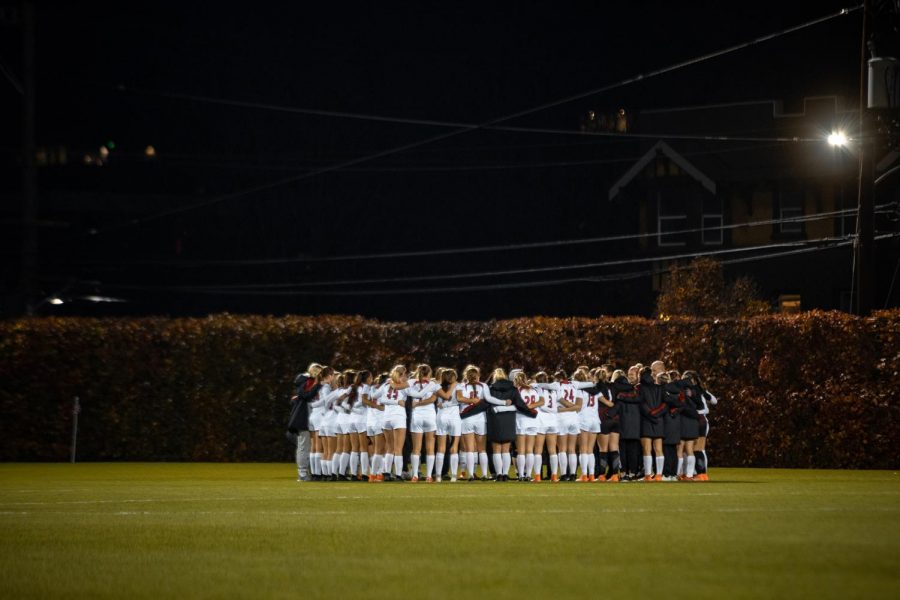 Women's
---
The Redhawks had a stellar week of athletics with some teams hitting the road and others staying in Seattle to celebrate senior nights and victories. All competitions took place on Nov. 2 and featured successes across the board.
Swimming
Women's swimming crossed the border to Canada, competing against Simon Fraser University in a dual meet. The 400-medley relay team composed of Junior Bryn Lasher, Senior Jayna Van Stone and First- years Alexa Hoeper and Danika Himes won in a time of 4:25.15.
Junior Allison Plamondon won both the 50 and 100 freestyle in respective times of 27.74 and 1:00.49. Hoeper and Himes also garnered individual successes as they went one and two in the 200 breaststroke in times of 2:38. 65 and 2: 47. First-year Isabella Guadiamos won the 400 individual medley in a time of 5:11.56.
The Redhawks will travel to Alaska Nov. 15-16 for their next meet.
Cross Country
Seattle U Women's Cross Country competed in Kansas City at the Western Athletic Championship (WAC) meet. The team was led by Senior Olivia Stein, who crossed the finish line in a time of 22:12.12—good for 16th place in the 6k race. Senior Shannan Higgins also competed in her final WAC cross country meet, finishing in a time of 24:25.92. The Redhawks will race again on Nov. 15 at the NCAA West Regionals held in Colfax, Washington.
Volleyball
At home, the Seattle U Volleyball team gave a parting gift of success to their only senior, Aly Borje- Bonkowski, at the Senior Day game against California State University Bakersfield.
Borje-Bonkowski completed the game with five digs at 53-45. The team won 3-1 and First-year Ezgi Ozkan completed 55 assists, marking a personal best for her and also the second-best single-match performance for a four-set game in Seattle U's Division I history.
The team's next game will be in Chicago versus WAC rival Chicago State on Nov. 7.
Soccer
At Championship Field, the Seattle U Women's Soccer team concluded their WAC regular season play with a win, propelling them into the WAC Championship tournament set to begin Nov. 8. The win marked the fifth time the Redhawks have won the WAC regular season title after winning six conference matches.
Sophomore Paige Malm and Juniors Leahi Manthei and Mikaela Morey all claimed goals to win 3-2 versus Utah Valley University in an exciting double-overtime play. Malm, who scored in the 109th minute, secured the late victory for the Redhawks.
The WAC tournament will be held at Championship Field and is slated to begin Friday, Nov. 8.
Basketball
Women's Basketball will begin their season on Nov. 6 against Saint Martin's University at the Redhawk Center. Following a win of 70-47 at the exhibition game on Oct. 30 against Puget Sound University, the Redhawks now head into regular season play. The game featured Senior duo Kamira Sanders and Joana Alves, who look to carry the Redhawks through WAC play and beyond.
Leave a Comment