Danika Himes Named WAC Swimmer of the Week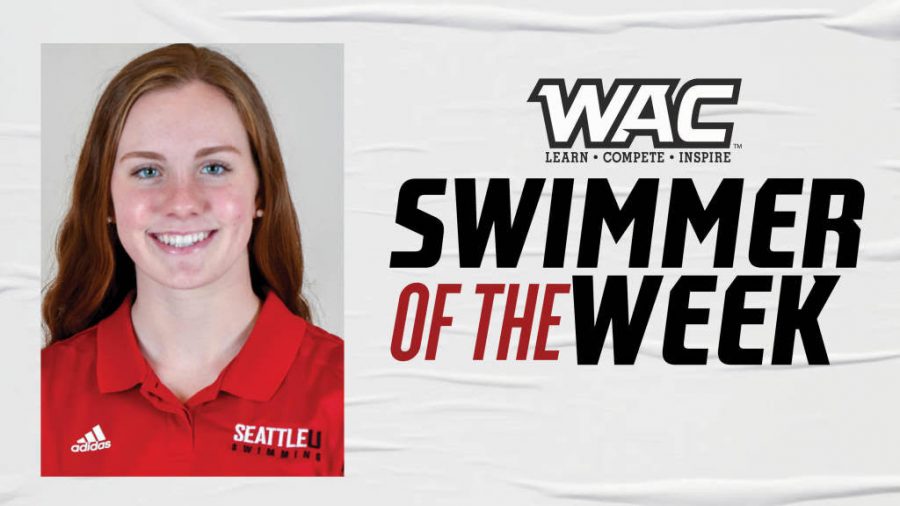 Danika Himes, a first-year student majoring in nursing, has already begun an impressive career at Seattle University. During her first season as a Redhawk, Himes made her mark after being named the Western Athletic Conference (WAC) Swimmer of the Week on Oct. 20. Himes looks to continue a successful swim career at Seattle U and hopes to have a strong rest of the season.
TB: How are you feeling after being named the WAC Swimmer of the Week?
DH: Well, it definitely makes me feel confident for the rest of the season. It's also kind of stressful, having that recognition to hold up, but it's let me know that my hard work has paid off and that I'm going in the right direction. It's really nice to get that at the beginning of the season and to have a first boost of confidence. It's awesome to see what we've been doing in the pool and at practice is paying off.
TB: Tell me a little bit about how you started out and what made you want to swim.
DH: Well, I started swimming when I was about six, so I have been swimming my whole life. I did other sports, but none of them I really had the passion that I had for swim—so I stuck with it. Then, I couldn't really see my life without swim. I continued and came to college and I'm still loving it.
TB: What made you want to swim for Seattle U?
DH: When I came here last year on my trip, the team environment was super encouraging. All of the upperclassmen were welcoming to the underclassmen and everyone was super supportive. During practice, everyone's super uplifting and it's just a really nice environment to be in. All the other schools and teams I've been on haven't been this great—I knew this was the place I wanted to be.
TB: What do you most enjoy about the team during practices and meets?
DH: Mainly the environment… It's so fun and even if we're having a super hard set, everyone's super encouraging. We make it fun no matter what we're doing.
TB:What are some of your hopes for the rest of the season?
DH: I'm hoping to continue with how I'm doing since my hard work has been paying off so far and I'm getting closer to my best times. My goals include placing at conference and getting top eight—just continuing dropping time and gaining bests.
TB: Do you have any pre-meet rituals?
DH: Hmm, not really. I'll listen to music, though there's nothing specific that gets me hyped up. I just like being with the team—everyone's pretty encouraging. I'm not the type of person to shut everything off and just be by myself… I feel like if I'm having fun, then it's going to be a good race, and if I get too in my head, then that messes me up. So to me, it's about being in the moment and having fun.
The editor may be reached at [email protected]
Leave a Comment