Redhawks Ready for WAC Soccer Tournament
Championship Field, home to Seattle University's athletic teams, will soon be filled with cheering crowds once again as six teams battle for the Western Athletic Conference (WAC) title—one which Seattle U took home last year in 2018.
The Redhawks have had a successful season so far, garnering five wins in conference play. During the most recent game on Oct. 26, Seattle U faced University of Texas Rio Grande Valley.
Senior Jessie Ray has scored in five games straight, tying her career best amount of goals at eight and securing the win for the Redhawks. This earned her third place for most goals in the WAC this season, while Junior Leahi Manthei scored her sixth. The final score was 2-1 in favor of the Redhawks.
The 2019 season has already been exciting for the team, as Coach Julie Woodward earned her 300th win with the Redhawks during her 23rd season as head coach of the program. Among other statistics, Ray also leads the WAC in number of shots taken with 63.
First-year Goalkeeper Madison Waguespack stands out in the WAC rankings as well—she is ranked as the fourth goalkeeper in the conference with 69 saves. Both Ray and Waguespack won WAC Offensive and Defensive player of the week earlier in the season, respectively.
With only one loss in conference play against the number one seed, California Baptist University, the Redhawks are looking strong heading into the rest of the tournament. They stand in second place after a hard-fought season.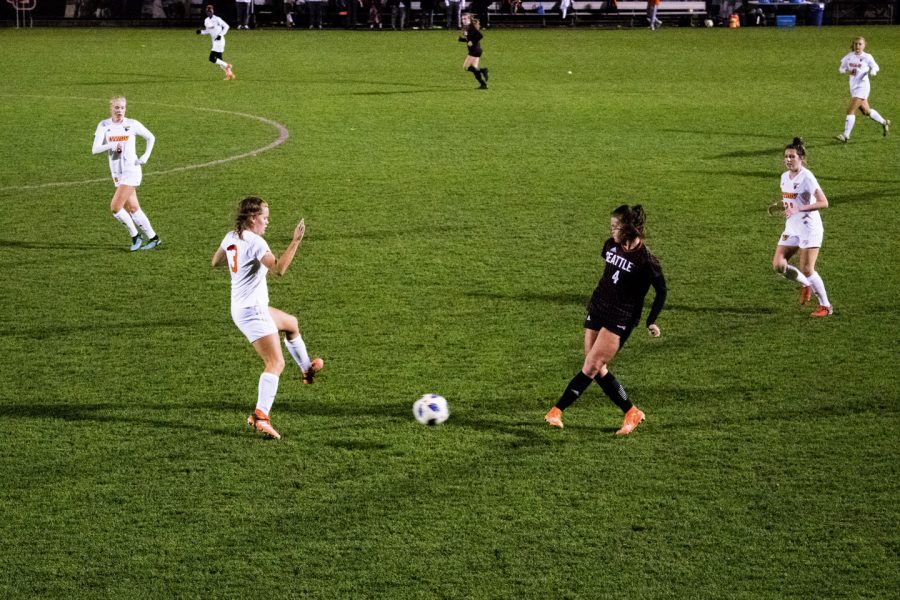 Thanks to the team's most recent win, the Redhawks earned a bye in the tournament—meaning they do not play until Nov. 2 against Utah Valley.
This year the women's team looks to take the hardware home as they did in 2018. Chasing their ninth conference win, the team was picked as preseason favorites to win the 2019 title. Last year, the team made it to the NCAA tournament, where they played Stanford University but unfortunately lost 3-0 to the Cardinals.
Along with the WAC tournament, this week is also senior week. There will be seven graduating seniors this year: Mackenzie Curry, Rachel Bowler, Jessie Ray, Holly Rothering, Kate Farnham, Kelsey Vogel and Olivia Ovenell. Ray, having already made an immense mark on the Redhawk program, heads into the tournament with a five-game point streak, marking her eighth goal and tying her career high.
The Redhawks are now preparing to host the WAC Tournament, which features six universities and will run from Nov. 6-10. Tickets are still up for grabs, with all-season passes available for $30 and single-game tickets for $12.
Michaela may be reached at [email protected]
Leave a Comment