Week in Review
Women's
---
Golf
The Seattle University Women's Golf team took second place out of 18 teams at the Pat Lesser Harbottle Invitational on Oct. 15, closing out their 2019 season. The Redhawks also set a program record in their final competition, finishing as a team hitting nine over par and a record- breaking third round of two below
The standout for the Redhawks was Junior Kimberlee Tottori. She led the field after the first round and finished in fourth place. Tying for an all-time Seattle U best, Tottori finished after 54 holes—a total of one under 215.
Swimming
The Seattle U Women's Swim team competed at home last weekend, facing Loyola Marymount University (LMU) and Grand Canyon University (GCU). Coming out on top against LMU on both Friday and Saturday, the Redhawks finished with 146 points on the 18th and 171 on the 19th.
GCU walked away with two wins on Friday and Saturday, but Seattle U put up a fight—coming within 5 points of GCU on Friday and 4 points on Saturday. First-years Nikkie Cooper and Danika Himes, Junior Bryn Lasher and Senior Marguax Thompson took first in the Women's 200 yd Medley Relay by 28 seconds, beating GCU—who came in second. In the 1650 yd Free, First-year Alexa Hoeper came in a very close second, trailing GCU by just five seconds. The Redhawks walked away with wins in the 200 yd Free, 200 yd IM, 100 yd Fly, 500 yd Free, and the 100 yd Breast.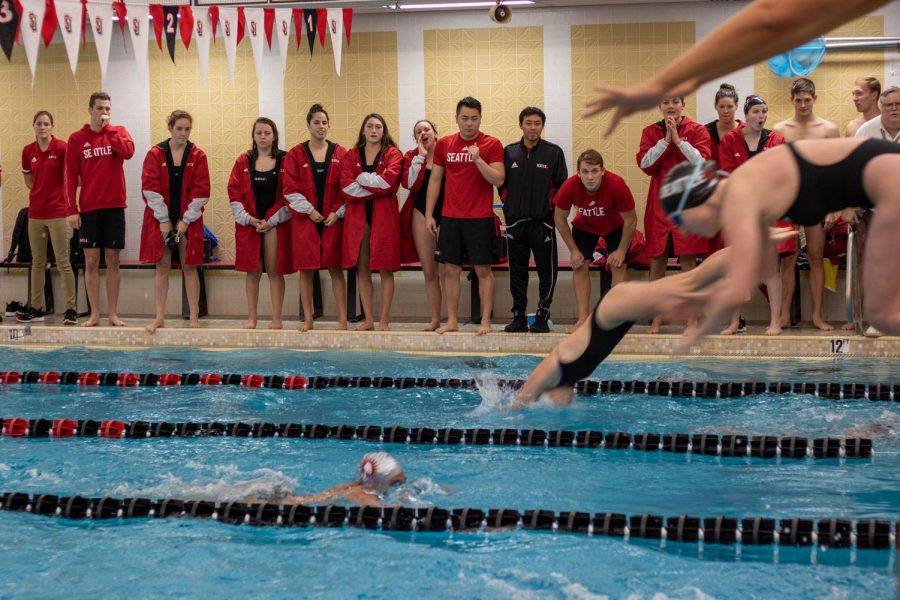 Volleyball
The Seattle U Volleyball team played Utah Valley University (UVU) on Oct. 19. With set scores 21-25, 20-25 and 17-25, UVU beat the Redhawks in a hard-fought battle. Despite the tough loss, the Redhawks will continue their 2019 season with games next week versus Western Athletic Conference (WAC) rivals UT Rio Grande Valley and New Mexico State University.
Tennis
The Redhawk tennis team competed at the ITA Northwest Regional Championships in Stanford, California. Within a field of 128 single players and 64 double pairs, the Championships featured athletes from Cal Poly, Eastern Washington, Fresno State, Gonzaga, Oregon, Pacific, Portland, Portland State, Sacramento State, San Francisco, San Jose State, Santa Clara, St. Mary's, Stanford, UC Berkeley, UC Davis, Washington and Washington State.
For the Redhawks, four doubles teams were entered along with seven single entries.
Soccer
Seattle University Women's Soccer walked away with a 1-0 win against GCU last Friday, Oct. 18. This victory is the third in a row for the Redhawks. Sophomore Bailey Hall scored in the second half, putting the Redhawks on top and ensuring their third straight shutout. With the most recent win also comes an automatic WAC Tournament bid, which is the team's eighth straight bid.
Cross Country
The Seattle U Cross Country team placed 14th with 360 points at the Bronco Invitational in Sunnyvale, California—their last meet before the season ends at the WAC Championships on November 2 in Kansas City.
Senior Olivia Stein set a school record of 20:58:3 in the 6k, also bettering her previous personal best by 45 seconds. Additionally, Stein placed 23rd out of 204 women in the field. She is the first woman to run a 6k in under 21 minutes at Seattle U.
Men's
---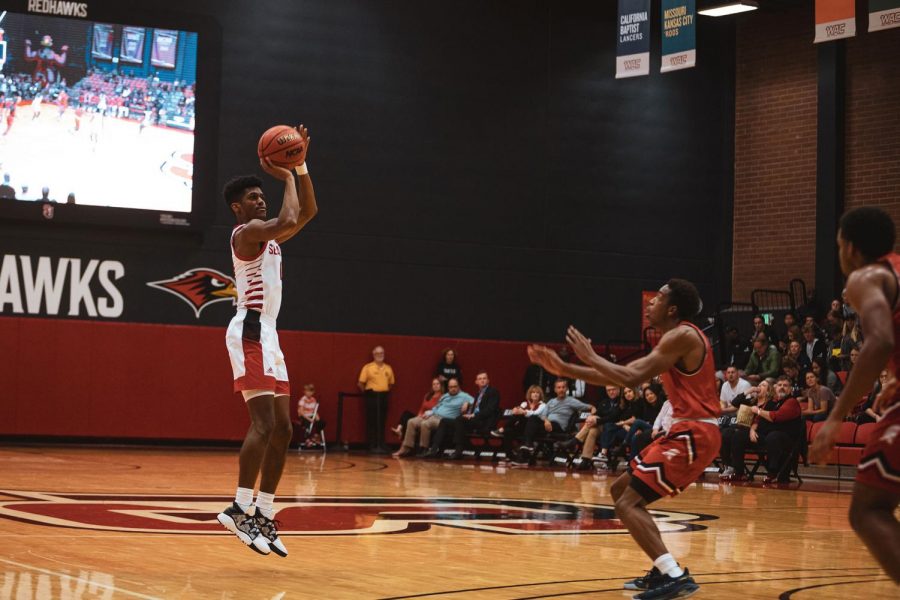 Golf
At the Trysting Tree Golf Club, Seattle University Men's Golf finished seventh out of 15 teams after completing their second-to-last tournament of this season. The Redhawks placed 22 over the par as the team with Sophomore Nathan Cogswell leading the team at 19th place with a score of plus four-217. Following was Sophomore Federico Gutierrez, with solid rounds of 72, 75 and 72 while senior Greg Gionfriddo was close behind with a score of 79- 74. The men's team will wrap up the 2019 season with a tournament at Visit Stockton Pacific Invitational on Oct. 21-23.
Swimming
Seattle U's Swimming team fell short against Grand Canyon University (GCU) during their home opener. Despite the unfortunate loss, the Redhawks had some memorable performances. The team of First- years Jaden Weiss and Emmet Moore, Sophomore Tyler Goodspeed and Junior Jack Neton finished the 200- yd medley at 1:36.89. Meanwhile, First-year Connor Barringer, Seniors Alex Roderick and Zach Zenteno, and Sophomore Milan Saric finished at 3:17.02 in the 400-yd Freestyle.
The Redhawks continued their week with a dual against GCU at King County Aquatic Center. Once again, the Redhawks fell short to their opponent. Although the end result was disappointing, the Redhawks collected 11 finishes in the top three. Men's swimming will have a short break the next two weeks before competing at Simon Fraser on Nov. 2.
Soccer
Last Saturday night was a notable night for Forward First-year James Morris, as he scored a hat-trick and helped the Redhawks claim a tight victory of 3-2 over CSU Bakersfield. Morris scored his hat-trick in the first half of the match. Before Morris' hat- trick, there were only two Seattle U players who had done it—Sophomore Declan McGlynn and Alumni David Olsen.
McGlynn also supported Morris with three assists, becoming the first member of Seattle U's soccer team to record three assists in one game.
On Oct. 27, Seattle U will face Air Force Academy at Champion Field.
Cross Country
At the Santa Clara Bronco Invitational, the Redhawks achieved 12 personal records and one school record. The men's team finished 16th place overall, and among 12 personal records, the men's team got five. Junior Nathan Pixler led the team with a time of 25:01.4, missing his personal record only a second. Still, he finished 57 in a field 179 runners. The men's cross country team will be back in action on November 2 at Kansas City, MO for the Western Athletic Conference (WAC) Championships.
The editor may be reached at [email protected]
Leave a Comment