Ramen Ratings: Battle of the Bowls
As the weather gets colder and you get the hankering for warm noodle soup, you'll be pleasantly surprised at how many ramen shops are just a stone's throw away from Capitol Hill and the International District. Nothing warms the soul and dispels the Seattle freeze like a steaming bowl of this Japanese comfort dish. Hop over to the newly- opened Momosan or any of my other favorites in Capitol Hill.
Momosan
---
One of the most anticipated additions to the International District, Momosan Seattle ramen and izakaya restaurant, opened last month. Ever since celebrity "Iron Chef " legend Masaharu Morimoto opened his own restaurant in September, the restaurant has been swarmed with customers, with a line wrapping around the block each night.
Vince Le, the assistant general manager, describes the ramen as Chef Morimoto's take on the traditional dish, pulling from his childhood in Hiroshima.
"It's really fun to be able to bring Chef 's concept here to Seattle and be able to share his experience around the world, and that correlates with the menu," Le said.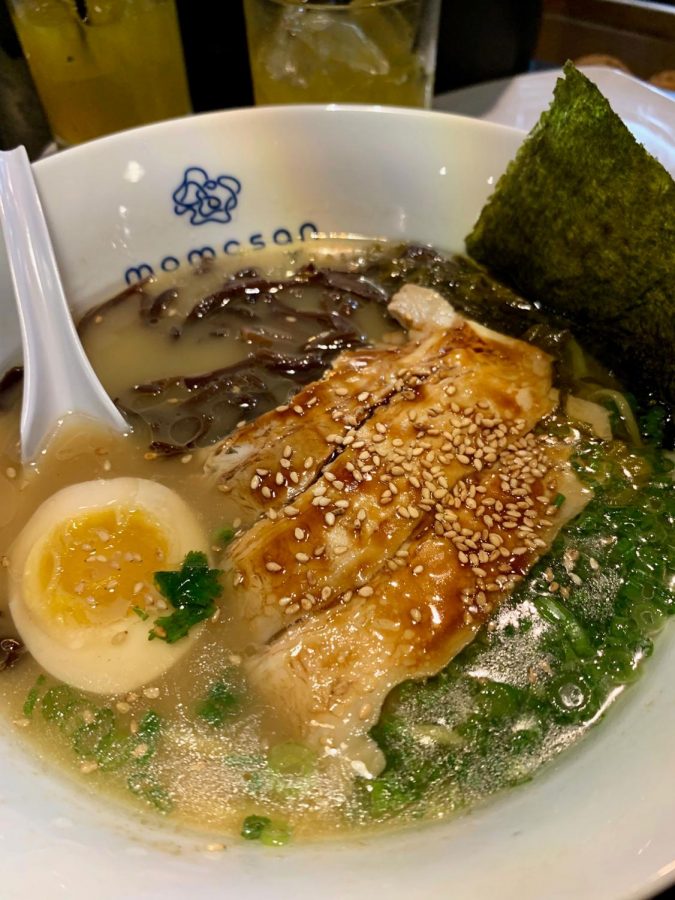 As such, Morimoto's ramen is not what one typically finds or expects in Seattle. Other shops offer large bowls filled with thick, creamy broth and lots of noodles and toppings. One thing to keep in mind is that Morimoto's rendition is not as busy or heavy as American ramen.
At Momosan, the broth was lighter with a more oily broth that almost tasted like chicken. I would've liked more chewiness to the noodles as they were slightly soggy. The chashu pork came in thin strips that I initially thought were chicken. While the ramen was intended to be lighter in the traditional style, the individual components did not seem to make much of an impression for its high price point.
Perhaps the other ramen dishes were more flavorful and worthy of the Morimoto namesake, such as the duck ramen or the gyukotsu ramen, of which Momosan only makes 25 servings a day.
On the up side, Momosan also offers creative and refined appetizers, izakaya options and unique cocktails—all of which seem to be the gems of the menu. The Seattle location has their own special dish called the Salt and Pepper Rice Paddy Chicken, but here's a hint–it's not chicken!
I tried the spicy wonton, which was definitely my favorite part of the meal. The sauce is perfectly balanced, giving a good amount of heat and nuttiness produced in the combination of sesame sauce and chili oil. The first bite of the actual wonton is surprising with an immediate burst of the moist and flavorful chicken stuffed inside. In my opinion, this is a must-try!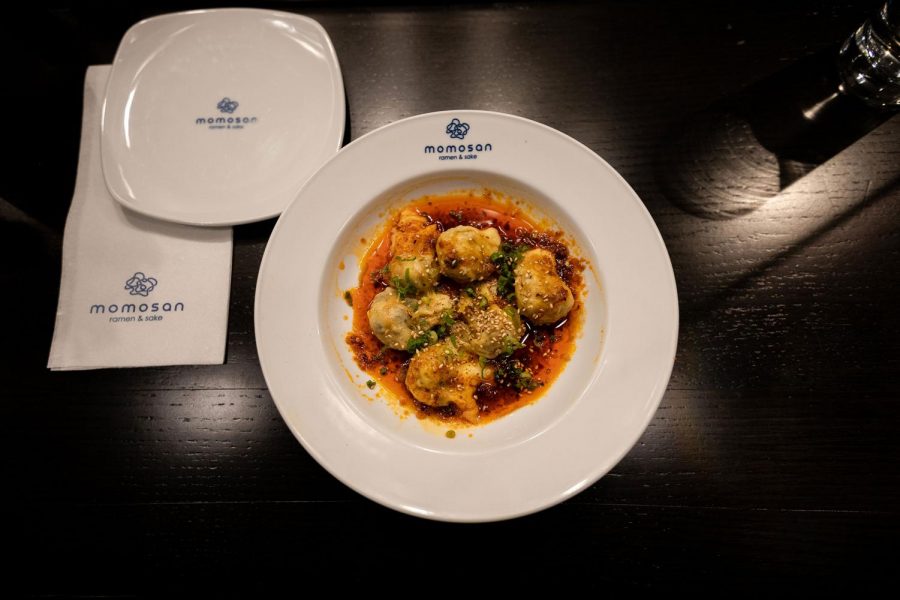 Though Executive Chef Tommy Sao couldn't designate a singular favorite dish, he bounced among mimiga, izakaya paired with Morimoto-crafted beer, karaage chicken and carpaccio, he definitely knew Le's favorite is the sticky ribs. Le shared his passion for delicate and flavorful meat that falls off the bone yet still retains its crispiness.
Morimoto himself will be landing in Seattle to continue expanding the menu for his newest restaurant. Seattleites can expect to see lunch hours, vegetarian options and new additions to the menu.
Sao encourages everyone to visit Momosan and try Morimoto's cooking for themselves.
"Come and eat open-minded. Get a feel of Chef 's right there."
Price: $$$
Overall Rating: ★★★☆☆
Menya Musashi
---
Named after the samurai Musashi Miyoto who is known for his unique two-sword style, Menya Musashi offers two noodle dish styles—ramen and tsukemen, which has the dipping broth on the side of the noodles.
After my first taste of the Original Ramen with flat noodles, I was hooked. This is hands-down the tastiest ramen I've ever had. The pork bone and seafood broth was creamy with a balanced salt and umami flavor. Each ramen bowl also comes with bean sprouts, ogo seaweed, spinach and green onions, adding a bit of freshness in each bite.
The noodles are slightly flattened and thicker than egg noodles typically found in ramen, giving each noodle more dimension and taste. However, in my opinion, the rich and succulent slabs of pork belly are the best part. It takes a lot of willpower not to eat all of it at once.
Menya Musashi also offers seasonal flavors, vegetarian options and currently has a special on their Hybrid Ramen which is a combination of their Black and Red Ramen to give the perfect amount of heat.
Price: $$
Overall Rating: ★★★★★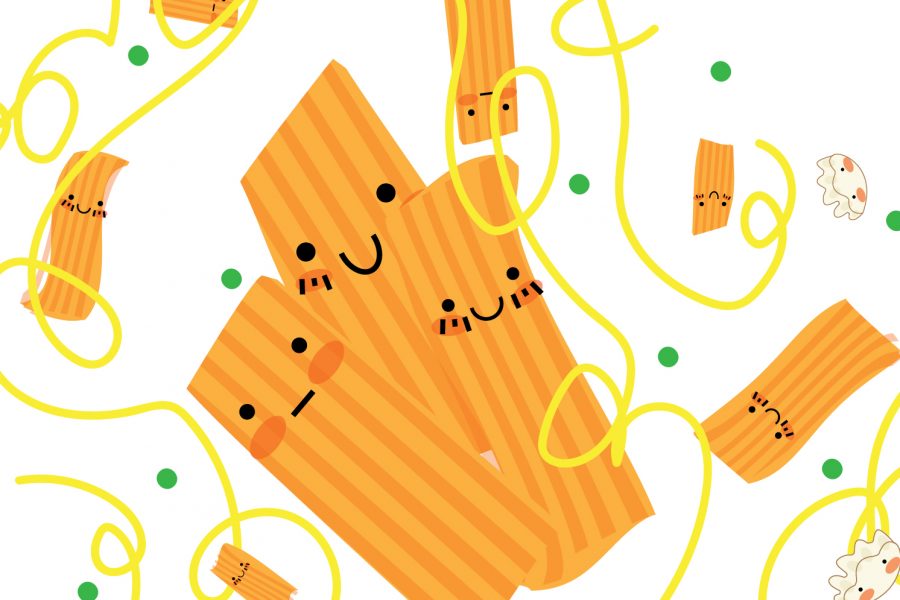 Ramen Danbo
---
This recipient of ramen ravings from loyal customers all over Seattle offers traditional Tonkotsu ramen crafted in the Kyushu Hakata style, a favorite in Japan. As such, be prepared for long waits during lunch and dinner hours.
When customers first walk into the ramen shop, they are welcomed by the enticing smell of fresh, boiling soup. Danbo uses pork bones and specially- treated water to make their creamy Tonkotsu base and slowly simmers their Yakibuta Chashu pork. However, their trademark in Capitol Hill is their traditional thin noodles, of which customers can get additional servings, called Kaedama. The menu allows many other customizations, such as noodle thickness, soup richness and spice levels.
Price: $$
Overall Rating: ★★★★☆
Betsu Ten Jin Ramen
---
Located two minutes away from campus, this spot is designed to get you that quick ramen fix, especially if you get a craving after midnight, since they're open until 2 a.m.
Though Betsu Ten Jin features the shortest menu in Capitol Hill with only two soup options, they do not fall short on flavor and quality. Customers flock to line up at their door to get either the Hakata Style ramen or Prawn Miso ramen before the restaurant runs out of soup for the day. The Hakata Style ramen features a rich, creamy pork stock that coats and soothes the palate. The noodles are thin and chewy, but still have that perfect give when you bite into them. Hakata Style is served with green onions and ogo seaweed while Prawn Miso comes with corn, green onions, and spicy sprouts—but you are always encouraged to add a soft-boiled aji- tama. Lastly, the chashu pork melts in your mouth. There is a generous ratio of meat to fat and the first bite releases a smoky, fatty taste that leaves you wanting more.
If you're really hungry, you can make it a combo! Betsu Ten Jin offers ramen sets that offer gyoza or lobster salad on the side. The gyoza is good, but I would recommend the lobster salad for the adventurous foodies out there.
In conclusion, Betsu Ten Jin gives your soul the warm hug and a pat on the back that it needs on chilly Seattle nights.
Price: $$
Overall Rating: ★★★★☆
Kizuki Ramen & Izakaya
---
You'll know you've found Kizuki when you run into the large crowd that is eagerly waiting outside the restaurant during prime eating times.
The Japanese chain's philosophy is to replicate and provide customers with the most traditional and authentic tonkotsu ramen they can have without actually flying to Japan. They use the same broth-making techniques as ramen shops in Tokyo and even import ingredients. I recommend their Garlic Tonkotsu Shoyu ramen, but keep in mind that there is a limited amount available each day. The soup is rich and full-bodied with a good balance of salt and garlic— perfect for a late snack on Friday or Saturday nights. Kizuki also serves chicken and vegetarian ramen and even added kale noodles to the menu!
Price: $$$
Overall Rating: ★★★★☆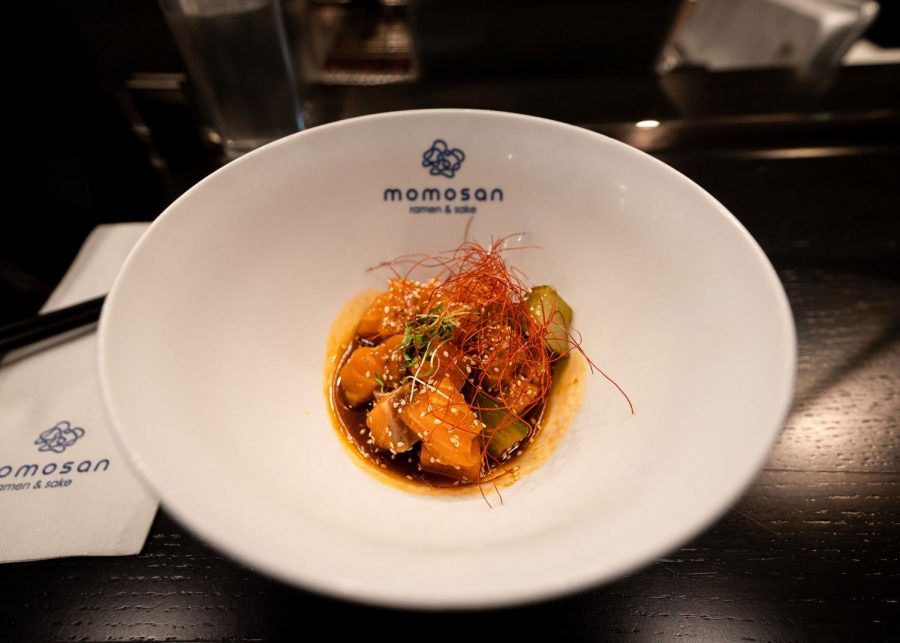 Elise may be reached at [email protected]
Leave a Comment