Oluo Encourages Discussion of Racism Through Common Text
Seattle University welcomed author of this years common text "So You Want to Talk About Race," Ijeoma Oluo to campus to speak about the impact of her novel on students. The conversation gave the Seattle U community an in-depth view of the book, a chance to interact with the Oluo and ask questions about the book and her personal experience.
The discussion took place in Pigott Auditorium on Oct. 15. The discussion was centered around how Oluo's novel allowed students to contemplate the impact of their privilege and how this affects people of color.
The event was previewed by Director of University Core Jeff Philpot, who heralded the sold-out discussion as a success. Philpot later explained how common text events like this one with Oluo allow students and the Seattle U community to speak about racism and oppression.
"We're trying to hold at least a couple of events every quarter that take these themes of racism and oppression and invite us into conversation with them," Philpot said. "We're working with faculty and staff to help people engage in these important issues."
Cara Nguyen, a senior economics major, was one of several audience members to ask questions throughout the discussion. They asked how Oluo is able to live without fear as a queer person of color.
"It's really powerful… to see older queer people of color out in the world because it reminds me that they survived." Nguyen said. "[Oluo] said, 'I deserve joy and I deserve to want that. I shouldn't have to live in fear. I had never thought about how normalized it is that we live in fear."
Validation is a key part of Oluo's book as well as the experiences of people of color to be seen as legitimate by the world and not constantly questioned. This key theme of validation was present in conversation throughout the night.
Patrick Okocha, assistant director of the Career Engagement Office, asked Oluo how to validate the experience and history of the students of color he interacts with.
Okocha later continued that this conversation is important for the Seattle U community to constantly have and reflect on so that the university can improve.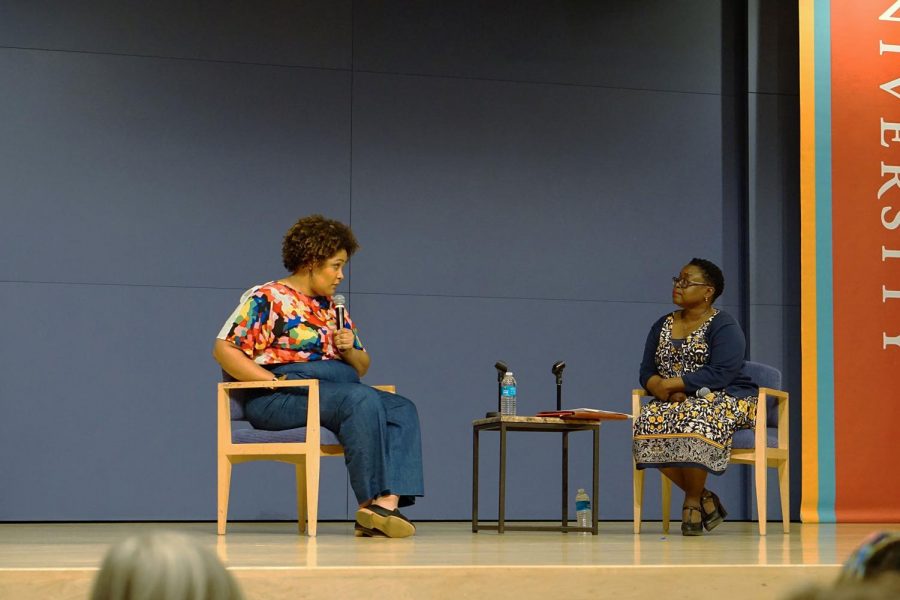 "I'm glad as an institution we're taking a stance on this and they're making progress. No institution is perfect," Okocha said. "Every institution is looking to get better but there's intentionality here and our students are going to be the voice of that."
Oluo said that hearing from Seattle U students was a really valuable experience for her and was happy that students had the opportunity to speak about racism and issues they face not only in their personal lives but also on campus.
"I loved hearing from so many students, particularly students of color. I liked hearing people speak from their heart and feel safe and comfortable to do that." Oluo said. "I don't necessarily think that means they're feeling that way every day. But I'm glad that the opportunity was presented for people to talk about the issues that they're facing in their life and on campus."
Natasha Martin, vice president of Diversity and Inclusivity, said that this year's common text established a base of information that she believes is valuable for first year students going into the school year.
"For every first-year student to receive this book and read this book and come in with a certain base level of information to build on, [this novel] is a really important starting point for all our students," Martin said.
This ever-expanding conversation of race benefits from a multitude of different perspectives from many intersecting identities, including race, religion, social class and gender identity.
The discussion concluded with the remark that continuing inclusive and open discussions are beginning steps towards change and action against racism because this conversation will not end and every university has the potential to improve through inclusivity.
The editor may be reached at [email protected]
Leave a Comment