Queer People of Faith Dinner Unites Identities
On a campus that prides itself on diversity and inclusivity, the importance of events that celebrate one another and create safe, comfortable spaces is thought to be important for a multitude of community members. At the Queer People of Faith Brunch for Dinner—the main welcome event for students that identify as both queer and follow a specific faith tradition— Seattle University Campus Ministry is aiming to do just that.
Campus Minister for Social Justice Marilyn Nash has been working with Queer People of Faith for three years.
"It's super important to me that folks who identify with a particular religious tradition—where maybe it is complicated, or difficult, or even dangerous to identify as queer and participate in that religion—that we create a space for both identities," Nash said.
Before then, the group took different names, but has been an asset to the students at Seattle U with the support of Nash over the last 10 years.
"We've had different iterations over the years," Nash said. "This particular version is about three years old, but before there was a group called Gender and Sexuality Programming—or GASP—and before that, there were other programs, but really over my last 10 years here there has been some sort of outreach or programs with and alongside students who identify as queer."
As far as specifics go, Nash wants students to know Queer People of Faith is still a place for them if they do not subscribe to a label or are wondering where they fit as someone generally interested in faith and religion.
The event also included a discussion regarding what made people feel like they were at home in the first few weeks of the new school year. Most answers from group members spoke to the openness and the caring nature of the group and its mission to accept and offer safety in all their identities and their ability to share experiences.
"You don't have to come out in any way in order to participate in the group. You don't have to come out as queer, you don't have to come out as Christian, you don't have to come out as religious," Nash said. "The magic of this space is everyone is making space for everybody else's questions and identities and complications."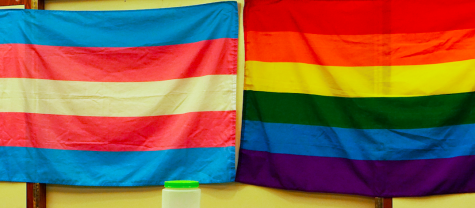 Nash explained that so often, intersectionality is not acknowledged, inhibiting self-expression. Specifically in this historical context, the identities of people who identify with faith and the LGBTQIA+ communities don't see much overlap. Junior Jared Fontenette touched on the importance of acknowledging and fostering both aspects of his identity.
He spoke to his journey of struggling in trying to choose between the two, only to realize they are both connected.
"At first I completely rejected faith, but then I reached a point where I had to reach back out, start from scratch and figure that out," Fontenette said. "I would say because of that struggle, because I had to dive deep and figure out what I believe, it really got me in touch with what I believe are the core elements: love, grace, forgiveness and humility."
Fontenette believes there has been a historical hositility between the Christian community and the LGBTQ+ community, leading to confusion and misunderstanding.
"I think a lot of people had the same struggle I did, which is that you have to pick one or another and sometimes it doesn't even cross your mind that you can be both," Fontenette said. "For a lot of people, that's the first time they get that message so this is a very important space in that regard, and I think it's so cool that Seattle U allows it and promotes it and just allows students to be who they are in their full selves."
Junior Megan Oakes also found a sense of home in Queer People of Faith as she came to an understanding about her identity in being able to openly speak about queerness in Christianity and vice versa.
"To have a space like this where the wholeness of my own identity and the wholeness of everyone else's identity is able to be shared is really beautiful," Oakes said. "I really appreciate that this is something that Campus Ministry and the school itself actually give weight and funding behind. It's really nice to actually feel legitimized in my identity and all the baggage that that brings and have a space to really be who I am and to feel supported."
The editor may be reached at [email protected]
Leave a Comment