A Rallying Cry: Campus Groups Call for Reinstatement of Planned Parenthood Reference
Over 1,000 people signed a petition demanding that Seattle University President Fr. Stephen V. Sundborg, S.J., rescind his decision to remove Planned Parenthood as a student resource from the College of Arts & Sciences website.
"We, the students and leaders of Seattle University, firmly denounce the administration's removal of Planned Parenthood from advising resources. Collectively, we are frustrated with administrative decisions that do not consult or reflect the beliefs of your students," the petition reads.
Further, the petition calls on Sundborg to reverse the decision, which it calls "ill-informed, irresponsible and dangerous."
Sundborg based his decision on Catholic teachings that prohibit abortion, a service which is one of many which Planned Parenthood provides, including gender-affirming care, STD testing and treatment and cancer screenings.
Several dozen students gathered to present the petition to Sundborg on Oct. 14 when he was on his way to a meeting with a coalition from Academic Assembly to discuss his decision.
Sundborg arrived at the building 10 minutes before the meeting and was stopped by four students, Sophie Beierle, Molly Brown, Allie Schiele, and Tara Vindla, who spoke directly to Sundborg and delivered him the petition. These four students wrote the letter attached to the petition.
After receiving the letter, Sundborg walked through the crowd of students, most of whom were holding signs. One sign quoted Scripture: "Truly I tell you, whatever you did for any of my people, no matter how unimportant they seemed, you did for me."
During the meeting, a smaller group of a dozen students waited inside the Casey Building, where College of Arts & Sciences (CAS) Dean David Powers spoke to each of them to hear their concerns, but did not offer any immediate response. One student asked for an open forum with Sundborg.
Though Sundborg made the decision to remove the resource from the CAS website, in an email statement to the college, Powers took responsibility for following through on this decision. In the same statement, Powers encouraged community members to reach out to him to voice their concerns.
Brown told Powers that she believes administrators and tenured faculty with job security have an obligation to "Stand up to Father Steve."
Following the protest, Brown said in an interview with The Spectator that the administrators who are not actively challenging Sundborg's decision are complicit in the harm this decision brings to students. The letter outlined the harm to students caused by the decision.
"Equating Planned Parenthood solely with these procedures is naive and dangerous. Other services provided include STD tests, cancer screenings, important preventative care, and more. Abortions make up only about 3% of the care offered," the letter read. "Dismissing this organization as a resource actively limits students' access to potentially life-saving care."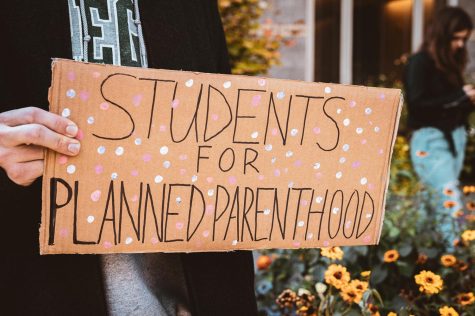 Community members have voiced concerns regarding Sundborg's decision, saying that the organization is critical to many marginalized communities who could not otherwise access to healthcare.
"They're acting complicit. I think their role is to question him and to stop bolstering people in power," Brown said. "By not saying anything, by not taking a firm stance against Sundborg, they're actively being complicit in his decision-making. If you want to be an ally to students, you're going to voice your opinion against him."
Beierle said that even if the decision does not explicitly limit academic freedom, many faculty nonetheless feel an implicit limit on their own freedom. She said that many faculty were afraid to sign the petition, even if they agreed with it, for fear of losing their jobs.
The Student Government of Seattle University (SGSU) passed a resolution on Oct. 9 denouncing Sundborg's decision and further request that no university body be limited in their ability to provide Planned Parenthood as a resource on their website.
They condemned this decision on the basis that Seattle U and the Catholic Church has a "long history of marginalizing many groups including women, people of color, LGBTQ+ individuals, and people experiencing poverty."
In a statement emailed to the Seattle U community on Oct. 9, Sundborg said that he does not personally pass judgment on students who use Planned Parenthood as a resource.
"I want to assure you that in making this decision I am not judging anyone in regard to their personal choices," Sundborg said. "I will seek to more fully articulate the rationale of my decision at a later time when I have a chance to give it further consideration."
Seattle U Her Campus President Anna Petgrave criticized this email.
"The email that Sundborg sent out in response to his poorly thought-out Planned Parenthood decision was disgraceful and offensive," Petgrave said. "The thing that really got me was his line, 'I will take some time to consider this before I speak out again.' I wanted to respond that he should have considered everything fully before he even made the decision in the first place."
In an official communication on the Seattle U website, the university stated, "The process should have been handled differently. President Sundborg recognizes that he should have consulted with others before making his decision."
In an interview with The Spectator on Oct. 8, Sundborg said that his personal opinion was irrelevant to the decision he made to remove Planned Parenthood.
He said that this is not the only situation where his personal view may not necessarily align with the public view of the university. Another example he gave is same-sex marriage, when he decided that the Chapel of St. Ignatius would not perform non- heterosexual marriages.
According to Washington state law, religious officials are not required to recognize or perform same-sex marriages. This exception means that Seattle U is not required to allow these marriages on campus, as a Catholic institution.
"I agreed with that exception, because if we were forced to have same sex marriages, we would be violating the teaching of the Catholic Church, around same sex marriages." Sundborg said in an interview with The Spectator. "I had about four public forums on the issue. I said, 'You don't know what my view on this is.' It's not about what Father Steve's view on this is. It's about the Catholic Church's position."
A group separate from the petition organizers has planned a protest for Oct. 16. This organizing effort is spearheaded by the Seattle U debate team, though they said that they formed their plan after hearing input from other student groups and leaders.
Junior English major Sarah Salame said this protest and their demands came as the culmination of a history of oppressions from Sundborg. The group pointed to previous events, such as Sundborg's homophobic comments following a campus drag show, and the decades long effort to approve gender inclusive housing, as indications that Sundborg and the administration are failing to support their students sufficiently.
"We were sick of feeling hopeless," Salame said. "This was like a tipping point."
This protest has three stated goals, aimed at increasing student involvement in decisions which would impact the entire university community.
First, they are calling on Sundborg to "rescind his actions and restore all references to Planned Parenthood to sites in which they were removed."
Junior Computer Science major Alyssa Gaston is a part of the group leading the second protest, and said that Planned Parenthood's unique services and accessibility make it an essential resource for people on campus.
The group is additionally demanding that two new university policies be created, and that both be "reviewed and accepted by student representatives."
The first policy they ask for specifically says the university shall not use its Catholic identity or the Catholic institution to "silence other beliefs and values."
Finally, they demand the creation of an additional policy that requires a conversation between students and administration prior to the implementation of future policies. The policy would specify that student input shall be valued over that of "outside actors."
Should Sundborg refuse these demands, the group said they will call for his resignation.
This group has made clear that if their demands are not met, they will continue to demonstrate to the extent they deem necessary. As Sundborg will be leaving the university in June 2021, they believe it crucial to indicate to the next university president that the campus community will not accept being left out of decision making processes.
"For a guy with a planned retirement day, right, the framework shifts, you know, he can wait us out. But we think that it's an important time because he deserves to be made uncomfortable," Gaston said. "He deserves to not just coast into retirement on shitty decisions."
Faculty Staff Senate (FSS) sent a letter to Sundborg, Powers and Provost Shane Martin on Oct. 10 criticizing the decision-making process. FSS represents the faculty and staff of the College of Arts & Sciences.
The FSS letter voiced the group's concern that the decision to remove Planned Parenthood violated shared governance.
Shared governance refers to the idea that faculty should be involved in the decisions of the university. More recently, the idea of shared governance has expanded to include staff and student voice, as well.
Their letter listed four main points. The first point was that this decision is disruptive to the faculty and staff 's ability to do their job. Secondly, they argued that this decision did not engage shared governance in a way that Seattle U has promised in the past.
"A hasty, top-down decision was made, which is exactly the type of decision making that the university community has said contributes to a culture of distrust at Seattle University," the letter stated.
Sundborg received the letter from SFLA on Aug. 28. In an interview with The Spectator, Sundborg clarified that he did not respond until mid-September. This means that during these three weeks, Sundborg did not reach out to faculty members to draw them into the decision-making process.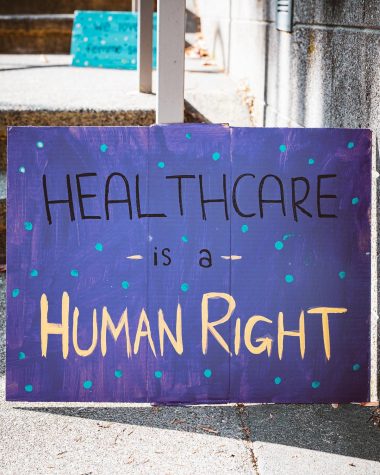 FSS's third and fourth points related to transparency: Faculty and staff were unaware of what current policy standards are regarding Planned Parenthood, and they criticized the administration for not communicating this decision with faculty and staff when it happened.
"If policies exist or if prior decisions are being relied upon in decision- making in place of policies, these must be available for all members of the university community to examine, debate, and consult," the letter stated. "This is simply a sound shared governance practice."
In particular, the FSS raised criticism that they did not ever hear from administration until almost a week after The Spectator published its first article.
"We shouldn't have to learn about decisions made by our Dean and our President from national news media and student reporting," the statement read.
Senior English Instructor Hannah Tracy is the vice president of FSS. "As faculty and staff, we have an expectation that major decisions that will affect us—and especially affect the ways we do our jobs—will be communicated to us, and that wasn't the case," Tracy said. "And we don't know if there was ever a plan to communicate it."
Tracy said that many staff—who are not represented by Academic Assembly—have been especially affected by this decision.
"A lot of staff in Arts and Sciences… are feeling particularly vulnerable right now," Tracy said. She said that this is true for staff across the college, who are unsure of what they are allowed to say to students.
As provost, which serves as the chief academic officer of a university, Martin elaborated on academic freedom and clarified that Sundborg's decision excludes individual conversations.
"I understand some staff are worried about individual conversations they might have with students, and would their job security be jeopardized if they recommend a particular health service," Martin said. "We are not looking at the individual conversations, discussions that faculty and staff are having with our students."
Martin said that communication is an area of improvement for the university, and he is interested in proactively pursuing better communication in the future.
"We don't have policies and guidelines to help our university on this. So when something happens and you're not fully prepared for it, then the communication lags," Martin said. "So I'd like to see us proactively as a university community talk through and work through the guidelines and the policies that will help us in the future."
As the university pushes towards these guidelines and policies, student activists center the need to hold Sundborg accountable. Vindla said that this is important in Sundborg's final years before his retirement.
"Father Sundborg has nothing to lose at this point. He literally has nothing to lose. He's going to retire in a year and a half," Vindla said. "His legacy is going to last longer than he is. And I think we're going to see the ramifications of that. But if we don't organize, and if we don't voice our opinions, we're just letting him run free."
The editor may be reached at [email protected]
View Comments(1)