SU President Defends Decision to Remove Planned Parenthood Reference from Website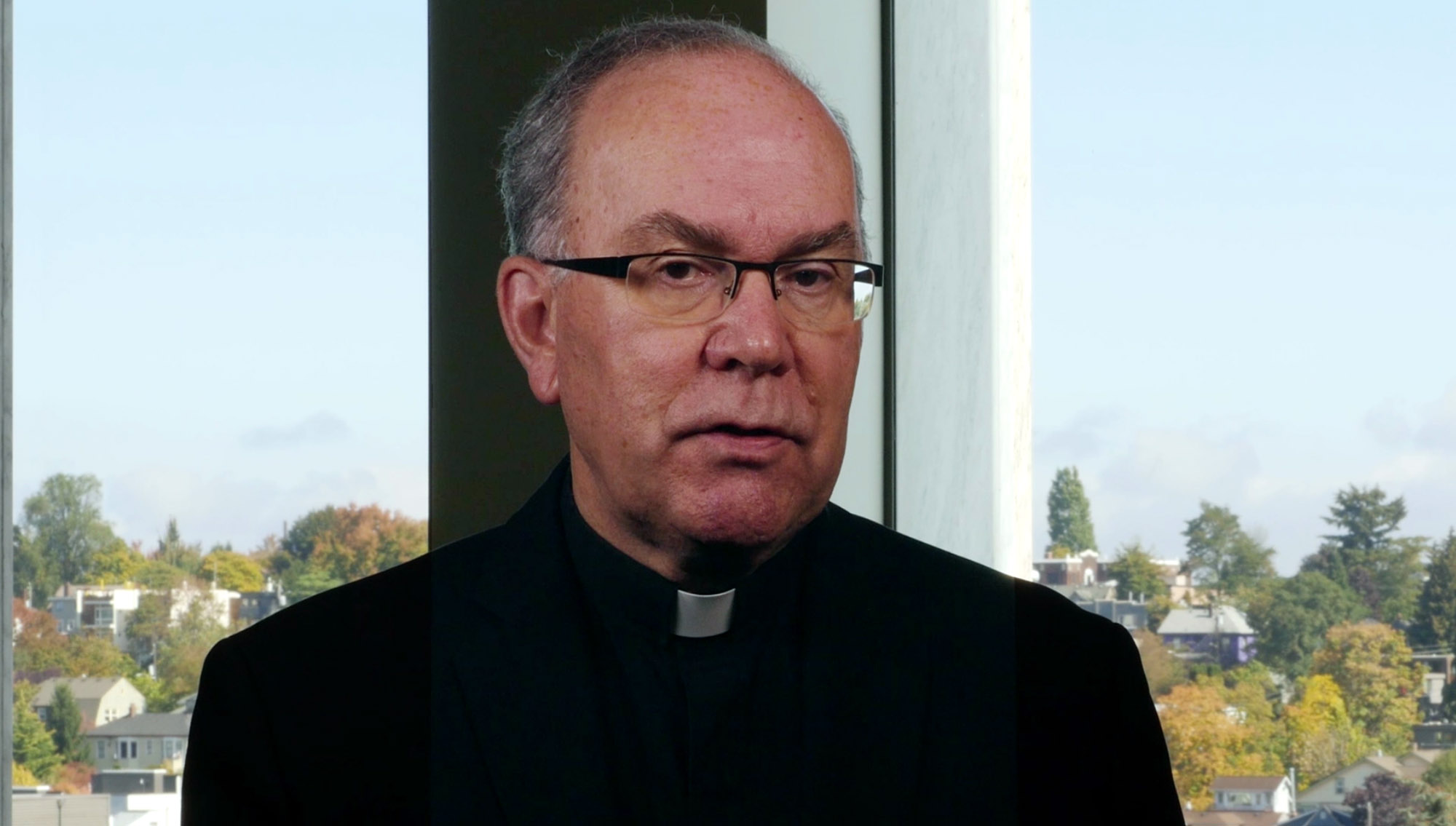 Seattle University President Fr. Stephen V. Sundborg, S.J. is defending the decision to remove Planned Parenthood as a listed student resource, in an email statement received by The Spectator on Oct. 4.
Seattle U removed a reference to Planned Parenthood from the College of Arts and Sciences Advising Center's website following a request by a national pro-life group. It remains unclear when this resource was taken down, and Sundborg has yet to publicly address this decision as of Oct. 6.
In an email statement to The Spectator, Sundborg said that this decision comes as a result of what he claims is a longstanding university policy. The policy he cites is as follows: "All University policies, practices and procedures are administered in a manner consistent with Seattle University's Catholic and Jesuit identity and character."
He said in his statement to The Spectator that he made "the decision several years ago not to include on our website referrals to Planned Parenthood," and that this instance of removal is in line with that decision.
At this time, the university still has not provided The Spectator with a specific written policy that explicitly references Planned Parenthood, birth control, or abortion in any form. It is unclear if such a written policy exists.
Sundborg refused an in-person interview when approached by Spectator reporters on Oct. 3 and refused a phone interview with The Spectator on Oct. 4 or over the weekend. As a result, the details of Seattle U's policy regarding references to Planned Parenthood remains unclear.
Sundborg's unedited statement is included below in its entirety.
---
"Respect for the sanctity and dignity of life is an issue of paramount importance to people across faiths, including the Catholic Church. As such, it is an issue which is important to Seattle University.
There are strong-held views on both sides when it comes to the issue of abortion.
Whether we agree or disagree, I believe it is important to be respectful of all viewpoints. I respect those who may disagree with the decision I made several years ago not to include on our website referrals to Planned Parenthood, whose position on abortion runs counter to the stance of Catholic institutions, schools and universities like Seattle University. This approach is consistent with our history prior to the existence of the university website and I believe it is an approach that is consistent with most, if not all, Catholic institutions.
Seattle University has long held the view that university policies, practices and procedures are to be administered in a manner consistent with the university's Catholic and Jesuit identity and character. This is reflected within policies listed on our website and is something that has been shared publicly in various ways over the years, although not necessarily known or understood by all members of our campus community. 
Let me also address an important fact as some reporting has left certain items open to interpretation and mischaracterization. The decision to remove the reference to Planned Parenthood on one of our college's website pages was in keeping with long-standing practices and not because anyone felt "pressured" to do so.

While there is disagreement on this issue, I hope this at least provides some additional context for understanding."
---
The official stance of the Catholic Church is that "human life must be respected and protected absolutely from the moment of conception," according to the Catechism of the Catholic Church.
However, this is one interpretation of Catholic thought, and according to Director of the Women and Gender Studies Program Theresa Earenfight, this is not the only interpretation.
"I know a lot of Catholics that are pro-choice," Earenfight said. "So for Fr. Sundborg to come down on this the way he has aligns him with the fringe, not with the mainstream."
According to a 2019 Pew report, 56 percent of people who identify as Catholic feel abortion should be legal in "most or all cases."
As a result, Catholicism is not necessarily synonymous with the pro-life movement, and historically, this has not been the case, according to "A Brief, Liberal, Catholic Defense of Abortion," a book written by two Seattle U philosophy professors.
One of these professors, Dan Dombrowski, self-identifies as a lifelong Catholic. He said that the church's view that life begins at conception has not always been the ruling belief.
"I'm not convinced that you have to trash Planned Parenthood because of the Catholic intellectual tradition. It's a really complicated tradition," Dombrowski said.
He said that though the Catholic church believes in 2019 that life begins at conception, this has not always been the case. He said that there was a time when most Catholics believed a fetus was not a person, and he points to two major Catholic figures who held this belief: St. Thomas Aquinas and St. Augustine.
"They did not view the fetus in the early stages of pregnancy as a person. Now, this has enormous implications for the abortion debate," Dombrowski said. "I'm the chairman of the board of a nonprofit called Catholics for Choice…So there's a whole organization out there trying to voice a pro-choice Catholic view."
Earenfight said that the Catholic Church has become more conservative over the past 60 years, and many of its strongly held beliefs on abortion did not arise until much more recently.
"Women were priests in the early church, or at least ministers…And marriage wasn't actually a sacrament until well into the 13th century," Earenfight said. "Historically, the church was open-minded…And so we have regressed since the 1960s."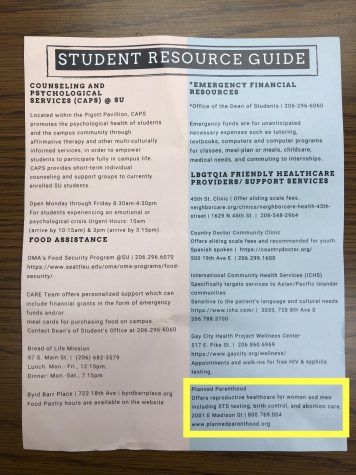 In a collective statement from the Women and Gender Studies faculty and staff to its students, the department said that Planned Parenthood is essential to the livelihoods of people of all genders, classes and races.
"Some of us [faculty and staff] relied almost exclusively on Planned Parenthood for all of our women's health care needs, some of us while undergraduate students here at SU, some from poorer families, or some simply struggling in grad school to make ends meet. Without Planned Parenthood, we would not have had access to women's health treatment during our college years," the statement reads.
They said further in their email that "attacks like this one" on Planned Parenthood are an effort to "destroy a vital healthcare provider."
Because the services Planned Parenthood provides extend so far beyond abortion, Communication Professor Chris Paul called into question the way in which Planned Parenthood and abortion are often conflated in this debate.
"To respond to a group that explicitly treats Planned Parenthood and abortion as interchangeable words is really troubling to me when we don't have enough health services on campus for our students," Paul said.
Planned Parenthood of the Great Northwest and the Hawaiian Islands has also released a statement to The Spectator, which can be found in The Spectator's prior coverage.
Students, faculty, staff, and alumni are continuing to respond to this decision.
The College of Arts and Sciences Advising Center—whose website had a reference to Planned Parenthood removed—now has a copy of Dombrowski's book and flyers that list Planned Parenthood as a LGBTQIA-friendly healthcare resource displayed in their office.
A handful of professors have also posted the Planned Parenthood logo on their door in protest.
Some community members took to social media to express their discontent with the university's decision.
One Seattle U alum responded to The Spectator's Facebook account, "I hope the administration likes not getting alumni donations. They're certainly not getting my money if they listen to bigoted groups like Students 'for Life.'"
Another alum responded directly to the initial article and said they are "embarrassed to say [they are] an SU alum."
On Twitter, one user Tweeted at @seattleu their criticism of the decision.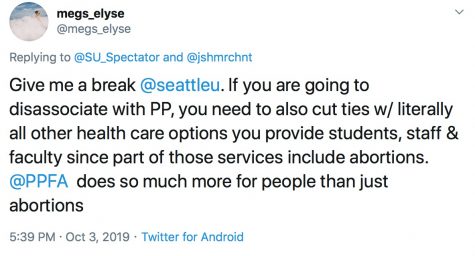 The account for Her Campus, a student organization at Seattle U, sent a Tweet affirming their support for Planned Parenthood.

Twitter user @TommyJJohnsonJr said that they left Seattle U as a result of decisions like this.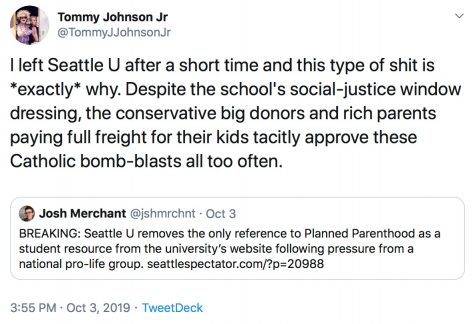 The Spectator did not quote any comments or Tweets in support of the university's decision because it could not find any. The Spectator is accepting op-ed submissions and letters to the editor on the topic of this article. Any submissions can be sent to [email protected]
Frances Divinagracia and Sofía Muro-Wells contributed to this report.
---
Editor's Note: We want to acknowledge Sundborg's criticism of The Spectator's breaking coverage and clarify that our writing never used the word "pressured" as Sundborg's statement implies through its use of quotation marks, nor did The Spectator imply this through its reporting. Further, our writing was clear that this decision was based on Seattle U's "long-standing practices"—we stated so explicitly in the original article and all updated versions. We stand by our reporting as objective and fair. With that said, The Spectator is not the focus of this story, and we will continue to diligently cover its developments.
View Comments (11)