Billie Eilish Comes Out and Plays at Marymoor Park
The 17-year-old sensation Billie Eilish made her way to Redmond to play a sold-out show at Marymoor Park on a cool, spring evening. This was a stop on her "When We All Fall Asleep" world tour.
The crowd was surprisingly young and filled with parent chaperones. It surprised me only because I didn't think Eilish necessarily appealed to the younger crowd.
Eilish started the night off by hyping the crowd up with her song "bad guy" and seamlessly transitioned into "my strange addiction." Eilish then switched directions shortly after that with her ballad, "idontwannabeyouanymore."
The song "idontwannabeyouanymore" is an emotional tune about not feeling beautiful and living with insecurities. While Eilish sang, the crowd responded and sang back at her. It was particularly chilling about listening to the crowd sing about being insecure.
There was a moment when I realized that many of the people at the concert have probably felt those insecurities at one point.
Eilish discussed how she deals with these insecurities in her songs. She performed one of those songs, "xanny," which is about how Eilish does not feel the need to take Xanax, drink, or smoke to cope or feel cool. The most saddening and ironic thing I saw during that performance was the girl next to me pulling out a capsule of Xanax and taking one with her friend as Eilish sung "don't give me a xanny, now or ever."
I was also stunned by Eilish's powerful vocals. She sounded just like she does in the recorded album and had fun throughout the concert. She performed 17 songs, but it was a quick set as she did not talk much in between songs. However, she spent a tender moment explaining one of her songs "i love you."
Eilish tours with her brother, Finneas, and the two of them write songs together. For "i love you," Eilish brought a bed onto the stage and she explained that the two of them wrote the song on a bed and they wanted to perform the song exactly how they wrote it. It was a sweet moment and seemed incredibly important for the two of them to share it.
Later in the night before playing "when the party's over," she wanted the crowd to be present in the moment. She explained that if that night was the best or worst night of your life or if you have been stuck in a rut or not, feeling those emotions is okay and she encouraged embracing those emotions. Living life involves worrying about what comes next and people do not take the time to live in the moment because they may not want to think about their feelings.
---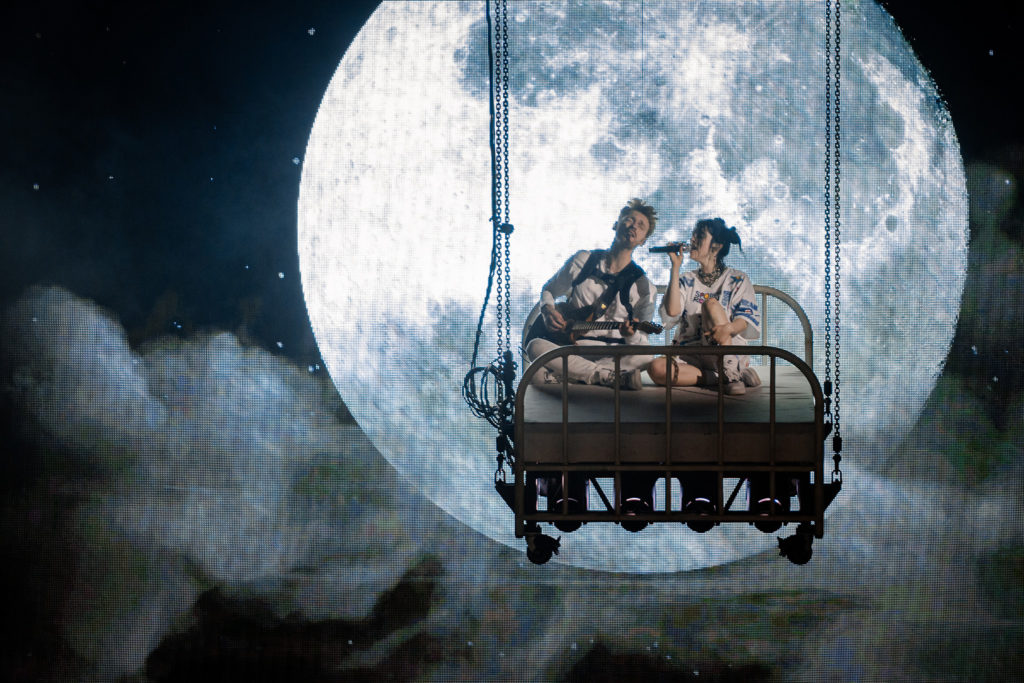 Billie Eilish joined by her brother, Finneas, on stage to perform "i love you."
---
The concert overall was fantastic. There were moments I was able to jump, dance and laugh with her, like when she forgot the words to her song "COPYCAT." In the next moment, I could be emotional and feel the pain that she felt while singing. Despite being far back from the stage, I felt connected with her the whole night because I felt her emotions.
When the sun went down, so did the house. Eilish rounded her set out with "ocean eyes," "when the party's over," and ended with "bury a friend." The shift in emotions was fun as she made sure to leave the crowd with a song that left them feeling powerful.
Billie Eilish is an artist I have been wanting to see for a long time now, and I am glad it was after the release of her new album because she explored many different themes in her album that weren't in her EP. I had the opportunity to listen to some of my favorite songs come to life. "bellyache," "listen before I go," and "when the party's over" are three songs I really looked forward to hearing and it was a great experience to listen to songs that mean a lot to me, surrounded by other people who felt the same connection to the music.
One thing is certain, Eilish cares about the music she puts out. She wanted to establish a connection with the crowd and she wanted to have fun with it, and that is exactly what she did during her stop in Redmond.
Michaela may be reached at
[email protected]