Chartwells Employees Speak on Food Quality at Seattle U
Chartwells workers have alleged unsafe food service across campus, including expired sushi, reused salad bar produce in the Hawk's Nest Bistro, and a lack of food handling training for many employees.
Two workers voiced concerns with The Spectator under the condition of anonymity to protect their jobs. Both employees feel the new food service provider Chartwells has lowered the quality of food from what it has been in years past.
"The quality has definitely changed, and it wouldn't make sense for Chartwells to do this for any reason other than cutting costs," the first anonymous worker said.
---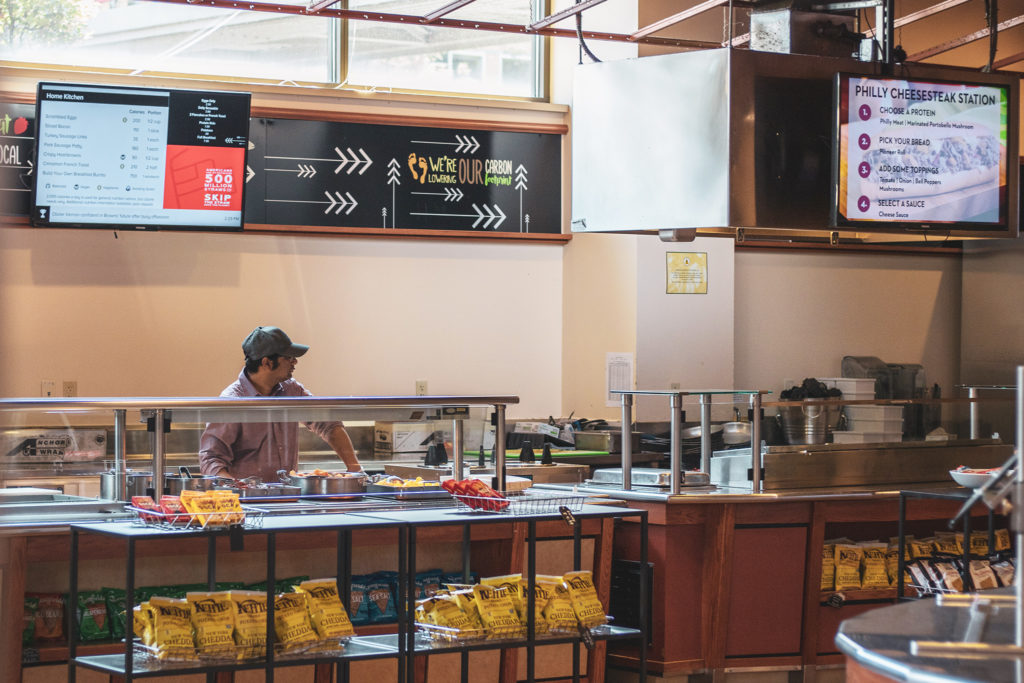 Recently students have been asking, "Does all of the food we eat meet the standards we expect?"
---
It is becoming increasingly common for students to get food poisoning from the sushi sold in Cherry Street Market or find expired food or produce with mold throughout campus, according to another employee. They have shared that pastries are not replaced daily or made fresh if there are still leftovers from the previous day. In the Bistro, all ingredients available to the community at the salad bar are also reused and are left in the fridge overnight rather than being replaced daily.
"You shouldn't be scared to eat food; you shouldn't have to think twice when you order something at your food vending service," the first worker said. "It's laughable and disrespectful to the school that the food vendor is distributing this."
Workers also recounted that there are no routine checks to observe the products and make sure that they are not expired. They are also hesitant to serve smoothies because the ingredients they currently use separate easily. They stated that they have asked for real fruit to be brought up to the Bistro for better quality smoothies, but have been denied repeatedly.
The workers who chose to speak on the quality of the food served by Chartwells do not recall any health and safety checks taking place this year. The workers stated that the team is told to check the food before they serve it, but there is no reinforcement to ensure that the food is not expired or moldy.
Further, many employees do not have Washington State food handler's permits, which is a violation of food safety law. Without these permits, many workers have not undergone training in regards to cooking temperatures, food inspection, or cross-contamination.
When food service providers ask the workers to check the food for contamination, it is up to each person to try and figure out if the product is usable. These employees also commented on how they never received training for their positions and many may not know how to properly check the food.
"There is no training offered for the workers through Chartwells. Everyone making espresso only knows what they're doing because of prior training from another job or because they were employees when Caffe Vita training sessions were provided," the first employee said.
Employees explained that another reason why food has been found close to the expiration date or expired on the shelves is because they receive mass shipments in large quantities and want to make sure that the food is not wasted and can be purchased by students before they have to be composted.
"We get a lot of overstocked product and get amounts of products that we don't need," the second employee said. "Then we have to go through all that, and it's not always labeled correctly."
Employees also stated that they are unsure of where the products that Chartwells orders come from. Previous food service providers tried their best to make the food offered on campus local and organic. Now, they are unsure where the products come from because "middle man" distributors handle the food and repackage or damage the original boxes containing the food.
"It's very wasteful when there is food leftover because of mass ordering. We have some employees who take the food home and donate it themselves, or we have to compost it all," the second employee said. "There are no donations affiliated with Chartwells other than the food drives that took months to get approved."
While many Chartwells workers have the ability to drive home after work and make their own food, students who work for them and live on campus have to eat the food that they believe is not up to par. Student workers stated that this has greatly impacted what they feel comfortable eating, and they are careful to avoid the foods they believe to be unsafe.
"As a worker and a student this really impacts what I eat on campus because I always stick to the same few things that I know are good and cooked correctly," the first student said.
Chartwells did not respond to requests for comment.
Myrea may be reached at
[email protected]
Leave a Comment