Sundborg Talks Cybersecurity, Budget, and Puppies at Forum
In his last President's Forum of the 2019-20 academic year, Seattle University President Stephen V. Sundborg, S.J. addressed the community to review what he saw as key university matters, including the upcoming budget and efforts to increase declining enrollment rates amid a 4.5 percent increase in tuition.
Throughout the meeting, Sundborg focused on the FY21 budget, which will include an overall $3.3 million reduction, and a recent data security incident that left the personal data of various members of the Seattle U community vulnerable to fraud or identity theft.
A previous statement from the university detailed the events of this breach in an email on April 23, in which a Seattle U employee lost a computer containing unencrypted information on a Seattle Metro bus. This data included the social security numbers of 2,000 former and current faculty and staff members and their dependents.
---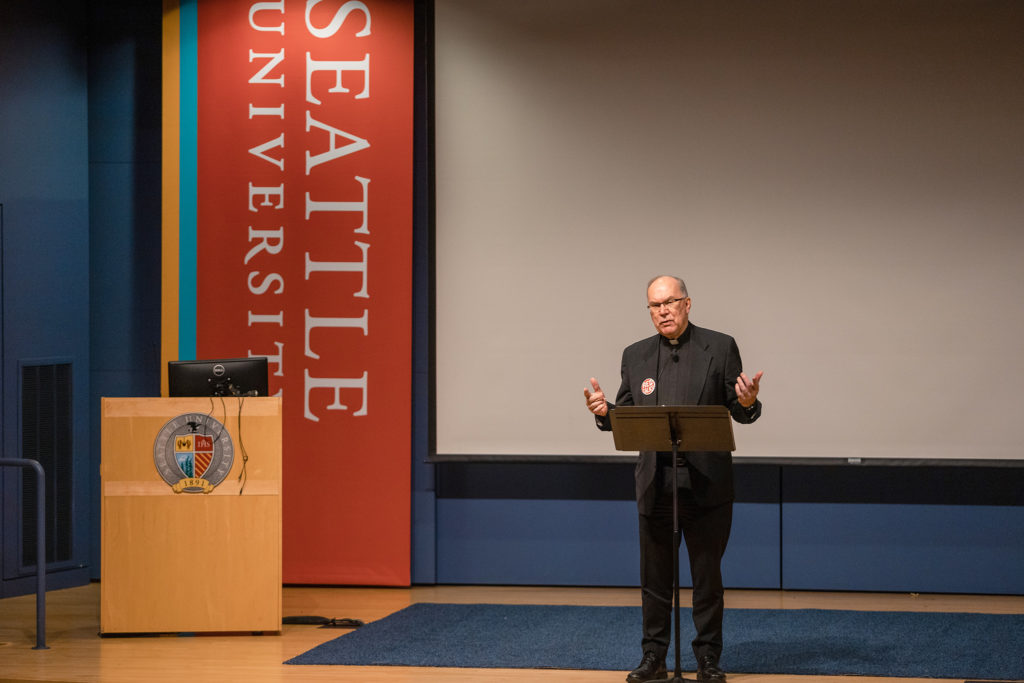 Father Stephen Sundborg speaking at the Presidents Forum on May 7, 2019.
---
Sundborg said at the forum that he was "upset" by the breach and called for more intentionality to ensure encryption of all university laptops.
"As president of the university, I think we care about our data security and the protection of our personal information," Sundborg said. "It should not happen, we must be doing more to prevent it from happening, and we must start by redoubling our efforts to encrypt all of our laptops."
While Seattle U Chief Information Officer, Chris Van Liew said at the forum that it is unlikely that this information has actually been accessed by anyone, he apologized for the breach and said that the university is still treating the situation as though someone has accessed the information.
"We want to apologize to the university community for the concern and frustration that this has caused you," Van Liew said. "We understand that the possibility of your personal data being available out there somewhere out of our control is not just frustrating, but even unnerving."
In the wake of the breach, the Information Technology Services has made organizational changes to address possible breaches like this in the future. The employee who lost the computer mistakenly believed that it was encrypted, so Van Liew described key steps that the office is taking in order to ensure that all university distributed computers are encrypted.
"We are confirming that any new device that is deployed from IT services to the campus users is encrypted before they receive it," Van Liew said. "We've also gone through and we've begun cataloging the other devices that are out there to see how the university manages both Windows and Mac computers to determine which ones are encrypted and which ones aren't."
Van Liew additionally mentioned that the office has also recently hired a new Information Risk and Cybersecurity Director and that the office will be sending out a follow- up email in the coming weeks with more information on their steps moving forward and data encryption at Seattle U.
Addressing the 2020-21 budget, Sundborg said that there will be a $3.3 million reduction in the overall budget with the cuts running the gamut in offices across campus. The offices of Academic Affairs and Student Development will have the smallest percentage of their budgets cut, with Academic Affairs facing with a 1.3 percent cut. He said that the administration prioritizes faculty and staff compensation, student success and retention, and academic programs when considering the year's budget.
Though the university tuition will increase by 4.5 percent for the next academic year, enrollment has decreased and the budget for faculty salaries will see an increase of 3.7 percent.
The current year's operating budget has an operating deficit of $3.7 million, down from the previous year's deficit of $5.2 million. The university took money from previous years' reserves and endowments to cover for these deficits, but Sundborg said that this measure could not be sustained, hence the cut in the coming year's operating budget.
"That's not possible for us to continue to have the operating deficit of anything like that measure, we should have operating surpluses in order to be able to invest in what's important for the future," Sundborg said. "We're at a point where we're going to need to do a real pivot in our university to get us out of this mode."
He then passed the conversation to interim Chief Financial Officer, Andrew Boyle who spoke to how the university will increase enrollment through academic programs available, as he that reported 86 percent of the budget is based on enrollment and tuition dollars.
He said that the university was looking to expand their nurse practitioner, online graduate business, and science and engineering programs, as well as relying on Athletics to bring in more students.
"These priorities drove the entire process, and we looked at reductions and tried to decide what reductions we needed to take," Boyle said. "These were the guardrails that we use. We looked at what investments we were going to make, this is what we based our decisions on."
Sundborg closed the forum by asking for any audience questions or comments, and when none were brought forward, he noted a campus concern that has been brought to his attention: the considerable presence of dogs on campus.
He said that while the presence of dogs—particularly that of off-leash dogs—on campus could provide great fun for many in the neighborhood and those on campus, it can cause problems for those who are uncomfortable being in such close proximity to the canines.
"We may be reviewing that, looking at that, considering that, but I just wanted to mention it because I feel sometimes something like that can be a more important sort of concern to a few people that you want to be aware of. And it might be [a concern] to a lot of other people and I've seen a few instances on campus that were pretty evident to me it was a person who had a phobia," Sundborg said.
Sofía may be reached at
[email protected]
Leave a Comment