Georgia's Democratic candidate in the 2018 election for governor, Stacey Abrams, came to Seattle on April 25 and was greeted by many eager to hear her speak.
Supporters packed the rows of Temple De Hirsch Sinai, and her presence in Seattle garnered the likes of Washington Governor Jay Inslee, who introduced Abrams and welcomed her to the Evergreen State.
---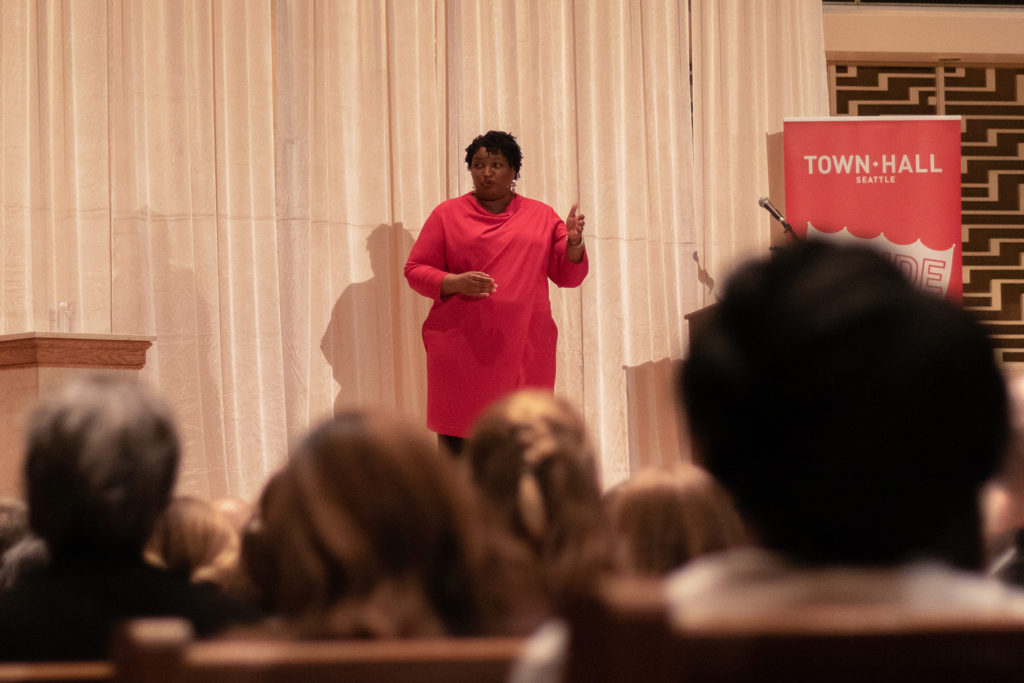 Stacy Abrams discusses voting interference and misuse of political power with her fans and supporters.
---
"I come here tonight because I want to welcome a fantastic leader, a national leader, a leader who is so much in sync with the values of our state, and I speak on behalf of seven million Washingtonians in welcoming Stacey to the state of Washington," Inslee said.
After Inslee's brief introduction, Abrams began her address. She tackled a myriad of topics, including her 2018 book "Lead from the Outside," which discussed formative moments in her life and political career and voter suppression—which she believes cost her the governorship in Georgia.
Abrams lost a tight race for governor last year against the former Georgia Secretary of State. As Secretary of State, her opponent was in charge of voter regulations, which raised concerns for many, given the fact that he had been suspected of suppressing votes in the past.
Despite her 2018 defeat, Abrams' political career has been one of triumph. She talked about growing up in the American South with two working-class parents and said people doubted her every step along the way.
Abrams discussed many of the disappointments in her life, and was, at times, brutally honest with the audience she was addressing.
"If we can't tell our own truths, why should they listen?" she said.
Persistence brought Abrams to the level of success he has found in her political career. Despite the constant obstacles that many Black women face in politics, Abrams fed off of her ambition, which led her to achieve suppression has a significant impact on American democracy.
"I wouldn't necessarily say it's an existential threat to democracy, but I would say it's an endemic and chronic problem," he said, "It's fixable. Whether it will be fixed is a different question."
Abrams expressed her doubts about the legitimacy of her opponent's win in the 2018 election, and she worries that the newly elected Georgia Governor, Brian Kemp, will continue the voter suppression that Abrams claims he enacted during his time as Georgia's Secretary of State. Due to the controversy behind Kemp's win, Abrams has yet to concede the election to him.
"You do not concede what is not right," she said.
Abram's support throughout the state of Washington was evident. Aside from Governor Inslee, another prominent Washington State politician at the event was King County Councilmember Larry Gossett who said that he believes in Abrams because of her near win.
"[She came close to winning] in a state that has never had anything close to an African American governor," he said. "Her commitment to community organizing and social change. That's why I'm here."
Abrams vowed to continue to advocate for the people she hopes to later represent in higher office, stating that is her true motivation in her political career. Persistence is one of Abrams' great strengths as a politician, and nothing she has faced yet has deterred her from fighting for the voiceless and underrepresented in American society.
Jack may be reached
[email protected]