"I'm just looking forward to how I can support and how the university's going to continue to support all students, LGBTQ+ students, trans students," Seattle University President Father Stephen V. Sundborg, S.J. said, giving a short reflection on the harmful comments he made last year. "Not looking back, and looking forward."
In April of 2018, English Professor Fr. David Leigh, S.J. stole copies of The Spectator from the stands, citing concerns that the cover featured a "risqué photograph" of a drag performer from Seattle U's annual drag show.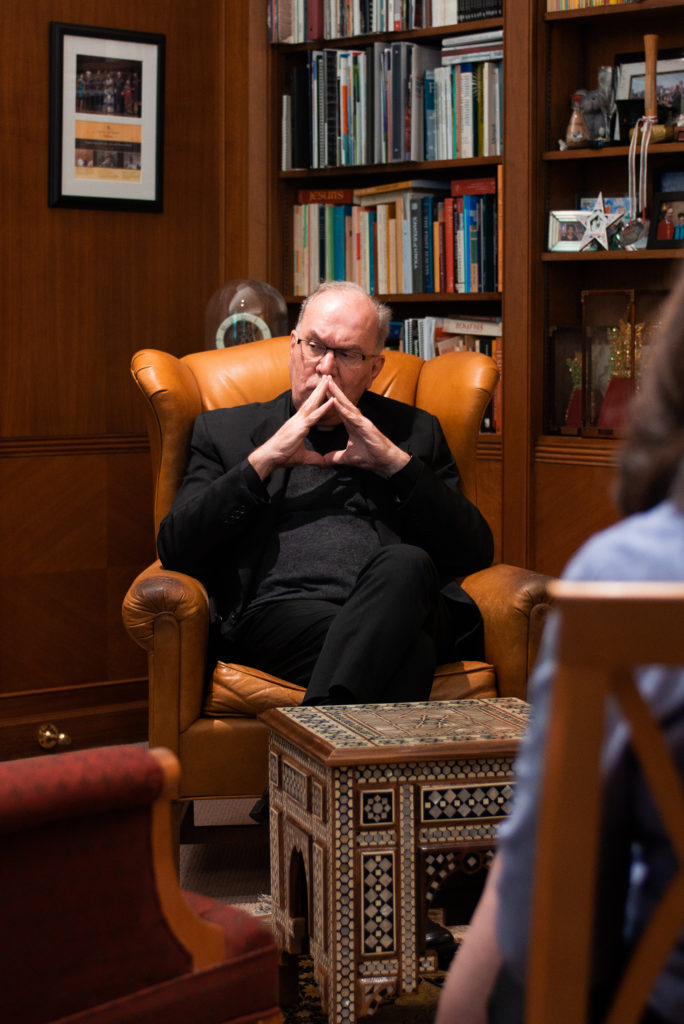 Father Steven Sunborg SJ ponders a question during an interview that reviewed his actions and comments last year in reaction to the drag show.
Shortly after this incident, Sundborg called the photo "offensive," and he questioned the The Spectator's editorial board decision to place this photo on the cover.
Leigh apologized for his actions shortly afterward in a statement to The Spectator, and Sundborg sent an apology letter to the entire university community.
"I understand some in our community feel harmed by comments I made in this week's Spectator and are questioning the value I place on LGBTQ members of our community," Sundborg said in his email. "I deeply regret that and am sincerely sorry that is the case."
Nic Lee, a graduate assistant at the Office of Multicultural Affairs (OMA), has come across issues surrounding queer students as both a student and staff member himself. Lee, who also identifies as queer, has found that the structures within Seattle U do not fully support queer students.
"My experience isn't necessarily very different. I think the President's words definitely motivated me to really think deeper about, 'Okay, if no one else is going to do this, what can I do, working for the institution?'" Lee said.
He finds the word "inclusive" to be a "blanket" term, with a double entendre of encompassing all diversities are included, but also that many of those in power choose to use a blanket and cover up issues to walk away from them.
There is a need and a desire for more structural changes within Seattle U, as the fight does not end with Gender Inclusive Housing. However, Lee has not witnessed any initiative or proactivity from administrators, including Sundborg.
"I don't know if there's much change in his behavior. I don't think he puts himself in front of students very often, from what I can tell," Lee said. "There has been a change, but…that change and action, comes from students themselves… It doesn't really come from this institution."
The most recent structural change in approving Gender Inclusive Housing was completely student-led, with no real backing from administrators. Similar to the Matteo Ricci College protests, student action was responsible for creating and implementing a new policy to offer support for students.
"Yes, he said some bad things, and he is working to get better at it. We're not going to forget, but we are going to move on from it because it's not about him."
Lee believes a real space for queer students should be a priority in creating more tangible resources on campus in an attempt to understand and support the queer experience.
"There needs to be a dedicated specific initiative to support LGBTQ+ students," Lee said. "Some larger, strategic goal to support students is to happen in some way, whether that be creating more specific staff members, or an organizational restructure of creating space."
Sophomore Biology major and Triangle Club member Andie Carroll said that the focus for the year since Sundborg's transphobic comments has been to move past his comments and refocus on the needs of the queer community at Seattle U.
While Carroll sees his comments as deeply harmful, he also doesn't see the purpose on focusing on the harm caused by one person, as opposed to the work that needs to be done.
"Yes, he said some bad things, and he is working to get better at it. We're not going to forget, but we are going to move on from it because it's not about him," Carroll said. "That's what I think this last year has been: educating where we can, but also moving on and building our community."
In moving forward from the controversy last year, Sundborg said his aim is to turn inward to reflect on his unconscious biases, and he has emphasized dialogue over policy when it comes to change.
"It's been a year of trying to model as President respect and inclusion and support of all of our students, and I think I've done very well on that," Sundborg said.
He said that he has done this by attending the 2019 Drag Show in April, as well as by attending several other events hosted for the queer community. He said that he wants to accept invitations more frequently to support the queer community with his physical presence.
"One of the most important things is simply to be with, to dialogue with, and to listen to; so it was very helpful for me…to have a special session of about seven Jesuits with people who identify as trans and to have a very, very candid and a transparent kind of a conversation with them," Sundborg said.
Both incidents last year—the theft of papers and subsequent transphobic comments—involved Jesuits, but on an institutional level, the Jesuit community has not implemented any trainings on gender identity or sexual orientation.
"We've had conversations among ourselves about [training]," Sundborg said. "I proposed that we get some facilitation so that we can learn about [sexuality and gender expression] in a more professional way, and we'll be looking at doing that."
Seattle U Chief Diversity Officer Natasha Martin said that the university has also brought several optional trainings for faculty to learn more about the LGBTQ+ community.
"What we've tried to do is to raise campus awareness across the board, have more robust engagement, and engage in some professional development for faculty and staff and opportunities for students," Martin said.
While none of these trainings were required for faculty, many still made the choice to attend. At these trainings, Martin said that the topics covered terminology and how best to engage with the trans community to minimize microaggressions.
"We try to create these containers, these spaces where we can create more of a sense of belonging and also try and help the faculty and staff and our entire community deepen our understanding and build our skills," she said.
Beyond those trainings, the university also created an LGBTQ+ task force shortly after the controversy to address concerns of queer students.
"I am hearing about faculty who are feeling unsafe and not feeling included as part of the community."
Vice President for Student Development Alvin Sturdivant said that the task force initially had a one- year outlook, but its work will continue into the next academic year. He said that the task force is still identifying concerns of LGBTQ+ students, faculty, and staff.
"It's specifically looking at it through the lens of representation and ensuring that… all of our faculty, staff, and students can see themselves at the university and have some experiences that really represent the whole of who they are," Sturdivant said.
As far as the community impact, Provost Shane Martin said that Sundborg's comments have served as a point of growth for the Seattle U community.
"As I've understood it, the events of last year have been very painful. I believe that what's coming out of them, overall, is positive for our community. It's a teachable moment, right?" Shane said. "And I hope we will embrace it as a teachable moment. We can grow at all times and points of our lives."
Shane hopes to implement more training for incoming faculty to better equip them to teach in diverse settings. He said that currently, incoming faculty have a two-day orientation, which he wants to expand to a year- long process. As such, he hopes to better educate faculty on racial diversity, religious sensitivity, and gender and sexual identities.
On Sundborg, Shane said that he sees the university president as a "model of learning."
"I believe he attended the drag show this year," Shane said. "[There are] not many university presidents across the country that would show up in person."
As provost, Shane said that he personally sees the safety of LGBTQ+ faculty as a priority.
"I take all of these issues very seriously," Shane said. "I am hearing about faculty who are feeling unsafe and not feeling included as part of the community."
As far as student safety, Dean of the College of Arts and Sciences (CAS) David Powers said he wants to make sure that students feel safe in classrooms with professors. The next step on this road, he believes, is wider training for faculty.
"We're doing some and we could be doing more," Powers said. "The things that we've done right now are we've had faculty come in and work individually, and the student advising office is spending this quarter specifically getting more training and working with trans students."
He hopes that within a year, the college will have implemented wider training for faculty.
CAS Assistant Dean for Student Academic Affairs Kate Elias said that if students do feel unsafe or uncomfortable in a classroom within the CAS, she encourages them to come in to her office to file a complaint.
After filing a complaint, solutions vary on a case-by-case basis, but the college may do anything from withdraw the student, modifying the grade, or speaking with faculty.
She said that she has had some students come in with complaints about faculty not respecting their pronouns or identities, but she said that there are not very many repeats— after working with faculty, she said that they are willing to modify the way they run their classes.
When talking about the Drag Show this year, Carroll recalled when Sundborg got up to leave, and a student said "Bye Father Steve," drawing attention to his early departure.
"[The host] Ames was like, 'No, it's not about him. Let's bring it back to what we're actually focusing on.' I think that's what we need to be doing."
Josh may be reached at
[email protected]