Seattle Central College Copes with Racist Vandalism on Campus
After Seattle Central College (SCC) discovered racist vandalism drawn on a stairwell by a student, it took the school three weeks to cover it with paint. The vandalism was found on March 21, located in a stairwell that is not used too frequently, but nobody knows just how long the graffiti was there.
The Seattle Police Department (SPD) did not classify the vandalism as a hate crime at first. However, the image depicted a lynching, along with the words "Damn your strange fruit." The writing was a reference to "Strange Fruit," a song sung by Billie Holiday about lynching. SPD has since reclassified the case as a hate crime.
The drawing also listed names above the question, "Who will be next?" tagged in the stairwell. SCC President Sheila Edwards Lange said in a campus-wide email that the vandalism was a hate crime because of the violent messaging.
---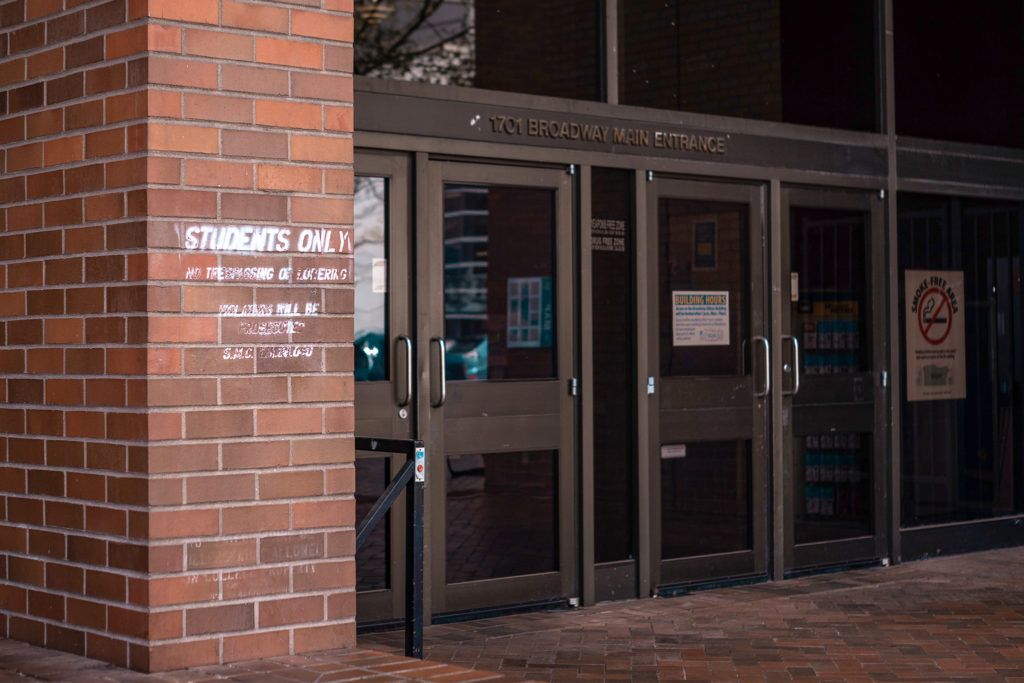 Seattle Central College located on Broadway was vandalized with racist graffiti just two weeks ago.
---
Earlier in the year, the city of Sammamish also dealt with racist vandalism, and the number of hate crimes doubled from 2016 to 2017 in the state of Washington. With this in mind, it seems more and more important to be aware of how racism can affect a college in Seattle.
"We are an urban campus in a high traffic and visible area, so it's unrealistic to think that incidents like this won't happen again," Edwards Lange told The Spectator in an email.
This incident has led SCC to review their security procedures to take measures as an attempt to stop this kind of crime. The use of cameras will be implemented to make it more difficult for vandals to tag or deface walls on campus, according to Edwards Lange.
Edwards Lange said she does not want this to affect any students or the school.
"It's made us more aware of the bias and hate that still exists in our community," Edwards Lange said in her email. "We strive to be a welcoming, open, and inclusive college, and will continue our efforts to make it a safe place for all."
Roberto Bonaccorso, SCC's director of communications, discussed the school's student body and how it was affected by the graffiti.
"It's incredibly disturbing and very upsetting to a lot of our students and it's something that we don't welcome or want here on our campus," Bonaccorso said. "Seattle Central prides itself on being a diverse and inclusive and pursuing social justice, and that kind of message has no place in our campus."
The image has been painted over, but it took almost two weeks after the image was discovered for action to be taken. SCC plans to be timelier at removing vandalism if a situation comes up again.
Mark Cohan, chair of the Seattle University Department of Anthropology and Sociology spoke to how violent acts such as this racist drawing can affect a minoritized person's psyche.
"In general, that sort of hate speech has the effect of making certain members of a community feel under threat and generally that's the intention," Cohan said. "When you add images of lynching, there's such a long history of white violence against African-Americans; that is meant to invoke that history. It's meant to be an act of terror really."
However, Edwards Lange wants to make it clear that this type of situation has no place on campus, as it should be a safe space for all.
"Hate is not and will not be welcome at Seattle Central College," Lange said. This incident happened prior to the potential hate crime possibly committed by Seattle U students, which occurred on April 1. While it is unknown if it was a hate crime due to the nature of the perpetrators pulling on the Uber driver's headscarf (it is unclear if the driver is a Muslim woman), the SPD do not have an active investigation regarding this incident.
According to Edwards Lange, there have not been any further leads in the investigation regarding the vandalism at SCC.
The editor may be reached at
[email protected]
Leave a Comment