These three words may seem familiar: "Ignite the mission." This statement was on students' acceptance letters from Seattle University. However, these three words are more than just a slogan, and Seattle U aims to prove their commitment to these words by hosting Mission Day.
Many faculty members, students, and some from outside the Seattle U community met in the Redhawk Center on April 11 to listen to bestselling author and Georgetown University Sociology Professor Michael Eric Dyson deliver a powerful and moving speech.
---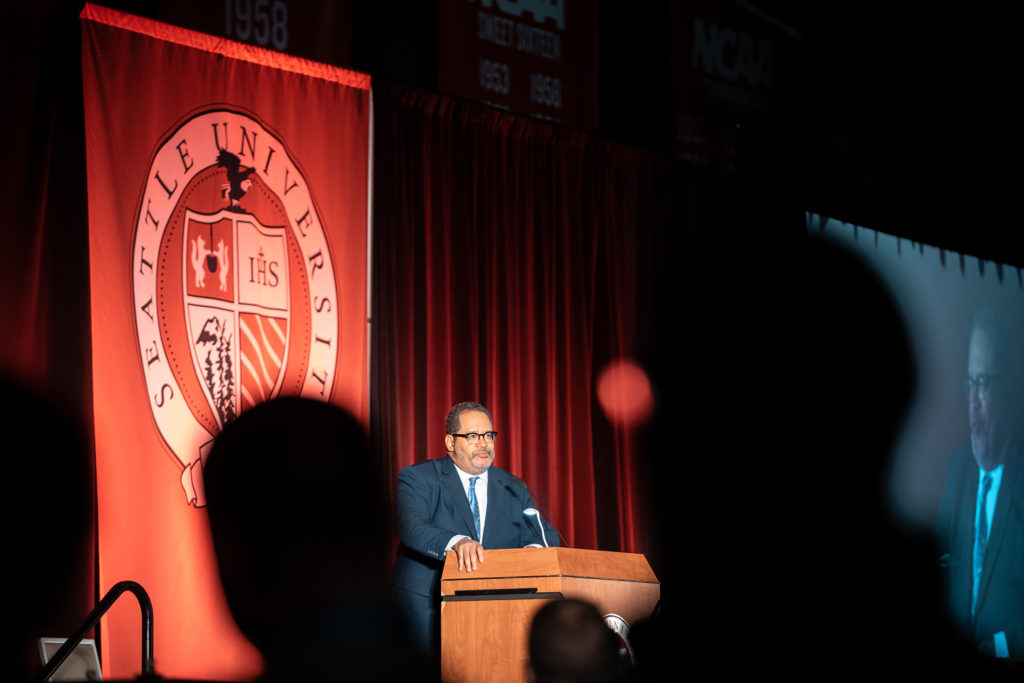 Keynote address by Dr. Michael Eric Dyson as part of Seattle University's Mission Day, April 11 2019.
---
The aim for 2019's Mission Day was diversity, equity, and inclusion at the heart of Jesuit education. University President Father Stephen V. Sundborg, S.J. spoke to what this year's theme brings to the table for the university's mission for both staff and students.
"If you're really dedicated to educating the whole person, you have to include the whole person and that person has to be fully accepted," Sundborg said. "We say we're committed to professional formation, but who are these people that were forming, and what will they be like in terms of their impact and…how they look at the issues of diversity, inclusion, and equity?"
Dyson said early on in his speech that these topics are difficult, but necessary, to address.
"When many white brothers and sisters are invited to talk about whiteness, it is a strange and strained experience. That's because white brothers and sisters are not often asked to think about themselves as part of a group."
Dyson said that many white people have a common misconception that the more one talks about race, the more divided humans are. He said that some white people have truly questioned why people of color are so obsessed with race. It is not that they are obsessed with race, he said, but rather it is necessary to discuss the topic since it is a reality.
"Whiteness is often seen as invisible and therefore universal," Dyson said.
He used an analogy to make this concept easier to understand from a different point of view, especially for a school with an undergraduate population of 55.6 percent white students. He used colloquial language to relate to the audience members.
"When you dominate, you ain't got to announce who you is. Right? If everybody is a member of Seattle University, you're at 'the College,' or you're at 'the University,'" Dyson said. "We all know what you're talking about. You ain't talking about Georgetown, USCM, you ain't speaking about UW. You're at Seattle. How long you been at 'the University?' It's the only one. It's the one we implicitly understand, ain't no need for explanation…Whiteness operates in the same fashion."
After establishing how whiteness is the presumed and dominant race, Dyson explained how it often does not reflect the whole field of experiences to draw from. To demonstrate this, Dyson drew a parallel to legendary baseball player Babe Ruth.
"When Babe Ruth was out here hitting home runs, he wasn't batting against the best ball players. He was batting against the best white ball players. You ain't the best unless you take on the rest," Dyson said. "If the game has been rigged and only white ball players can play, you don't know who the greatest is until everybody can play."
Dyson further explained that whiteness remains invisible because if people became aware of their whiteness, that means ignorance would essentially be exposed and white people would then have to feel accountable for mistakes and the privileged life.
Dyson also touched on the topic of Affirmative Action, which aims to provide equal opportunities in higher education and for work for those in historically discriminated groups. Many people believe Affirmative Action only benefits an unqualified student, when that is anything but the truth. Two candidates are judged at equal level, but special preference may be given to someone who has a minority background, taking into consideration the struggles which they may have faced due to their background.
After Dyson spoke, a panel of students and faculty appeared on stage to share their thoughts. English Professor Christina Roberts discussed humility and "systematic starvation."
"I recognized the work I had to do. And a lot of it was to shut my mouth and listen, and to listen with a raw openness; to acknowledge the way that I too contribute to perpetuating the systems," Roberts said.
She proudly shared her enjoyment of being an educator and introducing these topics to classes, but also she called out other staff.
"My white-identified faculty colleagues, you've got work to do," Roberts said. "When you think that you are preparing a student of color for the real world and fail them because something is late… Please, please, let's do better."
Michaela may be reached at
[email protected]