On Feb. 26 Seattle University invited Sydney Brownstone to the Campion Ballroom to talk about her career as a journalist for KUOW and how she has personally seen the "#MeToo" movement impact the world of politics and journalism. Brownstone also looked to shine light on all the questions that people may have in regards to the process of reporting on rape and sexual assault, as well as why accusers are so drawn to report to journalists rather than police officers.
Brownstone's journey to her current occupation came through a rather unconventional path, originally aspiring to become an environmental reporter, Brownstone found that her work and her personal experience with sexual assault began to make her look at the world in a different way. Finally, following a reporting series of Matt Higgy and his sex scandals in his pornography business, Brownstone found herself entrenched in the matter.
"After one story you write, ten more show up in your inbox," she said. "People reached out to me and I kept writing about it."
---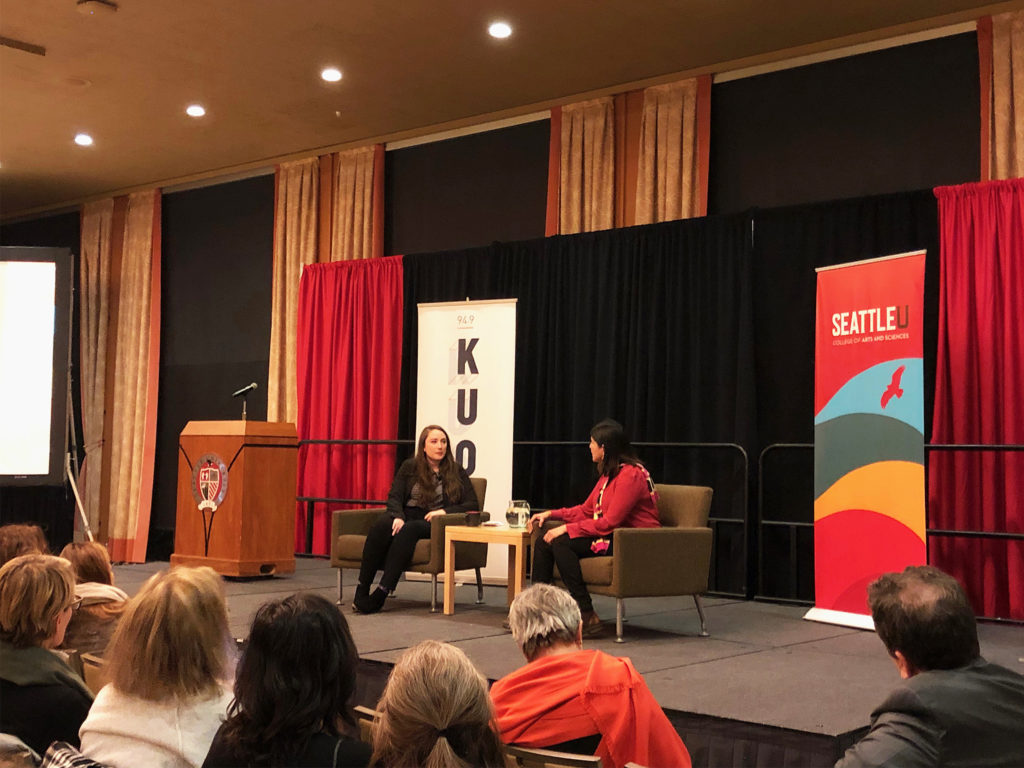 Sydney Brownstone explains her relationship to the #MeToo movement and work at KUOW with Sonora Jha as moderator.
---
While up from 29 percent in 2004, according to the Bureau of Justice Statistics, only 35 percent of rapes are reported to the police, something that the #MeToo movement has set out to change. Its effects have large implications for journalists, and it becomes rather sensitive when reporting on such as issue is sure to have a high level of ramifications for everyone involved.
Often times, as has been seen through the many accusations on more prominent figures, these assaults have taken place long before the accusation is brought to the reporter. In those cases, Brownstone mentions that the best way to learn about their experience and preserve chronology is to talk to friends of theirs that they have perhaps described the experience with, these are people that are often able to paint a clearer picture of what the accuser is trying to relay.
Brownstone also highlighted the importance that the #MeToo movement has done in transforming the public's understanding of what sexual assault looks like in the first place.
"For the longest time, the only sexual assault stories heard were the ones that made it to court," Brownstone said. "They were the guy jumping out of a bush with a knife. I think that's horrible, but it's also not most cases."
Still, Brownstone admitted that there were areas where the #MeToo movement has failed, particularly in the relationship between journalism and people of color, and went on to address the difficulties of moving into an area of intersectionality.
"We aren't going to establish trust between these different communities until we have more representation within our reporters," she said.
For Brownstone, this meant having more reporters that were people of color and were better able to represent the communities that they stand beside, something that's difficult for her and other journalists in what is a very white-dominated occupation. According to Brownstone, another setback comes with the means by which the movement is spreading. "A hashtag by its very nature is incredibly reductive. Many people feel that this will be the only opportunity they'll have to share their experience, and that once that societal window closes, they are no longer free to share."
Brownstone's hope is that people continue to push the narrative that the "#MeToo" has ushered in, and that it remains open for all to be able to put forth their experiences. For while the movement has had its share of shortcomings, she believes that the freedom it's brought to so many women around the world is pivotal to moving forward as a society.
The editor may be reached at
[email protected]