In light of a stringent media policy implemented at Loyola University Chicago (LUC) at the beginning of February that many, including LUC faculty and the American Association of University Professors (AAUP), argue stifled student journalism, Seattle University has stated that student journalism is of utmost importance and condemned the policy as "extremely problematic."
LUC's media policy had stated that no reporter could interview a university employee without prior approval from University Marketing and Communication—even if the inquiry involved a reporter trying to speak to a professor as an expert source for an article.
The journalists at The Phoenix, LUC's student newspaper, wrote that they found that the policy muzzled their ability to report, which in turn failed the students in the community The Phoenix covers, in an editorial titled "Loyola's Media Policy is Straight Out of the Trump Playbook."
---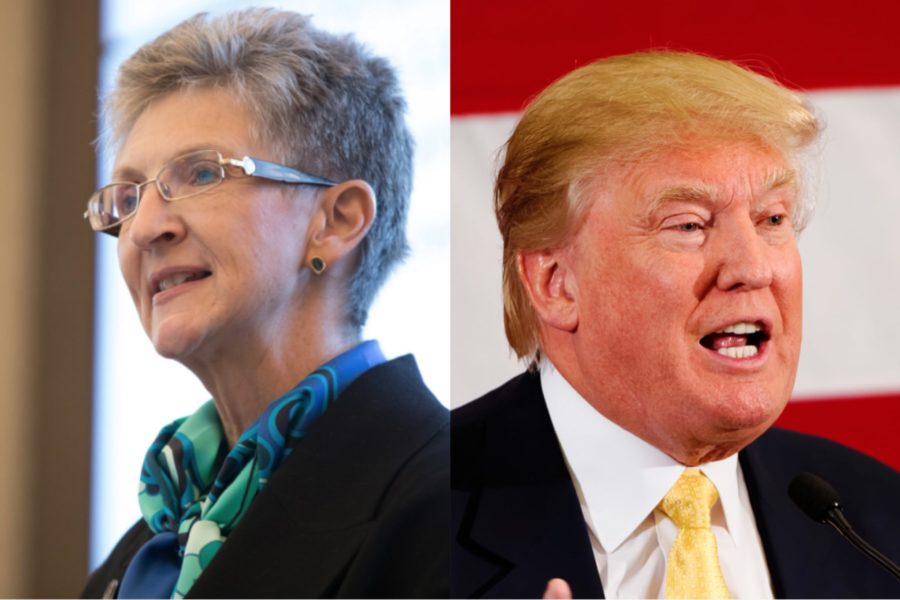 Criticism of Loyola University Chicago's compares Loyola's president Jo Ann Rooney to the actions of President Donald Trump.
---
"We perform a valuable function to every Loyola student," the editorial board wrote. "We're members of this community. We're the voice of Loyola students, working to hold those responsible for our health, safety and education accountable. Yet, Rooney's administration is trying to muzzle us because it 'protects the brand.'"
The administration at LUC justified the policy by pointing to previous mistakes in reporting that created a liability for the university, but refused to tell the staff members at The Phoenix what those mistakes were.
This policy also drew stark criticism from the LUC School of Communications, who believe that the university was restricting their right to interact with the media as scholars and researchers.
"We, the below signed faculty members in the School of Communication, teach our students the value of free speech, a free and open exchange of ideas, and transparency," the faculty wrote on an online petition that received dozens of signatures. "We believe that Loyola's Media Relations Policy is not in accordance with these values."
These faculty further criticized the policy along the lines of Jesuit values, arguing that it runs contrary to the "Jesuit mission of 'service of faith and promotion of justice.'"
LUC is a member of the Association of Jesuit Colleges and Universities, and some are concerned about the way this policy could cue other Jesuit universities to enact similar strategies to restrict student journalism.
Vice President of Communications at Seattle U Scott McClellan said that he does not envision Seattle U ever applying any policy like the one in place at LUC, and he did not hesitate to criticize its purpose at LUC in the first place.
"I think particularly in a university setting, it's an extremely problematic policy to have in place," he said. "When you consider what a university's purpose is, part of that is to foster intellectual discourse and debate, and restrictive media policies run counter- productive to that and are inconsistent withit."
However, Seattle U has had a history of infringing on the rights of the press in the past. Papers have been pulled from the stands in 2009 and just last year in 2018, when Father David Leigh S.J. removed copies of The Spectator that had a student performing in the on-campus drag show on the cover.
After refusing an interview with The Spectator, University President Fr. Stephen V. Sundborg, S.J. wrote a statement that supported addressing concerns about accuracy in reporting in dialogue with one another.
"Their policy that has since been rescinded is not something we would envision putting in place here at Seattle U," Sundborg wrote. "We want to be supportive of our student journalists, their press freedoms, and their guidance by journalistic standards, in their work in covering the concerns of students. We also support that student journalists have access to faculty and administrators."
McClellan added that he thinks that student newspapers are a great opportunity for experiential learning for journalists.
"I think the student journalists play a very important role in terms of being a watchdog and expressing the concerns of students or covering the concerns of students, and then holding leadership to account for the decisions that are made," McClellan said. "I think that serves the university very well in terms of what The Spectator does."
Loyola University Chicago said that they were reviewing the media policy with a task force made up of administrators, faculty, student journalists, independent journalists, and other stakeholders. The administration has not delayed in revising the policy in the meantime, clarifying that "faculty and administrators are encouraged to engage directly with members of the media."
Josh and Anna may be reached at
[email protected]