Public Safety is scheduled to relocate their office between March 22 to March 31 to a new location two blocks away in the Columbia Building, across the street from the Redhawk Fitness Center.
This change is due to the upcoming demolition of the University Services Building, scheduled to take place sometime between mid-May and mid- June, according to Facilities Director of Design and Construction Lara Branigan. The demolition date has yet to be set, as the permit is still under review. The general contractor for the project is Skanska, who has worked on other Seattle University projects such as the Chapel of St. Ignatius, as well as a variety of high-profile projects internationally. Skanska will also be in charge of the construction of the new Center for Science and Innovation building that will replace the University Services building.
Despite having a long history at the University Services Building, the Public Safety office is eager for the change. At their current location, the Public Safety office operates out of two locations in the building to keep up with their needs.
---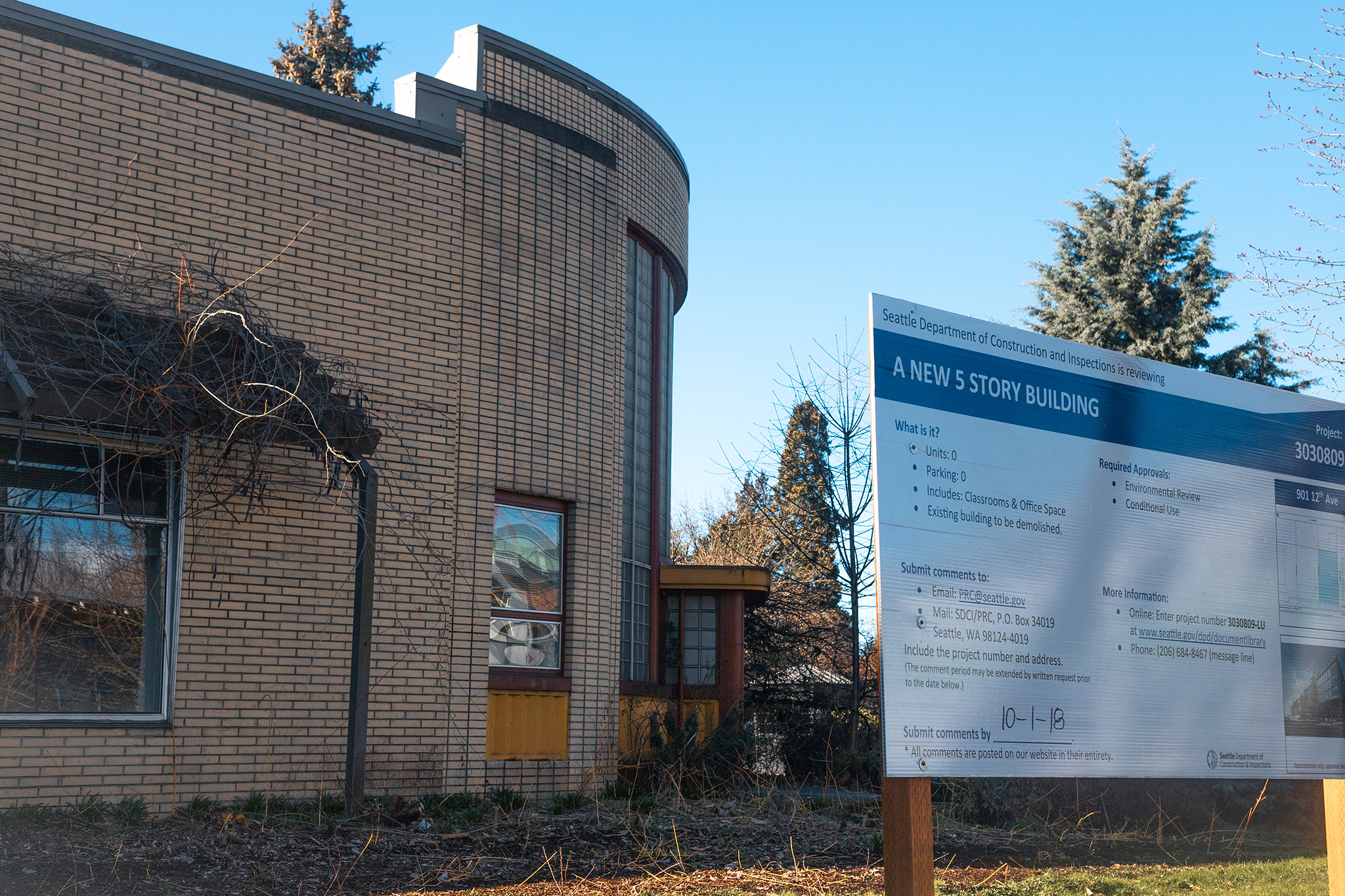 The current University Services Building, in its last days before demolition.
---
Craig Birklid, the executive director of Public Safety and Transportation, assured that the relocation will solve this issue.
"We are split right now between a space here and a space upstairs, so we are very spread out," Birklid said. "The new location will be a good place for Public Safety to come together. It's easier to be disconnected this way."
In their new location, Public Safety will be taking up the lower level of the building. This means that not only is the office going to come together, it is going to expand and include an emergency operations center.
This center will allow the school to have an emergency location when needed. As of now, students are told to stay in classrooms with special protocols for a variety of emergencies. However, with their new location, Public Safety will also be able to provide a safe location for people to convene when emergencies do occur. They will now also have lockers for Public Safety officers, making their transitions into patrols much more comfortable.
Many community members may have concerns with the move, since Public Safety had been at its location in University Services for so long, but Birklid said that Public Safety will still be very present on campus.
"We really want to reassure the community that we are still going to be out and about and seeing folks," Birklid said.
Birklid also stressed that their move should only take a few days and will not change so much that the community will notice. They will be moving during the school's spring break, meaning the campus will likely be much less active during this time as well.
Birklid mentioned that while Public Safety's regular responsibilities will remain as usual during the move, the actual office will be closed for a few days for the physical moving process. Response times are not going to change, as regular patrolling will happen as scheduled. Though the change will not be drastic, Public Safety has been making other changes to make them even more efficient as an office overall.
"One thing we are trying to do is move everything online. Two blocks really is not too far, but it does concern some people," Birklid said.
He also noted that there has already been a shift to a stronger online presence, with some processes being moved completely online such as parking permits and bus pass renewals. Birklid hopes that this will ease some of the community's worries about their move—he thinks some processes may become even more efficient and convenient.
Public Safety takes care of a variety of the university's needs outside of crime control and campus monitoring. They handle bus pass renewals, parking permits, access control, lost and found, and driver authorization. These processes are the ones likely to begin to move online.
"We have already started doing our bus pass renewals online, so students don't have to come into our office with their receipts anymore," Birklid said.
Public Safety also has plans to start moving other processes online.
"This Fall we are hoping to do an upgrade to our parking system as we are going to be a bit farther away. Just because we are moving it's going to be a bit of an adjustment," he said.
Birklid also stressed the importance of Public Safety's presence out in the community grounds. Though there is no scheduled open house for Public Safety's new location, they feel it is important that people come to see where they will eventually move to.
"We encourage the community to come and see our new location," Birklid said.
He also mentioned that there will be some wayfinding signs out on Columbia street to help guide people to their new office. Birklid feels that students and the rest of the Seattle University community should be familiar with their new location and share in the excitement of the soon- to-be new and improved office.
The editor may be reached at
[email protected]