Activists Demand Accountability at Trial Demonstration
Demonstrators gathered outside the Student Center on the morning of Feb. 19 to put on a mock trial, challenging Seattle University's relationship with its social justice mission.
Usually large demonstrations are required by the Code of Conduct to be pre-approved by the Center for Student Involvement and to take place in the library plaza, the open area by the steps to the library. However, the organizers putting together this event, SU on Trial, did not seek approval through these channels. In fact, many of the grievances they had related to policies such as these, which they claim stifle student activism.
The premise of this demonstration was to place Seattle U on trial. Senior Chemistry major Miracle Orji was the judge while several student organizers brought "cases" forth to the court, and a crowd of 30 to 40 students was the jury, which declared Seattle U, "Guilty!" after each charge.
After an introduction, Senior Sociology and Public Affairs major Molly Mattingly announced the first case to the students: the Integrity Formation trials and subsequent sanctions given to four student activists following the distribution of flyers in Campion Hall at the end of December.
At that time, a group of students advertising an event about police violence distributed flyers around Campion Hall, but because they pushed flyers under students' doors, their distribution didn't abide by the Student Code of Conduct. While Integrity Formation said that this was not related to content, the demonstrators believe that this was a deliberate move to stifle student activism.
"We believe it's about content because in the past they have not had this response," Mattingly said to the crowd. "It's really important for students now not to let them set this precedent of stifling student activism."
The third "case" also drew attention to student activism. Senior French major Michael Clymer talked about the Matteo Ricci College (MRC) 24- day sit-in in 2016, in which the MRC Coalition demanded non-white and non-male voices in their humanities curriculum.
"The demands they made and had recognized changed the face of this university," Clymer said. "However, the university in response, just that fall enacted new student code of conduct rules demanding that we as students register our protests with the university."
This, Clymer believes, is a conduct rule that only serves to suppress student activists and their protests.
"Us standing here, right now, doing what we are doing, this people's trial, is an affront to and is a demand that that rule is wrong," Clymer said. "We the people have the right to demand things from our university, and they cannot tell us where or when we can do that."
Neither the Center for Student Involvement nor the Office of the Dean of Students could be reached regarding the Code of Conduct protest policy before the publishing of this article.
---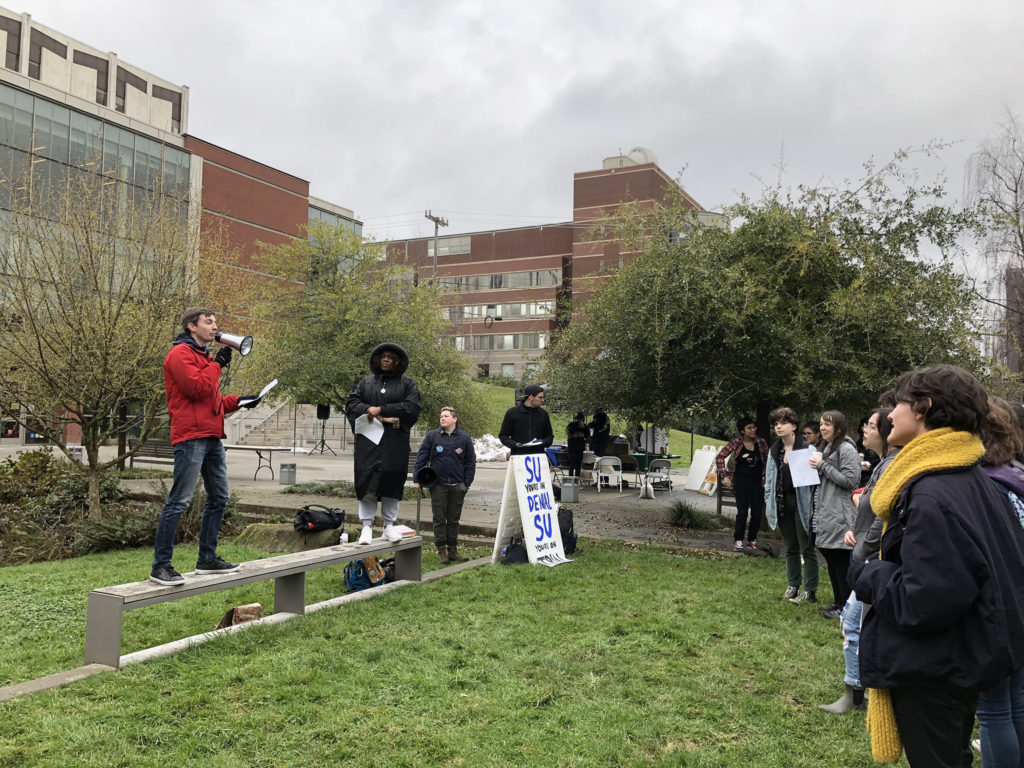 Students assemble outside of the Student Center to host a protest allegedly unauthorized by Seattle University.
---
The second and fourth charges related in broader terms to Seattle U's relationship to its faculty and its community. Senior Public Affairs and Sociology major Connor Crinion held that Seattle U has mistreated its faculty, as evidenced by its rejection of adjunct faculty unionization. Student activist Rowan Levelle pointed to Seattle U as a contributor to the prison-industrial complex through its hiring of Howard S. Wright to build Vi Hilbert Hall. This contractor is also working on the King County Juvenile Detention Center.
After delivering the cases to "Judge" Orji, she ruled Seattle U "guilty" of all four charges, and the group of around 20–25 students delivered letters to Director of Student Conduct Armina Khwaja, Dean of Students James Willette, Provost Shane Martin, and President Stephen V. Sundborg, S.J.
"47 individual faculty members and two departments signed onto a letter expressing concern about the initiation of Integrity Formation hearings based on content for a political reason," Crinion said. "We also have a letter of support signed by alumni basically expressing the same thing."
First-year Biology major Faith Chamberlain had heard about the demonstration from the organizers themselves, but many of the other attendees heard about it on the "SU On Trial" Instagram account.
This account made its first post on Feb. 5, and since then, it has shared six posts to over 200 followers, each post evaluating the history of Seattle U and the ways they believe it has failed to live up to the mission. The most recent post was on Feb. 18—a blue graphic with the caption "Justice is served," as well as the date, location, and time of the protest on Feb. 19.
"I think it's really important that we, as students who are in a position of privilege and have a certain positionality in this neighborhood of Seattle, understand what role we play in affecting the neighborhood," Chamberlain said.
Because the Board of Trustees and Sundborg are so difficult to reach, according to Chamberlain, it's much harder to learn about the history of Seattle U.
"Through events like this, I'm learning about how our administration is making it very difficult for students to have their voice heard and to elevate the voices that they support," she said.
Having delivered the letters directly to Sundborg and Martin in a stairway in the Casey Building, as well as to an office assistant at Integrity Formation, the demonstrators hope that they succeeded in holding the university accountable to its mission.
"The student body isn't just going to take these things lying down," Orji said. "We're an active part of this community at this school, and we should be treated as such."
Josh may be reached at
[email protected]
Leave a Comment