Seattle Celebrates Dick's Drive-In with 19 Cent Patties
Dick's Drive-In celebrated their 65th anniversary Jan. 29 with 19 cent cheeseburgers for all. They matched their prices to the original prices from 1954.
The 19-cent burgers were only one per person, but customers were still able to go to the establishment multiple times per day. I went out to a spectacular meal for both breakfast and dinner and spent less than half a dollar.
---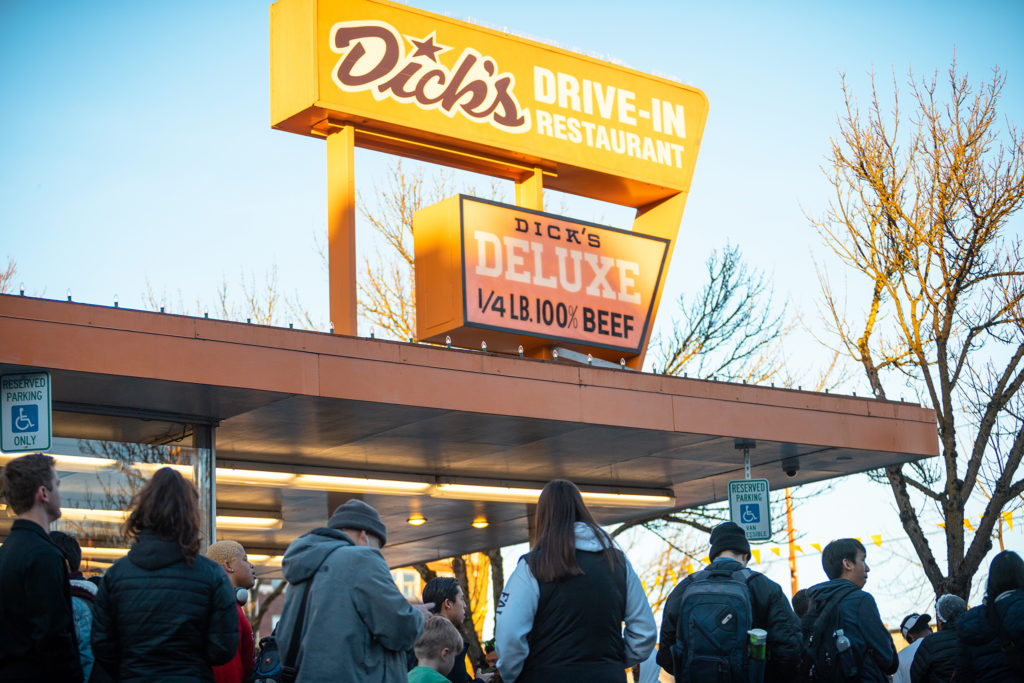 Loyal Dick's Drive-In's customers waiting in line for 19 cent burgers outside the Capitol Hill location on their 65th anniversary on Tuesday, January 29th.
---
My lunch time Dick's run was at 2 p.m. I thought this would be an ideal time because it is late for lunch, but far too early for dinner, so there probably wouldn't be too many people. I soon found out no matter what time I arrived, the lines would be long.
I waited for about 25 minutes, but though this may seem like a long time to wait, it was a great experience. Standing in the core of Broadway surrounded by interesting people, street performers serenaded me as I waited, so the time passed with ease.
As I moved closer and closer to the front of the line, my excitement began to build. All of my hard work and waiting would all be worth it soon. I reached the front of the line, and had the pleasure of paying in coins. Pick your method, two dimes, just a quarter, or be really prepared and bring a dime, a nickel, and four pennies. Each form of paying is extremely satisfying.
I was then handed a 19 cent treasure wrapped in gold. The burger itself was fine—I mean, slightly better than a McDonalds quarter pounder—but hey, it was all about the experience.
"Never having eaten at Dick's before, I thought it would be a good idea to finally try it on their anniversary," first-year Max Slade said. "While the lines were long, it was definitely the best 19 cents I've ever spent."
---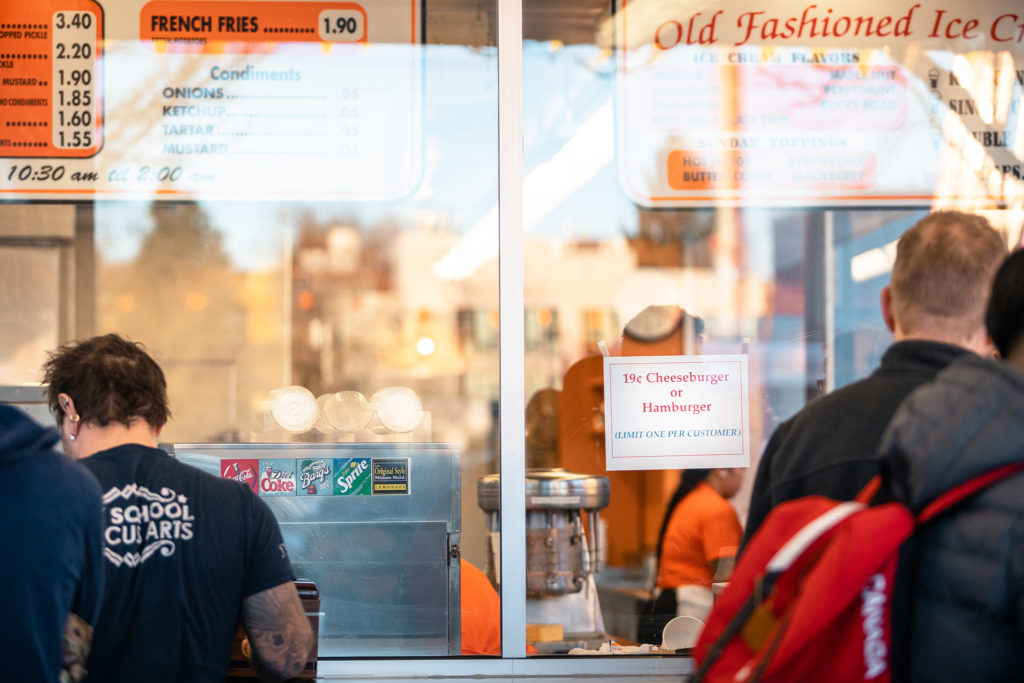 Dick's Drive-In offering 19 cent burgers & cheeseburgers during their 65th anniversary on Tuesday, January 29th.
---
After forgetting to bring my calculator to my math exam, I decided I needed a pick me up and headed back to Dick's for dinner. This time however, I brought a whole gang of hungry, broke college students. It took some convincing to get them to accompany me through the cold Seattle winter night, but it was also pretty hard to refuse a 19-cent burger.
As we approached Dick's and saw the amount of people surrounding the tiny little burger joint, I soon realized the odds of making my friends happy were not in my favor. As we waited in line, we chatted and had a great time. We were standing in the cold for about 30 minutes, but we made the best of it and ended up having a great time.
"Even though it was freezing, it was a ton of fun," first year Computer Science major, Annie Morrison said. "It was really cool to hang out with my friends while in the long lines, and the burgers were pretty good for being 19 cents."
As a first year-college student, I don't have the money to go out to eat often. This was a great change for me to get off campus, eat some good food and hang out with my best buds all for the low price of 19 cents—and celebrate Dick's anniversary, of course.
The editor may be reached at
[email protected]
Leave a Comment