Schultz: Former Starbucks Executive to Executive Branch?
Protestors gathered outside the Moore Theatre in downtown Seattle on Jan. 31, as former Starbucks CEO Howard Schultz prepared to take the stage inside. Schultz is currently on a cross-country tour to promote his new book, "From the Ground Up," but the focus of the protests and the event inside revolved around a far more controversial matter: his potential 2020 presidential run.
During his book tour, Schultz has been met with backlash from a number of protestors during his stops in New York, Phoenix, and most recently, Seattle. Their concerns range from his ability to pull votes from the candidates of the two major parties, to his absence of political experience.
---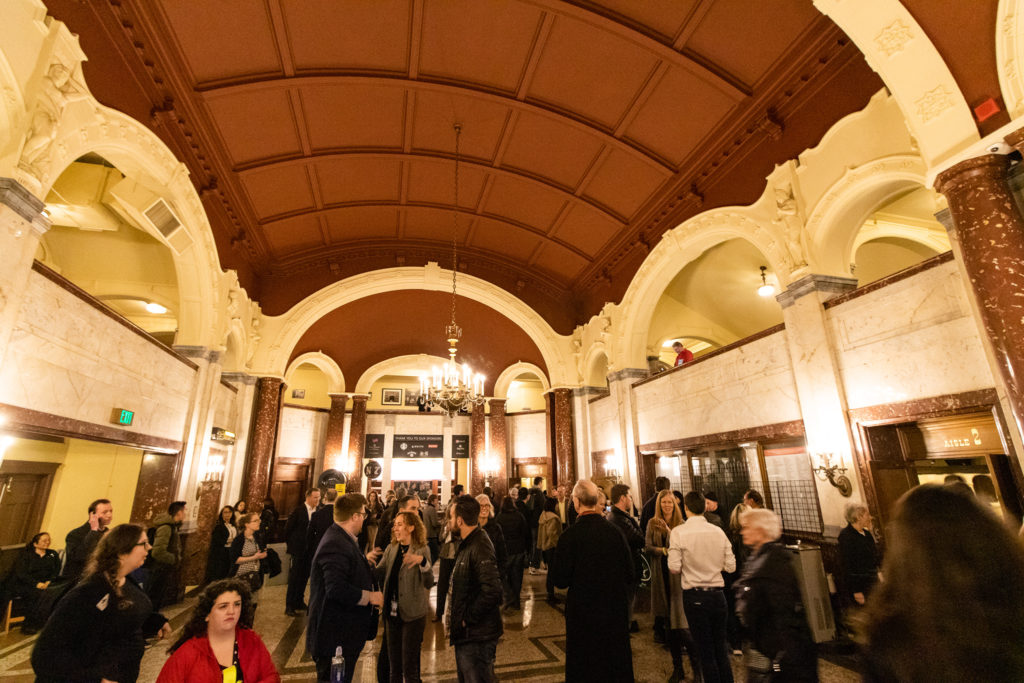 Protestors and supporters alike gather in the Moore Theater waiting for Howard Schultz's talking event.
---
"We don't want another billionaire with no experience," Protester Tyna Ek said outside the Moore Theatre, referencing current President Donald Trump.
Ek's sign read, "Choose a side, Howard," expressing the belief of many that Schultz should take the conventional route of entering into one of the two major party's primaries, rather than risk skewing the vote as a third-party candidate.
The protestors were later asked to leave the area by police, while inside, Schultz was preparing to face the people of Seattle, with whom he has had a complicated relationship in the past.
The city of Seattle and Schultz have had a prosperous history together, but when Schultz sold his share of the Seattle Supersonics to an out-of-town buyer, leading to the team's move to Oklahoma City, many in Seattle were less than pleased with his decision.
"It was a mistake that I made, and I apologize," Schultz said. "When you have power and responsibility, like I did with the Sonics, you must demonstrate strength."
Schultz hopes to wield a much greater responsibility as a presidential candidate, while avoiding similar mistakes that caused many Seattleites to lose their faith in him.
As far as his political platform is concerned, Schultz expressed his disdain for the Republican Party under current leader Donald Trump, as well as his skepticism of the progressivism of the left.
"The Democratic Party, as it stands today, is espousing very progressive policies that I think are unrealistic," he said.
Aside from using republican and democratic policies as a basis for why he wants to run as an independent, Schultz stayed rather broad with his political messages and did not focus on enough specific policies to develop a platform that will excite many voters.
Political Science Instructor at Seattle University Patrick Schoettmer said that the majority of successful third-party candidates in the past either had an extensive political background or had a couple of specific policies on their agendas that they could get voters behind.
Schoettmer believes that Schultz' broad, centrist platform will not garner him many votes in a presidential election. "I think he'll be a total nonfactor," he said.
Despite the opposition that he has been receiving in the early stages of his presidential speculation, Schultz seems determined to shake up a system that he claims does not work.
"Why should we accept a broken system?" he asked the audience. "Is there anyone in here that thinks our system, our political two-party system, is working for us?"
Schultz clearly believes that the two-party system does not adequately represent all the intricacies of the American people, and by running as an independent, he hopes to garner the votes of those who believe the same.
However, if Seattle is any indication, he will likely be met by constant opposition along his path. In the home city of the company that made his millions, his appearance felt less like a homecoming and more like an intervention. Protestors and crowd members tried to persuade Schultz to choose a party or forgo a run altogether out of fears that he might divide the base of the Democratic party leading to a reelection of the incumbent president.
To quell the concerns of those who are worried about a second term for Trump, Schultz said that he would not continue his campaign if he felt that it might lead to Trump getting re-elected.
From his opposition to leftist policies and his concern about the national debt, to his desire to return America to a period of strength and leadership that he believes no longer exists, Schultz explained his motivations behind his early ambitions for the presidency, but it remains to be seen if he can motivate others to get behind him. With hecklers in the crowd and sparse applause for some of his ideas, Schultz's path to the presidency seems to be off to a rocky start.
The editor may be reached at
[email protected]
Leave a Comment