Atypical Season Two Portrays A Realistic Lead On The Spectrum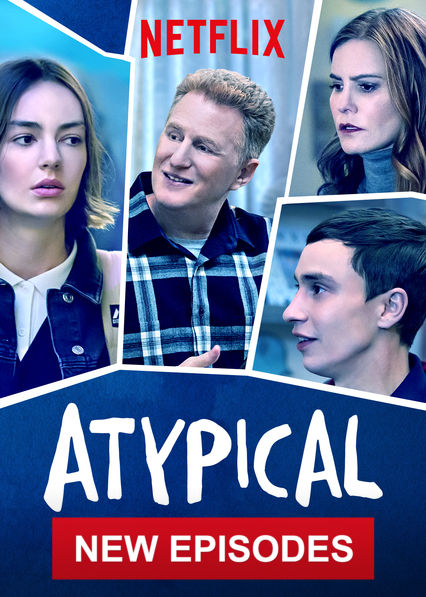 "Atypical" made its Netflix debut back in August of 2017, and though the first season was riddled with errors when it came to depicting a high school boy with autism as the lead character, season two vastly improved the narrative surrounding individuals on the spectrum.
We meet Sam Gardner at the end of his high school career and are introduced to his family, consisting of his younger sister, mother, and father. Sam's family parallels my own in many ways, and for that reason I was immediately drawn to the show.
Coming from a family of four as well, my younger brother is also on the spectrum, and similar to Sam, he is on the high-functioning end. While Sam's autism expresses itself in different ways than my brother's, autism does vary from person to person (something some critics don't fully realize), and the main character's own expressions were realistic and believable. One of Sam's defining characteristics is his obsession with Antarctica and penguins—my own brother is fixated on birds and bugs in a strikingly similar manner.
I also saw myself in the show's daughter character, Sam's younger sister, Casey Gardner. The sibling relationship in this show is presented well and highlights many of the challenges of growing up with an autistic sibling. Their parents, Elsa and Doug, are more preoccupied with Sam and consequently fail to appreciate some of Casey's achievements—they miss her record-breaking race when they have to handle an issue with Sam. At the same time, Casey battles these looming feelings of neglect, as she teases and taunts her brother at home but is the first to jump to his side if anyone bullies him at school. She really is Sam's biggest protector and does not hesitate to make that known.
Season two took a big step forward portraying the familial relationships in the show. While the first season made it seem like everyone's problems were due to Sam, and that he was this negative aspect tearing the family apart, season two sought to dispel that narrative and executed it in a refreshing light.
The main problems in the sophomore season are Elsa's cheating scandal and Casey's damaging development at a new school. While it took away from Sam as the focal point of the show, this was not a bad thing, instead portraying a more realistic perspective.
The relationship between the family members also expands in the sense that the relationships are defined more than just between Sam and others. We see Casey and Elsa's relationship fall apart while her connection with her dad strengthens. Elsa and Doug also take up center stage as they navigate their broken marriage. The show pushes its boundaries, not relying solely on how its characters interact with its lead individual.
However, some clumsy moments did not fully dissipate in season two. There are still awkwardly-placed lessons on symptoms of autism that are interwoven in monologues that do not always seem vital. At times, some of Sam's behavior and outbursts seem forced, but then again, I do not want to limit my perception of autism to just my own experiences with my brother.
I did appreciate the addition of Sam's Peer Group—all of the actors and actresses are on the autism spectrum, bringing authenticity to their portrayals. This new feature opened up the door to express individuals with autism in the media in a new light: not just as white, intellectually gifted, straight males. One member has dreams of being a dentist, while another has a love for ambulances. They tackle real-life problems such as going to college and handling finances, something I haven't really seen another show take on. It's also another expansion from the first season, where the theme revolved around Sam navigating the murky waters of dating and relationships.
When Sam does approach the topic of finances with his mother— whose overprotectiveness is a bit exaggerated—she finally agrees to let him control his own money. One of the first things he does is spend a couple hundred bucks to adopt his own penguin at the aquarium, something I couldn't help but smile at.
Overall, I really enjoyed the show "Atypical," mostly because I can see so much of it in my own life. While my brother is not ready to have a job or ride the bus alone as Sam does, he is growing and maturing. I can only hope that the forces in his life treat him as positively as some of the forces in Sam's. And while Sam is still sometimes the victim of cruel bullying, he always has his sister and his best friend to protect him.
One of Sam's favorite things about Antarctica is that "It's not what it looks like." This might be one of my favorite takeaways from the show, because Sam—and my brother as well—are unique in the sense that they don't take things for surface value: something everyone else should try to do as well.
Michelle may be reached at
[email protected]