The Womxn's March Unites with the MLK March to Bring Change
The Women's March stands as a controversial symbol of feminist activism from the past two years. This remains especially true today, as critics accuse the movement of only representing the limited agenda of white, affluent, cisgender women.
"I have been going to feminist marches since I was [a student] in college," Theresa Earenfight, the program director of Seattle University's Women and Gender studies, said. "The [marches] have always been such an important part of what I think of as consciousness-raising and solidarity… I watched a lot of fracturing of this over questions of race and religion, ethnicity and national origin, and they are all really important points that people are making and I had always envisioned feminism as an encompassing movement. But I realized that it hasn't been and I am troubled by that."
In the weeks leading up to the march, there were allegations of anti-Semitic affiliation on the behalf of one of the main organizers, Tamika Mallory. Since the inception of the Women's March, there have been many accusations concerning the lack of intersectional unity with all women.
It is hard to associate this deeply flawed vision of the Women's March and National movement with the supportive and inclusive Seattle Womxn's March. The rally was moderated by Colleen Echohawk, executive director of Chief Seattle Club, and Monserrat Padilla, the coordinator with the Washington Immigrant Solidarity Network.
These women set the stage for the speakers who would follow them, including Poet Hanan Hassan and ChrisTiana ObeySumner, a member of Seattle's Commission for People with Disabilities. By including women of different backgrounds, the Womxn's Movement strives to represent an intersectional approach to feminism.
"I have learned a tremendous amount from this organization and the amazing women involved in it," said Christy Marx, one of the members of the Seattle Womxn's Marching Forward (SWMF) organizing and volunteer management teams. "I've seen so much hard work and dedication go into this weekend and all of our other events throughout the year. We're all volunteers, so everyone involved does this work because they're truly passionate about what we're doing. It has been amazing to see what this diverse, dedicated group has been able to accomplish together."
There is very little that connects the marches, despite their mutual foundings in the wake of President Donald Trump's election. Perhaps the most obvious difference between SWMF and the National Women's March movement is the spelling. All related accounts and advertisements in Seattle are deliberate to use the spelling of "womxn" in an effort to respect the trans community and to promote intersectionality.
SWMF and the national movement also differ in their intended outcome of the marches. The national movement promotes the political message of #women's wave. This hashtag is meant to represent the "Women's Agenda" which includes a number of policies that are meant to be a "work plan" for Congress. These policies are largely concerned with the goal to end violence against women, to protect reproductive rights and achieve economic justice.
In contrast, the SWMF has no direct policy motives. It instead intends to "build power" through workshops and community events. This power is not seen as a physical force or judged based on government impact, but rather in the language of mental, physical, and spiritual health.
"When I come out to the March, it's so nice to think that other people have the same opinions, that they're just as angry as I am," Nina Penner, a high school student from the Seattle area, said. "It's just nice to know that I'm not the only one thinking this."
In order to spread this message to as many people as possible, the SWMF is supporting the message of marching, acting, and honoring Martin Luther King, Jr. and his approaches to peaceful protesting. There is an overall emphasis on building power through connection prompted by workshops hosted by the SWMF and local activists.
Abiel Woldu is the youngest member of the Seattle MLK Jr. Organizing Coalition and is in charge of their online presence.
"We were hesitant at first [to work with the SWMF] because we are a multiracial, predominantly POC organization and have been for years," Woldu said. "We didn't want people coming in trying to manipulate our beliefs and silence us. We, however, embraced their ideas, support, and humbleness while keeping our values and vision a top priority."
The theme for this year's MLK March was "Affirmative Action = Justice." This is meant with regard to Students for Fair Admissions vs. Harvard, the lawsuit that is said to threaten the fate of affirmative action. While this case was mentioned throughout the rally preceding the march, only a few of the speakers focused on that issue in particular. One of the rally speakers was Reverend Kelle Brown, Ph.D., who also spoke at the Womxn's March two days prior.
---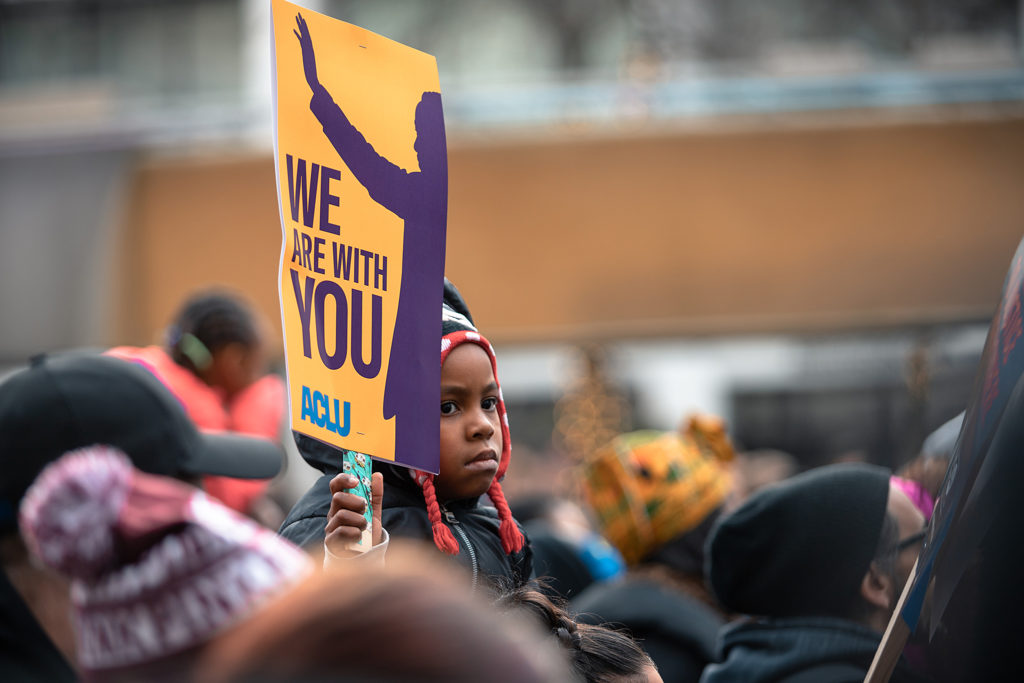 Seattle's Martin Luther King Jr. rally on MLK Day, January 21st, was attended by Seattleites young and old.
---
"It is important to remember who Martin Luther King really was because humans often treat white supremacy and do so haphazardly with a history that they don't have to remember," Brown said at the MLK March. "They think that the dream was simply to go to sleep and to wake up with everything well, that the dream was for the privileged and cast the oppressed into a continual nightmare."
In addition, to speaking at rallies, Brown is the lead pastor at Plymouth Church Seattle United Church of Christ.
The Seattle Womxn's March and the MLK March sought inclusivity and unification amongst different marginalized groups. Both marches commenced their activities by honoring the indigenous tribes whose land has been stolen and whose lives are not prioritized by the U.S. government.
In addition to these similarities, the spotlight was on women and their impact on their communities. Almost all of the speakers addressed the different ways that they are affected not only by sexism but also be racism, transphobia, and ableism.
"If we come out today doing what we're doing," Seattle High Schooler Karina Morel said. "We're not doing nothing. I think that's the most dangerous thing in these critical times— just sitting there and doing nothing and not being a voice for people who don't have the same rights."
An unintended side effect of both marches was the unexpectedly high rate of mothers who came to the events with their children. While movements are not typically known for being family events, there is an understanding that both the Womxn's March and the MLK March are not meant only for the current generation, but to make life better for everyone who comes after it.
"This has been a part of my world since the 1960s… I was aware of all these marches going on and it was a big deal," Earenfight said. "I don't think it's over, I think there is a next stage, and I don't know what that stage is, but I think we need to creatively and collaboratively envision what that next stage is going to be."
At the march, Brown offered her vision of what the next step of intersectional activism should look like.
"There is nothing, nothing more holy than calling bullshit on evil. There is nothing more holy than standing for what is right. But friends, today I am here to put some of my energy into your lives because I am a person of hope. I can watch all the things that are happening and know that we have not come this far to give up now. All is not lost! Be encouraged, there is hope… as long as there is breath in your body there is the ability to turn things around."
Taylor may be reached at
[email protected]