Bharoocha Shares Post-Graduate Experiences on Self-Defense
Seattle University alumna Haleema Bharoocha returned to campus this past week to share her experiences and advice post-graduation with the Seattle U community.
Bharoocha graduated from Seattle U in 2018 with a Bachelor of Arts in Sociology, and she's currently working as the Telecommunications and Technology Fellow at the Greenlining Institute in Oakland, California. She believes strongly in both racial equity in the workplace and self-defense, both of which she returned to Seattle to teach and speak about.
---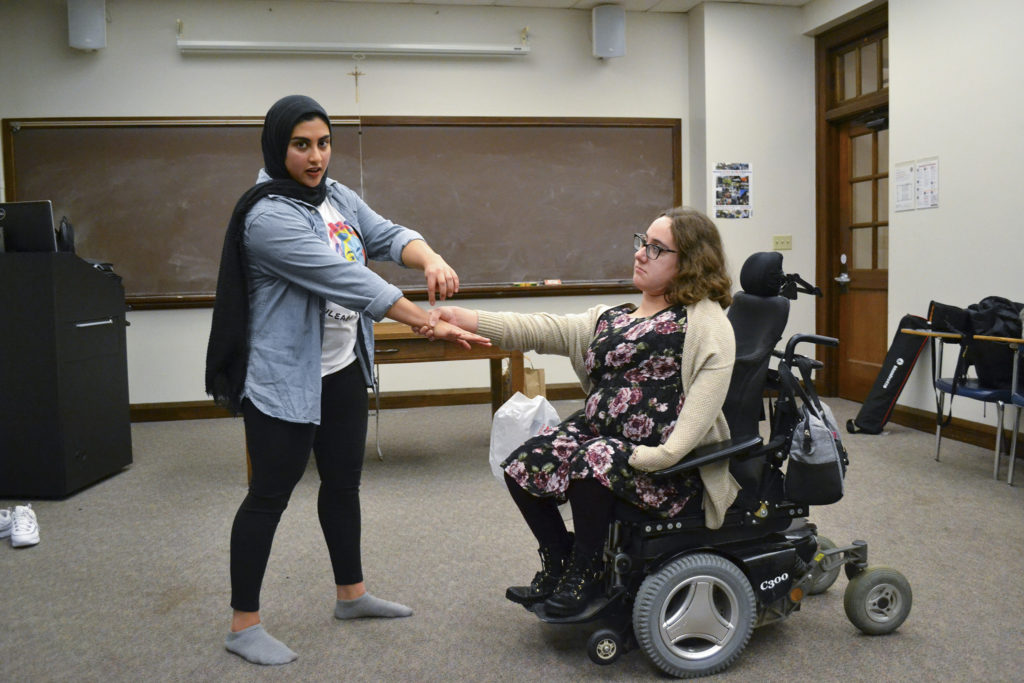 Haleema Bharoocha, left, demonstrates with an attendee how to get out of an attacker's grasp.
---
Bharoocha held a presentation at Casey Commons on Jan. 8 that focused on racial equity in the workplace. The community where she works strives to build a nation in which communities of color can thrive. She viewed this workshop as an opportunity to visit Seattle U's campus and teach the community valuable qualities that she has learned at the institute.
Bharoocha engaged with the audience as she asked the crowd to answer questions and form groups to consider what injustices individuals have experienced in their daily lives at their work spaces. The presentation included an explanation of racial equity, the breakdown of the racial equity framework, and action items to enforce equity in a workspace.
On Jan. 9 she held a second event: a self-defense class where she taught individuals skills to protect themselves in case of an attack. The class was accessible to everyone, no matter their body, as Bharoocha's goal is to empower all individuals through self-defense and de-escalation. Bharoocha made sure to repeat throughout the workshop that their physical build did not matter, but rather their mentality and willingness to learn proper ways to handle violence did.
"I've always been very passionate about gender justice because I've seen gender-based violence in my community on unprecedented levels," Bharoocha said. "I've also seen the ways in which different communities are unable to respond because of barriers when it comes to addressing violence."
Due to her own experiences of studying at a university located in the heart of a large city, Bharoocha felt the need to receive training and pass along ways to defend oneself. Additionally, she stressed the importance of de-escalating any situation that may occur so that those targeted could not be convicted for their defense.
"I've experienced it myself as a woman-identifying person, and it's really frustrating because there's so much disempowerment and lack of agency, and also being upset that I wanted to do something and couldn't," Bharoocha said.
Self-defense skills are a useful resource for other students who feel unsafe and paranoid when walking alone. Bharoocha was not okay with feeling helplessness if a violent act were to be acted upon her. As a result, she began training to familiarize herself with self-defense tactics so that the knowledge she retained from the classes would give her a better chance of reacting in the best way possible against acts of violence.
Bharoocha also touched on the fact that pepper spray is not allowed on campus and stressed that this is another reason for students to learn defensive strategies because these weapons can be used against oneself and are not the most efficient way to escape an attack.
Sydney Allen, another Seattle U alumna, attended the event to support Bharoocha and was also no stranger to the stress that individuals experience when walking alone in the city, especially at night.
"I am a young woman living in the city and all I have to my name is a short fuse and a can of pepper spray," Allen said. "I don't want people to mess with me and I want to have the tools to demonstrate that."
The class incorporated not only physical skills that are beneficial to individuals, but also common knowledge that should be known when addressing self-defense. The training began and ended with an oral reflection, touching on the meaning of consent, why everyone chose to attend, and how the class benefited them.
Elizabeth Ayers, a fourth-year English literature student, took this opportunity to attend the self-defense class, as it was fully accessible to all students and individuals in the Seattle U community.
"I learned a lot of moves I can do in my wheelchair and a lot of advantages that I have with driving a 350-pound wheelchair and the fact that people don't expect a lot from me," Ayers said. "It felt very welcoming to know that my disability wasn't something that had to be accommodated."
The environment was comforting and open for everyone to express their feelings and participate fully with the activities and moves being taught. Ayers said that Bharoocha made them feel comfortable—one of Bharoocha's many goals in the workshop was to ensure that everyone has the means to protect themselves and feel confident about responding to any violent scenarios.
"Empowered," "confident," and "able" were all mentioned in reflection when Bharoocha asked individuals to describe how they felt at the conclusion of the class. Bharoocha made sure the students who attended the class left with impactful words to take into their daily lives.
"Do not be paranoid, be present," Bharoocha said.
The editor may be reached at
[email protected]
Leave a Comment